FAO International Fisheries Symposium, supported by OPRI, seeks to bridge gaps between scientists and policymakers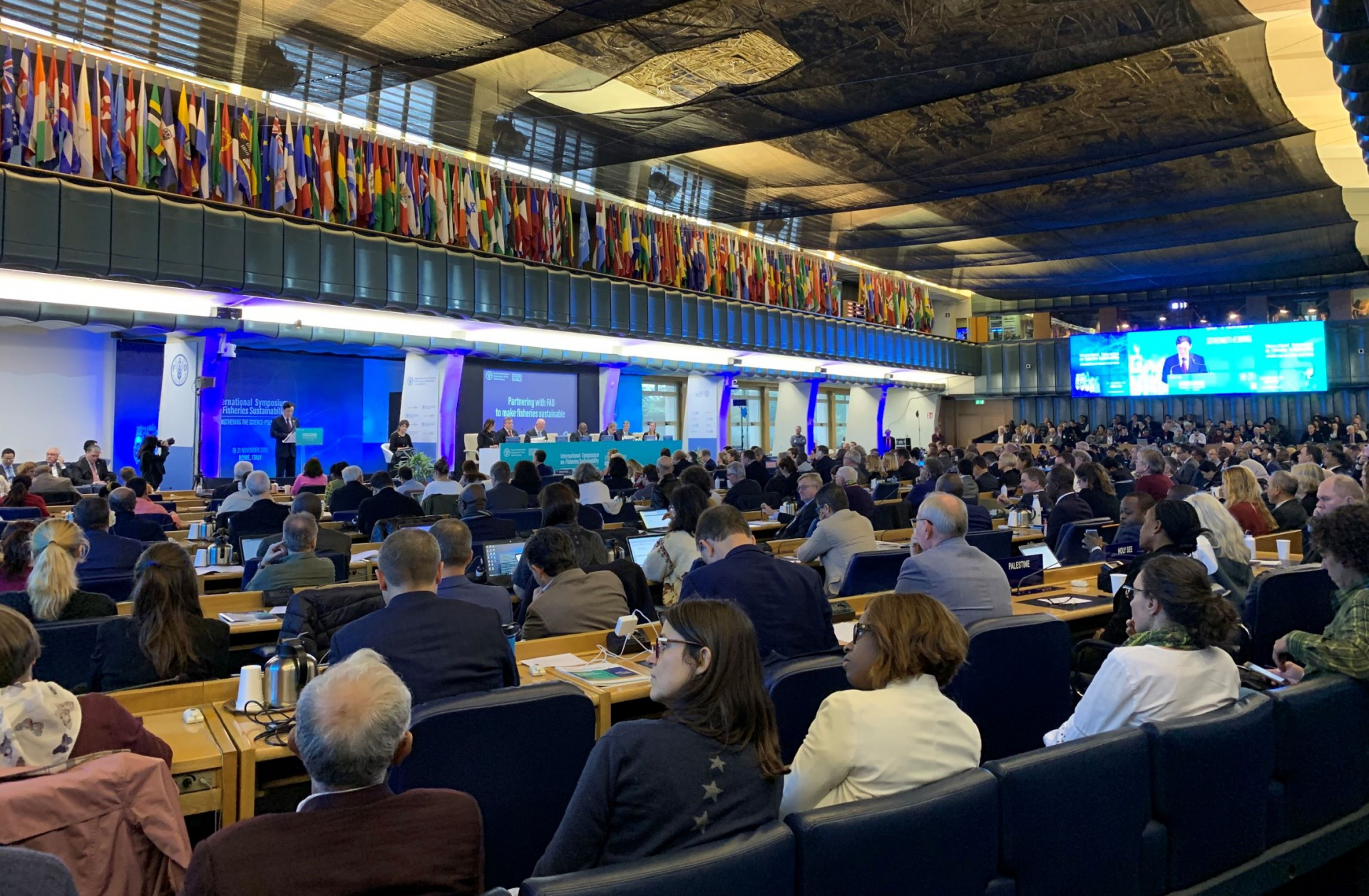 Global fisheries have long served as an essential source of food, employment, and other daily necessities for people around the world. However, in the face of extreme shifts in the ocean ecosystem driven by climate change along with a growing global appetite for fish and other marine products, the world's oceans are under increasing strain.

To address these issues and more, the UN Food and Agriculture Organization (FAO) with support from the Ocean Policy Research Institute (OPRI) of the Sasakawa Peace Foundation (SPF) held the "International Symposium on Fisheries Sustainability: Strengthening the Science-Policy Nexus" at FAO headquarters in Rome, Italy from November 18-21, 2019. An estimated 1000 government officials and experts attended a series of panels, special exhibits, and networking events to discuss how to bridge the gaps between scientists, policymakers, and the general public to tackle the pressing challenges facing international fisheries.
 
Since its establishment as a specialized agency of the UN nearly 75 years ago, FAO's central mission has been to achieve food security around the world, and the sustainability of fisheries has been recognized as a crucial component to that work. According to FAO statistics, per capita fish consumption has doubled since the 1960s with no signs of slowing, and the demand for marine products is expected to continue to grow along with the global population. At the same time, widespread changes to natural habitats and migration patterns of fish driven by climate change have complicated international regulation and conservation efforts, putting the future sustainability of fisheries at risk.
 
"Fish is a central element in the future of the sustainable food system," said FAO Director-General Qu Dongyu during the opening high level session. "The UN Sustainable Development Goals (SDGs) are designed to leave no one behind. Let us not leave any region of the ocean behind in our sustainability quest."
Given OPRI's extensive work around the central theme of supporting healthy oceans for future generations, the institute became a natural partner and active participant throughout the symposium. "The topic of this conference is very important for the future of the ocean and sustainable fisheries," explained Dr. Atsushi Sunami, president of OPRI. "As the UN kicks off the Decade of Ocean Science for Sustainable Development in 2021, we at SPF are very glad to have the opportunity to work with the UN and other partners on these critical issues."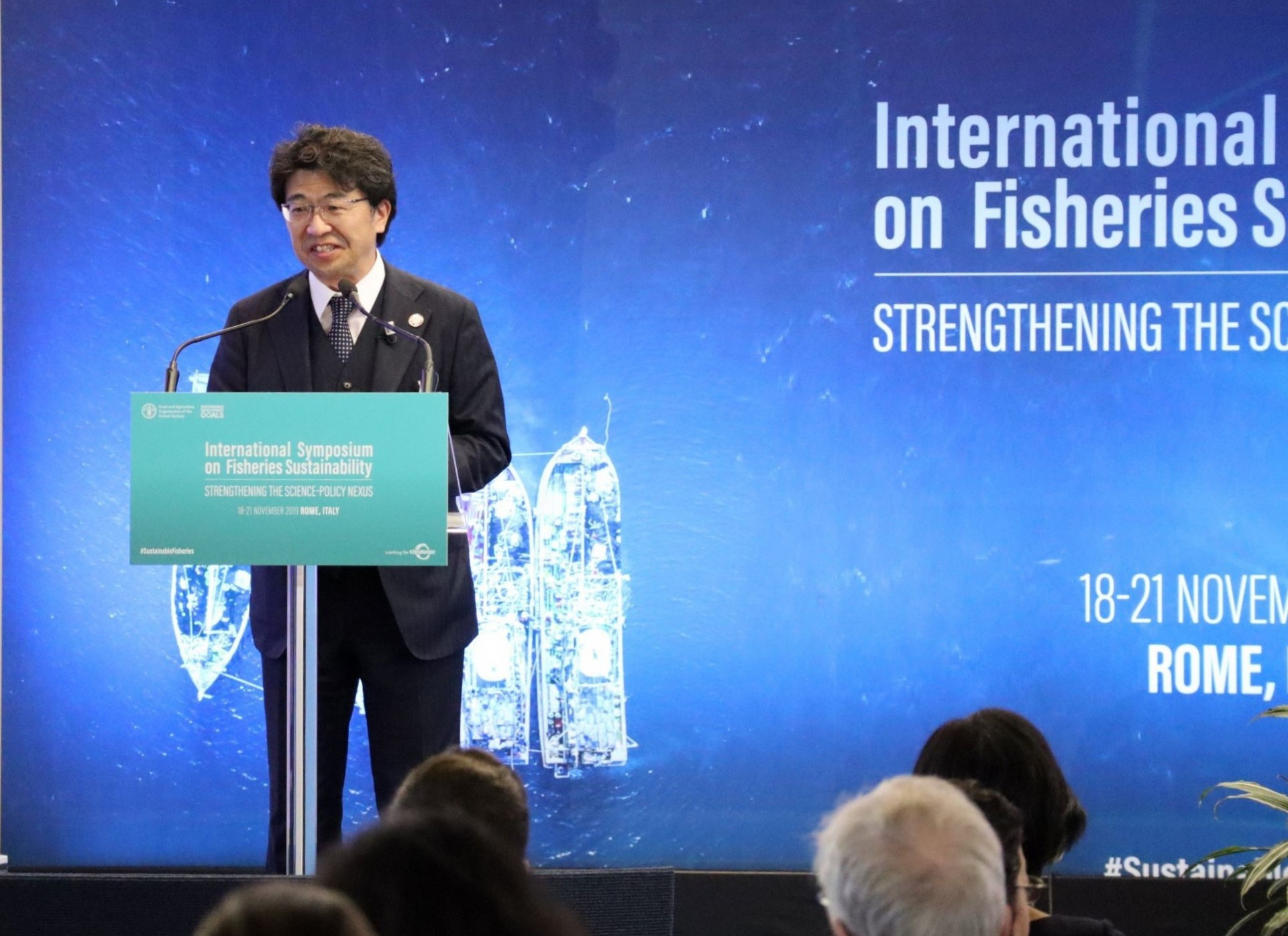 In addition to serving on the advisory committee for the symposium, Dr. Sunami chaired two panels on the final day of the event, focusing on policy opportunities for fisheries management looking to the 21st century. (For videos of the full sessions, visit FAO's website.) Both panels saw lively discussions touching on a range of political, environmental, and social issues facing ocean resources and fisheries sustainability.
 
Ms. Lori Ridgeway, an international consultant from Canada, gave the keynote lecture for the first session, urging all parties involved with fisheries to break free from historical models to forge novel approaches to policymaking and governance. "Looking forward is not going to be business as usual for fisheries. They're facing new risks, new agendas, more multidimensionality, more uncertainty, and opportunities for new tools, especially disruptive technologies," she explained.
 
To contend with this shifting environment, Ms. Ridgeway proposed greater cross-sector cooperation among all key players including fisheries, conservation, and other related industries. She also emphasized the ways that the SDGs and the emerging blue economy principles can be important drivers of change. However, she maintained that while making win-win proclamations at high political levels is easy, measuring progress and ensuring accountability will continue to pose challenges. Accordingly, she urged the fisheries sector to remain actively engaged in substantive debates moving forward to avoid past policy failures.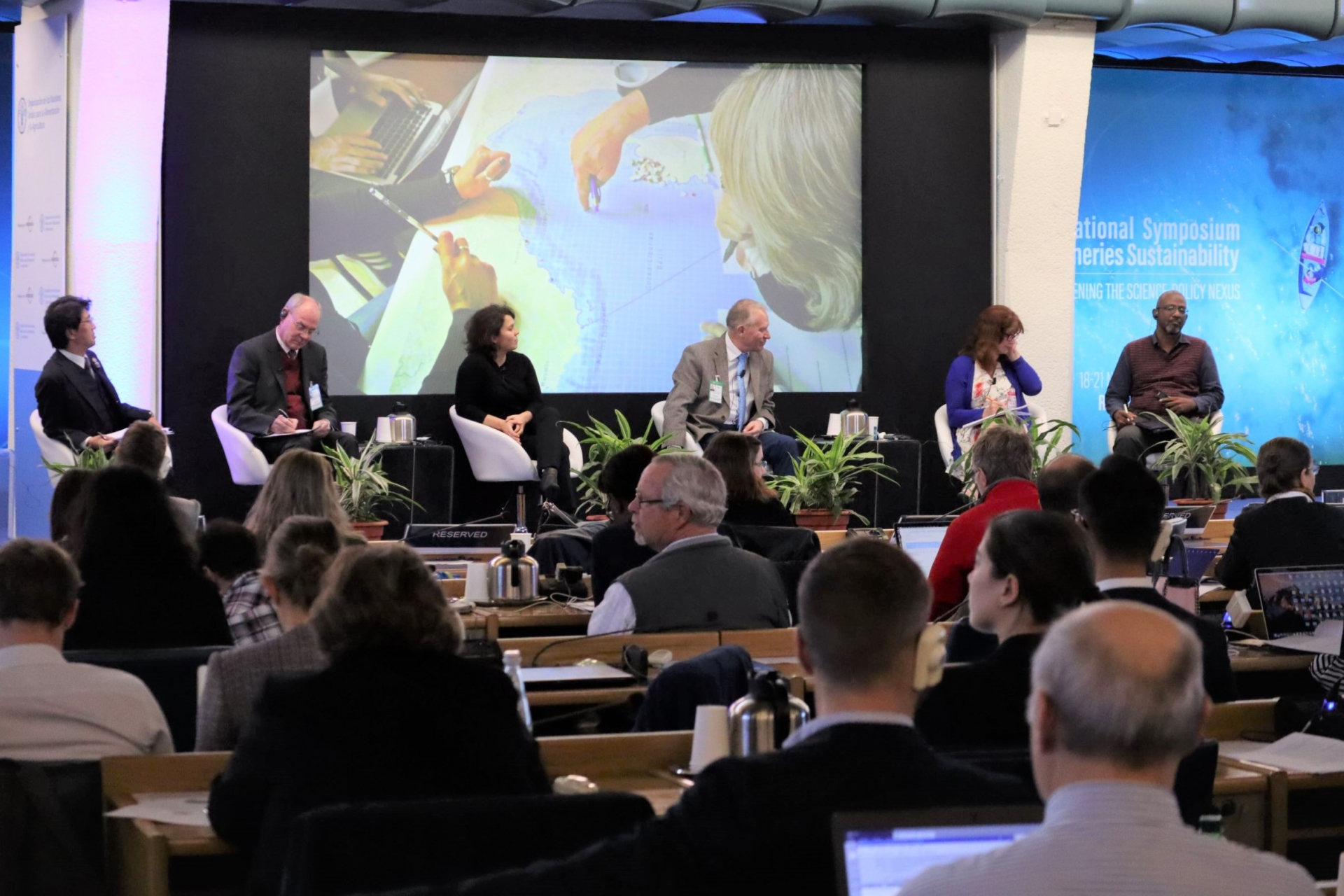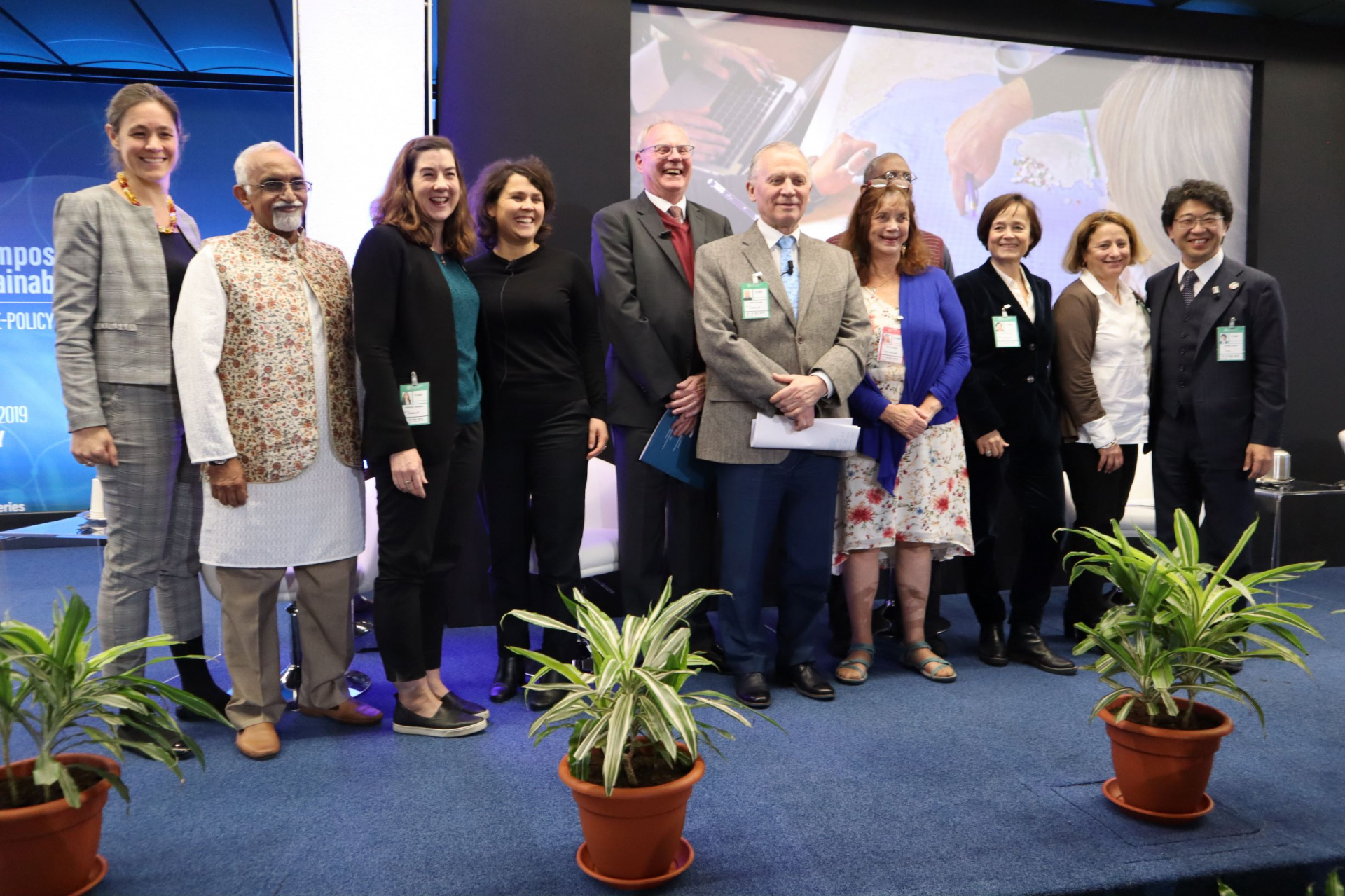 The panelists from the two sessions focusing on policy opportunities for fisheries management in the 21st century
For the second session's keynote speech, Dr. John Kurien of Azim Premji University in India shared his perspective informed by decades of experience championing small-scale fisheries. He argued that policymakers and the general public often overlook the inherent value of small-scale fisheries, which tend to have greater environmental sustainability, cultural significance, and other intangible attributes that should be considered alongside traditional economic indicators.
 
He also noted the importance of trans-generational justice, arguing that any policy discussions must evaluate resource use on a timescale beyond present day. "While we rightly stress the issue of human rights for today, we also need to think beyond and raise the issue of trans-generational access and use of resources from the oceans," he explained. "We must give the welfare of future generations weight in our economic and moral decisions."
 
To do so, Dr. Kurien proposed a three-pronged approach in which the general population promotes examples of the contributions of small-scale fishers to assert political pressure on lawmakers, academics and scientists continue to provide evidence to inform policy, and concerned national governments enact laws to preserve space for small-scale fisheries to thrive.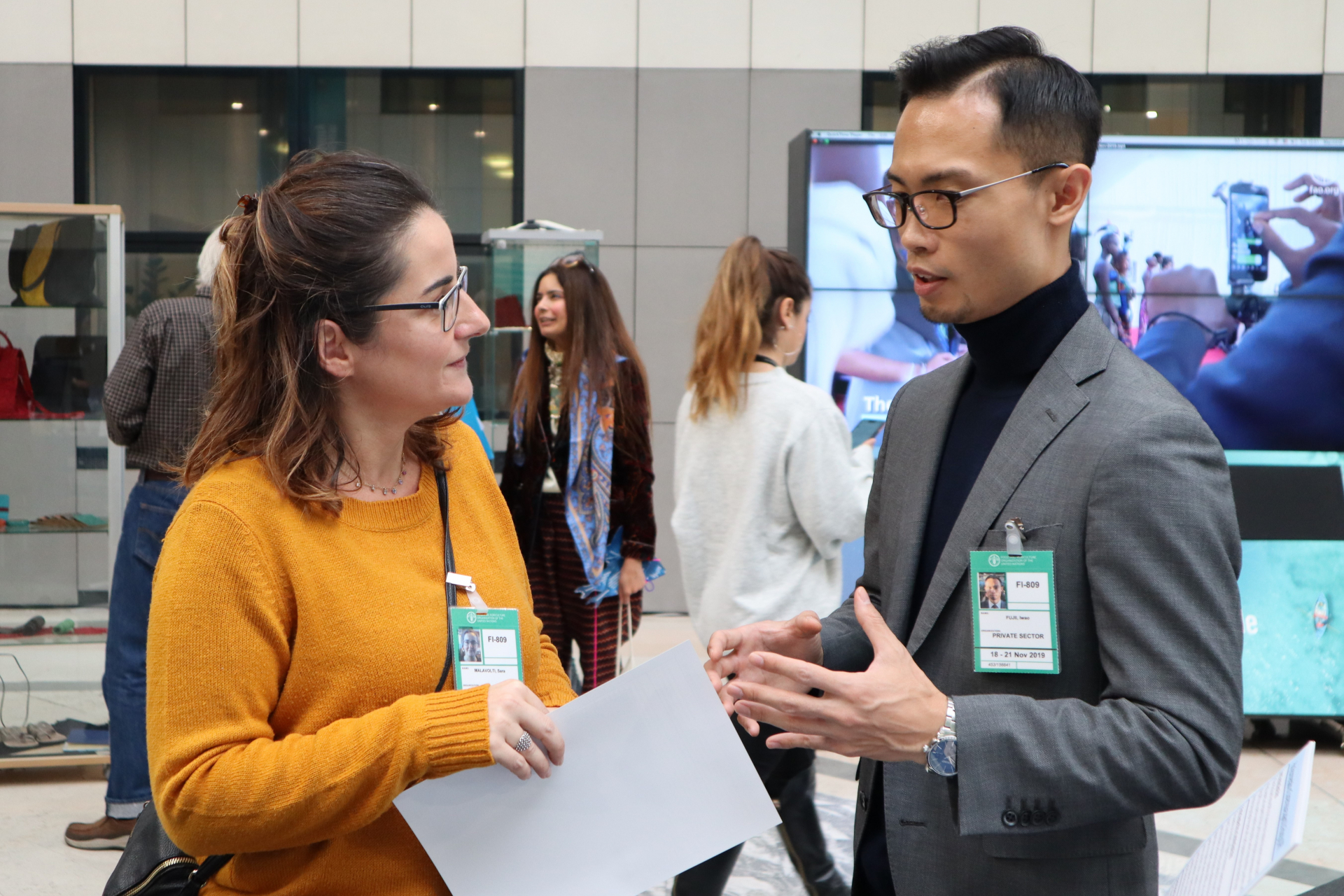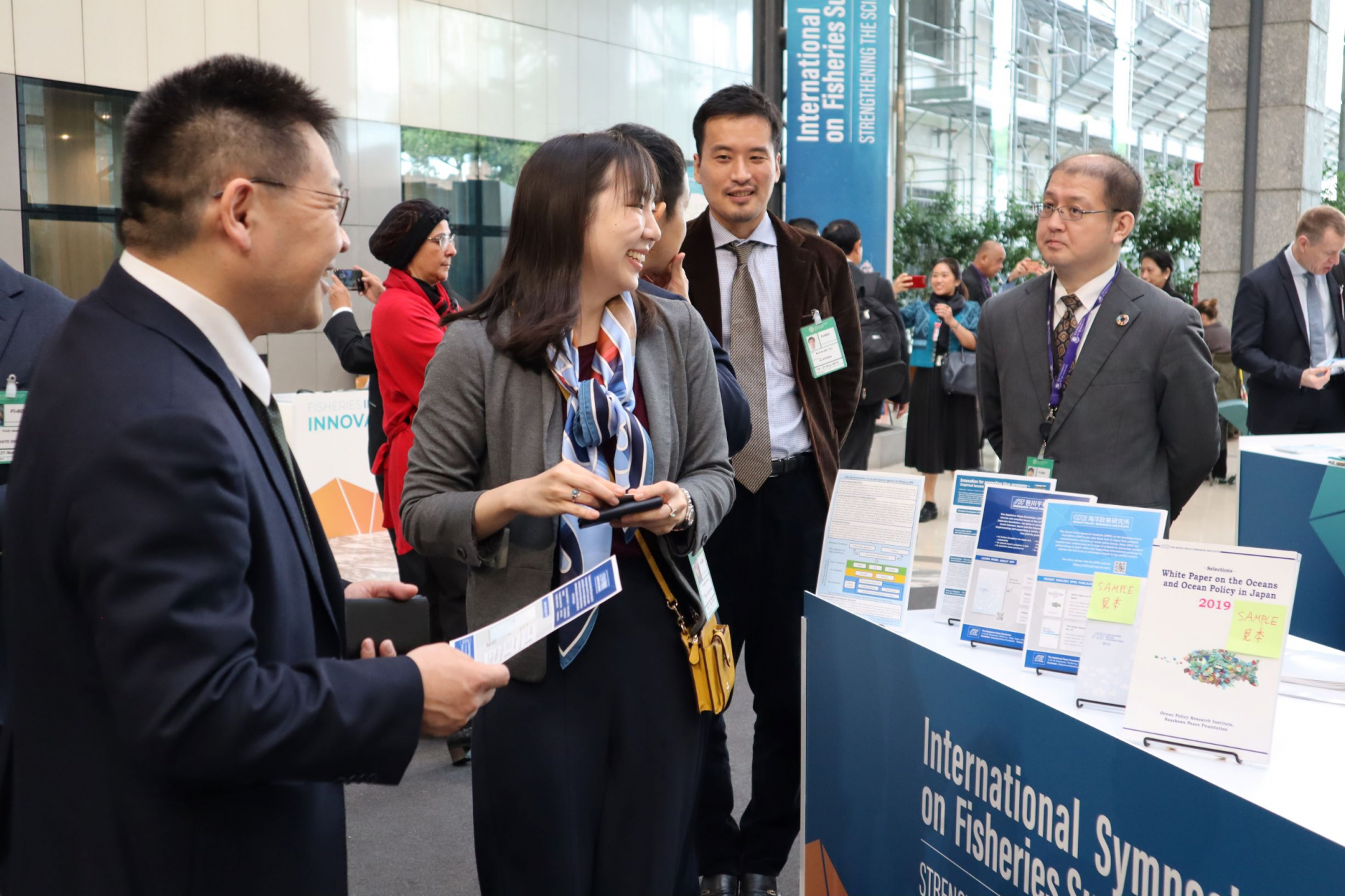 OPRI researchers introduce the institute's work on the blue economy, IUU (illegal, unreported and unregulated) fishing, and other research areas at a special display in the Fisheries Innovation Forum
The conclusions from these two sessions along with the other discussions throughout the symposium are scheduled to be compiled into a technical document that will be presented at the 34th FAO Committee on Fisheries (COFI) in July 2020 to inform future work on sustainable fisheries.
Jackie Enzmann, Chief Editor
For more from the Ocean Policy Research Insitute, please visit the
program page
.