Forging ties between Africa and Japan: OPRI side and partner events at TICAD 7 highlight opportunities to support the blue economy and blue carbon
From August 27-28, 2019, the Ocean Policy Research Institute (OPRI) of the Sasakawa Peace Foundation (SPF) organized two side events and a closed roundtable discussion to address blue economy and blue carbon on the sidelines of the Seventh Tokyo International Conference on African Development (TICAD 7) in Yokohama. TICAD is a high-level conference organized by the Government of Japan and co-hosted by the United Nations, United Nations Development Programme (UNDP), the World Bank, and the African Union Commission (AUC), which aims to connect leaders in the public and private sectors from Japan and African nations to forge collaborative ties to spur sustainable development.
The two side events hosted by OPRI served to highlight the foundation's research while also focusing international attention on the potential for governments, the private sector, and other stakeholders in Japan and countries in Africa to strengthen partnerships to ensure conservation and sustainable use of marine resources while also unlocking the potential of the world's oceans. The participants throughout the events consistently emphasized the immense potential for cooperation in promoting the blue economy and awareness of blue carbon by integrating a range of partners in government, business, academia, and local communities.
Collaboration possibility for sustainable blue economy promotion in Africa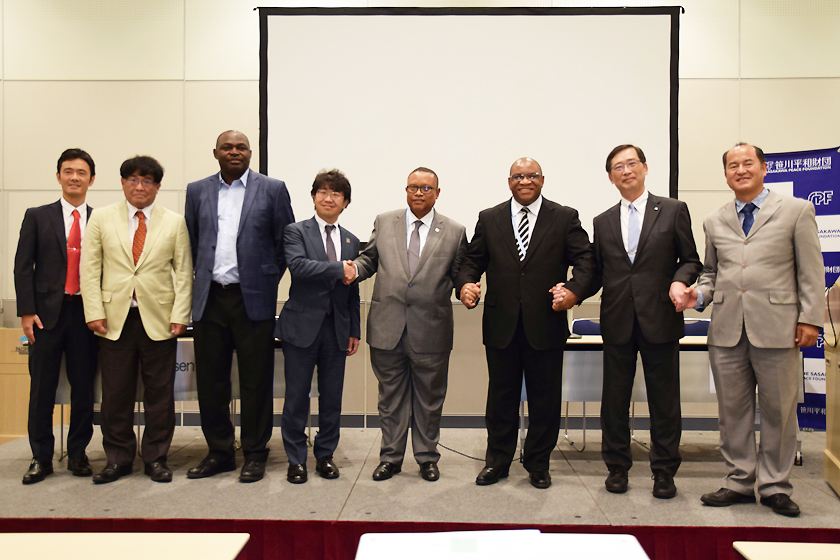 Participants in the first side event (left to right): Dr. Atsushi Watanabe, Professor Mitsuru Izumi, Dr. James G. Kairo, Dr. Atsushi Sunami, Minister Bernard Esau, Namibia's Ambassador to Japan Morven Luswenyo, Professor Tadashi Tokai, and Mr. Masanori Kobayashi
The concept of the blue economy, a term referring to integrated efforts to conserve the world's oceans while also acting to take advantage of the economic and social benefits of marine resources, has become a central topic of discussion in policy and climate change circles. Accordingly, the first OPRI side event assembled a panel of experts and government officials to discuss opportunities for promoting the blue economy in Africa.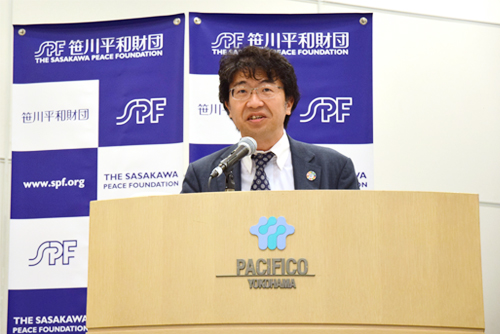 Dr. Atsushi Sunami, President of OPRI
Representatives from OPRI kicked off the event by emphasizing the increasing international interest in policies that support the blue economy. "More and more countries and businesses are looking into the potential for the ocean-based economy, or blue economy," said OPRI President Dr. Atsushi Sunami during his opening remarks. He continued by outlining OPRI's extensive participation in international conferences focusing on the blue economy and highlighting the successful outcomes from the 2018 Sustainable Blue Economy Conference in Nairobi, Kenya. "We were highly encouraged by the enthusiasm and leadership demonstrated by our African partners," said Dr. Sunami.
OPRI Senior Research Fellow Mr. Masanori Kobayashi, who moderated this side event, also elaborated on the success of the conference in Nairobi, noting that voluntary commitments to promote a sustainable blue economy pledged by the participating delegations totaled around 172 billion USD. Mr. Kobayashi concluded his remarks by expressing hope for continuing cooperation between OPRI and countries in Africa.
During the keynote speech of the session, Minister of Fisheries and Marine Resources Bernard Esau from the Republic of Namibia outlined his country's position on the blue economy from the perspective of environmental, economic, and socio-economic sustainability. "Namibia takes blue economy issues very seriously," said Minister Esau, noting that 29% of the country's GDP is generated from fisheries, marine transport, tourism, and other areas.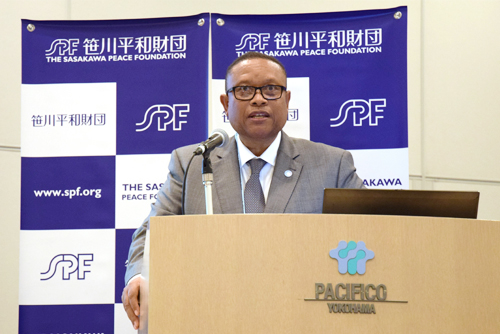 Minister of Fisheries and Marine Resources Bernard Esau
Minister Esau also highlighted potential areas for collaboration with Japan, including developing initiatives to contend with climate change, supporting measures to combat IUU (illegal, unreported, and unregulated) fishing, and pursuing scientific research such as seabed mapping, ocean exploration, and strategic environmental assessments. Moving forward, he also commented that Namibia hopes to continue coordinating internationally to develop sustainable policies informed by scientific research while also working to encourage investment by the private sector into fisheries and value chain development.
Several panelists also gave presentations outlining Japan's experience in support of blue economy initiatives. Dr. Mitsuru Izumi, Professor at Tokyo University of Marine Science and Technology (TUMSAT), outlined the university's extensive projects in support of the blue economy, including collaborative research on marine issues with the University of Namibia and training programs targeting the next generation of experts in Japan and around the world.
Mr. Nariaki Mikuni, Senior Assistant Director for the Japan International Cooperation Agency (JICA), gave an overview of two field-based projects in Africa: a program to support octopus fisheries in Senegal and another focusing on tilapia aquaculture in Benin. Throughout his presentation, Mr. Mikuni emphasized that the integration of small-scale farmers, local fishermen, policymakers, and the full spectrum of stakeholders at the local level has been a critical element for the successful implementation of these projects.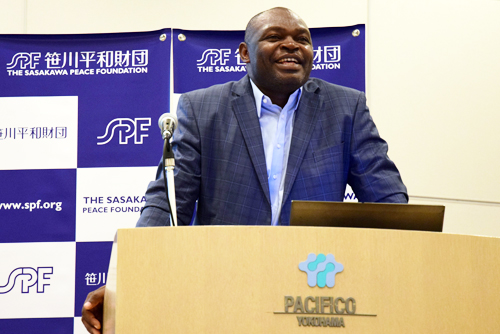 Dr. James G. Kairo, Chief Scientist at the Kenya Marine and Fisheries Research Institute
While the primary focus of this side event was the blue economy, Chief Scientist at the Kenya Marine and Fisheries Research Institute Dr. James Kairo gave a presentation outlining the potential for blue carbon ecosystems to support broader conservation goals. Blue carbon, which refers to the carbon stored in the coastal ecosystems such as mangroves, seagrasses, and salt marshes that are estimated to capture and store five to ten times more carbon than other ecosystems, are increasingly regarded as a key factor in capturing and storing carbon around the world.
As one example of successful integration of blue carbon ecosystems into climate change initiatives, Dr. Kairo outlined the Mikoko Pamoja Mangrove Reforestation Project in Kenya, which preserves blue carbon ecosystems through transactions on a carbon credit marketplace as well as other activities. Carbon credits are sold on the international market, with nearly 90% of the returns going to support local communities by contributing to reforestation, community surveillance, education, and other initiatives.
However, Dr. Kairo also noted that often international pressures, such as the global demand for shrimp imports, push local farmers to prioritize economic gains over long-term environmental sustainability. "The global community should understand that for sustainability in our oceans, we need resilient ecosystems. If you support the economy and the people, you support the environment," explained Dr. Kairo.
During discussions following the presentations, the panelists emphasized the need for capacity development and broad participation in the decision making process in addition to supporting innovative policies through application of new technologies and stakeholder collaboration. To conclude the session, Professor Tadashi Tokai, Executive Director and Vice President of TUMSAT, issued a call for dedicating additional human resources to promote the blue economy, highlighting TUMSAT's new program seeking to develop the next generation of blue economy experts both inside Japan and around the world.
Conservation, restoration, and sustainable use of blue carbon ecosystems: Lessons learned and possible collaboration between Africa and Japan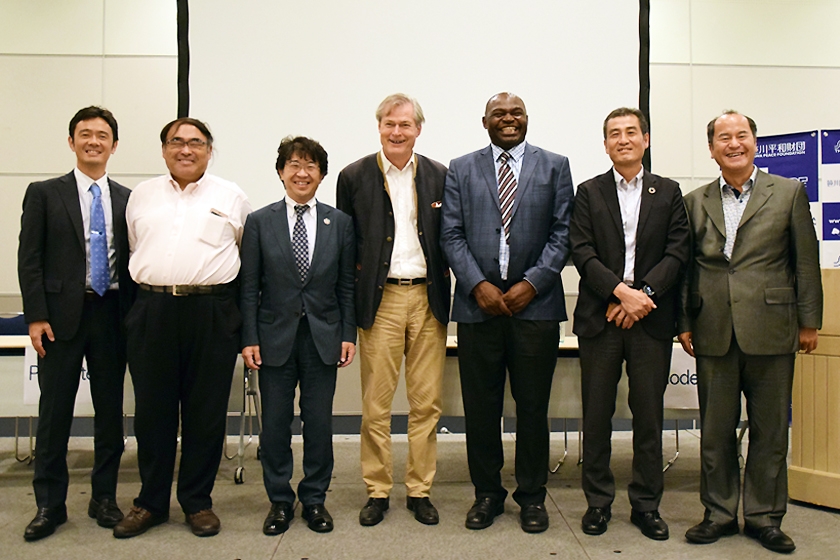 Participants in the second side event (left to right): Dr. Atsushi Watanabe, Associate Professor Daisuke Fujita, Dr. Atsushi Sunami, Professor Gunter Pauli, Dr. James G. Kairo, Mr. Shuhei Okuno, and Mr. Masanori Kobayashi
ORPI's second side event at TICAD 7 focused on the latest developments in blue carbon and explored potential avenues for international collaboration. With increasing momentum behind international commitments to slow rising global temperatures, the conservation of blue carbon ecosystems, which house vast quantities of carbon emissions, are increasingly viewed as a critical aspect of climate policy.
"African countries have a great potential in blue carbon," said Dr. Sunami to open the second side event, noting that while Africa has extensive mangrove, seagrass, and seaweed ecosystems, overuse and exploitation in the pursuit of short-term economic gains at times has blocked progress toward conservation. "Wise and sustainable use of blue carbon ecosystems would benefit local coastal communities while addressing climate mediation at the same time," he continued.
OPRI Senior Research Fellow Mr. Masanori Kobayashi, who acted as moderator, continued by outlining recent OPRI activities related to blue carbon, including active participation in global policy dialogues such as the UN Framework Convention on Climate Change (UNFCCC)/COP24 in Poland in 2018, and a variety of case studies including seagrass restoration projects in the town of Hinase in Bizen city, Okayama prefecture, which produced environmental as well as socio-economic benefits to the local community.
During the session's keynote address, Dr. Naoko Ishii, CEO and Chairperson of the Global Environment Facility (GEF), noted that the public awareness about climate change and the critical role of marine ecosystems in storing carbon has reached new highs, giving scientists and policymakers a chance to capitalize on the growing momentum. "We all know that scientists continue to send alarm bells to the global community," said Dr. Ishii. "It's really important for this community to translate this message from science into concrete actions on the ground."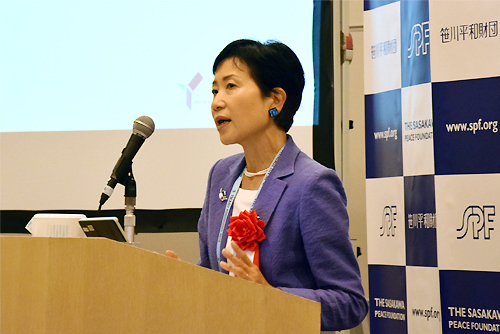 Dr. Naoko Ishii, CEO and Chairperson of the Global Environment Facility (GEF)
To this end, she offered a series of policy proposals, including directing international efforts toward establishing comprehensive and cross-sectoral agreements for ocean usage, publicizing not only the ecological value of marine ecosystems but also the economic and social benefits of conservation, and increasing the amount of funds directed to climate sector investments, including through the implementation of new financial mechanisms like the blue bond scheme established in the Seychelles.
Mr. Shuhei Okuno, Deputy Director General at the Climate Change Policy Headquarters in City of Yokohama, outlined several climate initiatives established by the city to achieve the goal of carbon neutrality by 2050. These efforts included a carbon offset program that awards credits for activities that decrease carbon dioxide emissions, which can then be used to offset emissions from large public events. Since the program began in 2014, the amount of carbon offset through the credit system has grown from 3.1 tons to 164.4 tons in 2018, and Mr. Okuno mentioned plans for the offset program to expand to incorporate blue carbon moving forward.
Dr. Atsushi Watanabe, Senior Research Fellow at OPRI, continued the discussion about Japanese programs by outlining two projects that have successfully protected blue carbon ecosystems while also integrating local stakeholders. Examples include Bizen city in Okayama Prefecture, where local fishermen established an initiative to restore local seagrass to revive fisheries in the region, and Onna village in Okinawa, where the local community created a financial system that reserves a portion of the sales of mozuku, a local seaweed that thrives among coral reefs, for local habitat restoration and conservation.
Associate Professor Daisuke Fujita from TUMSAT continued the discussion of blue carbon ecosystems by giving a wide-ranging presentation about the various benefits of seaweed, focusing on the macroalgal beds distributed around the coast of Japan. These seaweed ecosystems act not only as an absorber of carbon, but also provide other co-benefits including nutrition for humans, safe haven for other aquatic life, light and wave reduction in ocean waters, and more. Dr. Kairo from the Kenya Marine and Fisheries Research Institute, who also spoke during the first side event, continued the discussion by considering strategies to integrate the issue of blue carbon into the mainstream climate change agenda, including through the UN Sustainable Development Goals (SDGs).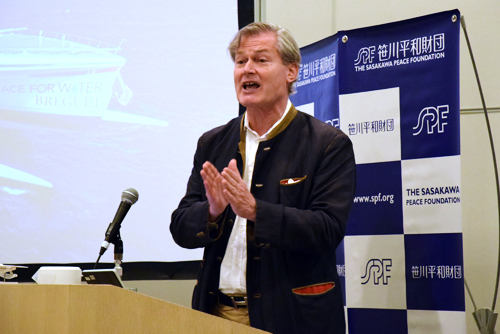 Dr. Gunter Pauli, special advisor with Zero Emissions Research & Initiatives (ZERI) Japan
To conclude the presentations, Dr. Gunter Pauli, special advisor with Zero Emissions Research & Initiatives (ZERI) Japan, outlined a sweeping proposal to leverage the natural attributes of seaweed to not only aid in the removal of microplastics from the ocean, but also to serve as the fuel for a new source of renewable energy. While pursuing a seaweed farming project in Morocco, Dr. Pauli's team made a chance discovery that the growth of the seaweed was significantly stunted due to absorption of microplastics. "While this was bad news for seaweed, it was good news because we found a way to start eliminating microplastics from the ocean," said Dr. Pauli.
Building on this finding, Dr. Pauli outlined a proposal to install seaweed curtains along shorelines around the world to collect and remove microplastics from the ocean. These small fragments of plastic adhere to the outside of seaweed, allowing for easy removal through washing with hot water or anaerobic digestion, which creates biogas that could also potentially be harnessed as an alternative energy source.
In discussions following Dr. Pauli's presentation, many panelists and audience members expressed interest in the seaweed curtain proposal. During conversations with the audience, Dr. Pauli urged greater collaboration between countries in Africa and Japan to develop this new initiative. To conclude the session, Mr. Kobayashi restated the need for further discussions and development of innovative approaches to involve stakeholders in promoting blue carbon as a way to advance blue economy and sustainable development.
Jackie Enzmann, Chief Editor
Related Links:
Please visit the SPF Videos page to watch the full seminars.
For more from OPRI, please visit the program page.