Dr. Masoumeh Ebtekar, Vice President for Women and Family Affairs on women's empowerment, Japan–Iran ties, and increasing regional tensions
Dr. Masoumeh Ebtekar, Vice President for Women and Family Affairs on women's empowerment, Japan–Iran ties, and increasing regional tensions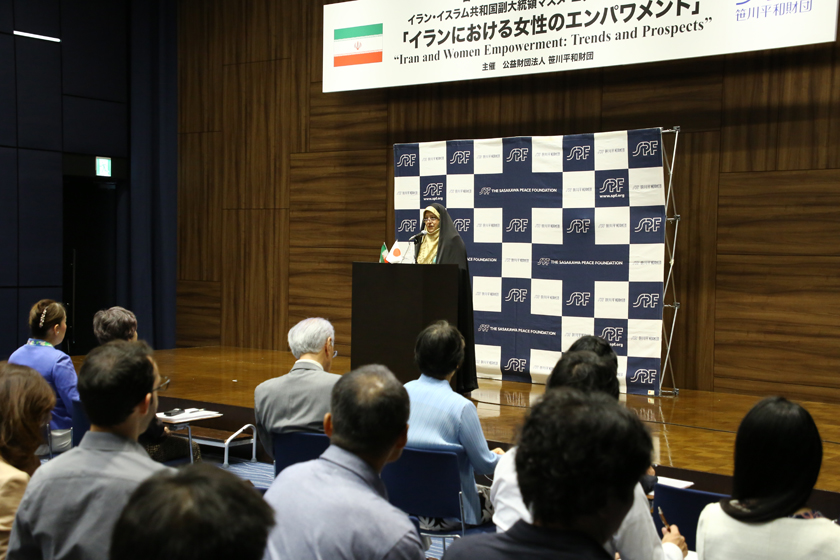 Dr. Masoumeh Ebtekar during remarks at an SPF seminar on women's empowerment in Iran and Japan
The Middle East and Islam Program of the Sasakawa Peace Foundation (SPF) has worked over the past 10 years to promote constructive ties with Iran through a range of projects including joint research, exchange visits, and dialogues. As part of this effort and amidst increased international interest in the Middle East, on June 27, 2019, SPF welcomed Dr. Masoumeh Ebtekar, Iran's Vice President for Women and Family Affairs, to the foundation for a seminar covering topics ranging from women's empowerment and entrepreneurship to increasing tensions with the U.S.
The seminar served as the official launch event for the report "Women, Entrepreneurship, and Economic Empowerment," the product of a two-year collaborative research effort between SPF and the Vice Presidency for Women and Family Affairs. The volume outlines the current status of women's entrepreneurship in Iran and Japan, including examples of successful policy intervention as well as remaining challenges to be addressed.
Given the timing of the event, Dr. Ebtekar also took the opportunity to reiterate the Iranian government's position on the deterioration of relations with the U.S. and expectations for support from the international community. Tensions had been on the rise following the U.S. withdrawal from the nuclear agreement and reinstatement of sanctions beginning in 2018. In the run-up to the seminar, the dispute intensified following the downing of a U.S. drone by Iranian forces and Iran's subsequent announcement of its intention to step back from the commitments outlined in the nuclear deal.
SPF Chairman Nobuo Tanaka during his opening remarks alluded to current events, emphasizing that in times of tension, "the continuation of dialogue with Iran under such circumstances is of the upmost importance." He also noted that SPF looks forward to future collaborations on women's empowerment from a long-term perspective in order to strengthen relations between Japan and Iran.
Progress and challenges for women in Iran
During the seminar's keynote address, Dr. Ebtekar began by applauding the successful completion of the joint report on women's entrepreneurship, calling it evidence of a concrete achievement resulting from the partnership between SPF and the Iranian government. "It's imperative that we learn from each other, share these experiences, and incorporate the results in our national policy," she said.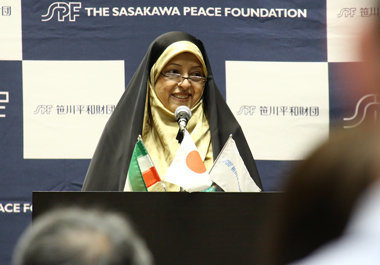 Dr. Ebtekar continued by outlining the progress made in Iran over the past 40 years toward women's empowerment in areas from political participation to sports and public health. In particular, she highlighted the government's attention to expanding access to education, calling it "one of the most important areas where Iran has invested for all members of its society."
She also pointed out that women now make up more than 60% of those who pass the national entrance exam for university, explaining that "the trends are really remarkable. This indicates that there's a lot of hope and a lot of optimism."
However, while women enjoy increased access to higher levels of education, they still face barriers to full economic empowerment, with statistics from 2017 estimating that only 14.9% of Iranian women participate in the workforce. One possible limiting factor according to Dr. Ebtekar is the influence of traditional gender roles in Iran, wherein women are expected to care for the family and home while men provide financial stability.
While she argued that these traditional gender roles have a place in Iranian society, she also emphasized the need for the government to provide support for working women, particularly heads of household who need to earn a living wage for themselves and their family. In addition, she asserted that Iranian society should recognize the inherent economic contribution of household work to the economy, citing a study estimating the economic value of household services as the equivalent of 22-30% of Iran's GDP.
Looking to politics, Dr. Ebtekar outlined Iran's recent push to implement indicators of gender equity across government. While Dr. Ebtekar herself made history as the first female vice president in Iran following the Islamic Revolution, currently only 18 out of the 290 representatives in the national parliament are women. "This is not high enough," she explained. "We're addressing a target of increasing the number of women parliamentarians, and I think this is very important."
As part of the effort to increase female representation, Dr. Ebtekar highlighted President Rouhani's initiative to appoint women to 30% of the major decision-making posts in his administration, noting that the number of female vice ministers has recently increased from 10 to more than 60.
Perspectives from Japan
During a panel discussion following Dr. Ebtekar's remarks, Ms. Kimie Iwata, former Director-General of the Ministry of Health, Labour and Welfare, and Dr. Tomoyo Kazumi, a professor at Senshu University, discussed the state of women entrepreneurship in Japan.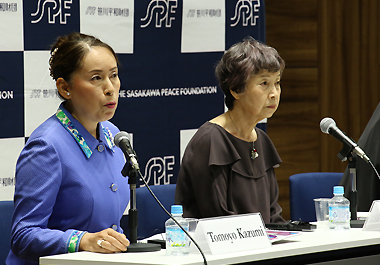 Dr. Tomoyo Kazumi (left) and Ms. Kimie Iwata
Ms. Iwata laid out what she described as the two-track policy agenda in Japan to address the challenges facing women in the workplace, particularly those with children, and increase opportunities for career advancement. She noted that women in Japan who have children are often relegated to irregular working status, leading to job insecurity and creating a shortage of women with the required experience for higher management positions.
Professor Kazumi, who participated in the joint research project between Iran and SPF, summarized some of the main findings from the report and compared the level of support for women entrepreneurs in both countries, noting that Japan in general ranks low in terms of entrepreneurship. She also discussed the ways that advances in technology can provide women with more opportunities to work from home, allowing for the creation of so-called "mompreneurs."
Escalating tensions between Iran and the U.S.
While women's entrepreneurship was the principal topic of discussion, concern over simmering tensions between Iran and the U.S. and the potential for a military confrontation loomed large over the conversation.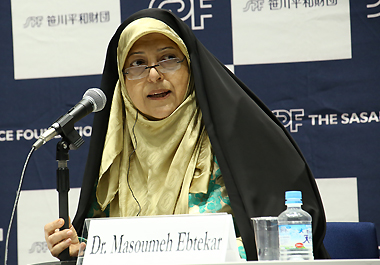 During her remarks in the seminar and comments at an SPF press conference, Dr. Ebtekar maintained that Iran is not interested in conflict in the region, arguing that any ratcheting up of tensions pose a direct threat to Iran and its population. "We're not after tensions [and] we're not after war, but we will defend ourselves, our national integrity, our sovereign borders," said Dr. Ebtekar.
She also asserted that while Iran had adhered to the multilateral nuclear agreement known as the Joint Comprehensive Plan of Action (JCPOA), the U.S. instead elected to withdraw from the deal and leverage its economic clout to block countries wishing to do business with Iran, creating what she called the "new law of the jungle."
"They are constantly threatening us and imposing new sanctions against our economy. It's not possible for any nation, any dignified nation, to negotiate under pressure and under threat," said Dr. Ebtekar.
Given these circumstances, she called on the international community, notably other parties to the nuclear agreement and countries that have benefitted from economic ties with Iran, to support the country both politically and economically. "We look forward in tense difficult times to stronger cooperation, particularly between the people of Iran and Japan," said Dr. Ebtekar.
Jackie Enzmann, Chief Editor
Related Links:
To view Dr. Ebtekar's full lecture at SPF, please visit our video page.
For more from the Middle East and Islam Program Department, please visit the program page.