Perspectives from Iran and Japan on the future for Iranian diplomacy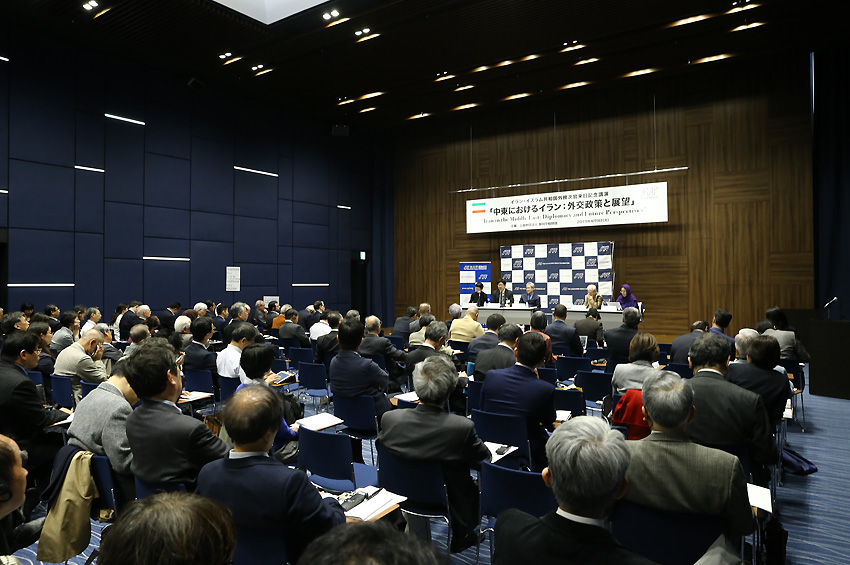 SPF held an expert discussion about Iranian diplomacy, geopolitical tensions, and other global issues
On April 9, 2019, the Middle East and Islam Program Department of the Sasakawa Peace Foundation (SPF) welcomed an expert panel from Iran and Japan for an event called "Iran in the Middle East: Diplomacy and Future Perspectives." The panelists included Dr. Seyed Kazem Sajjadpour, the Deputy Foreign Minister for Research and Education of the Islamic Republic of Iran; Dr. Saideh Lotfian, professor of Political Science at the University of Tehran; Dr. Yasuyuki Matsunaga, professor at the Institute of Global Studies at Tokyo University of Foreign Studies; and Dr. Koji Horinuki, senior researcher of the Institute of Energy Economics in Japan.
 
The discussions throughout the seminar covered a range of topics from international geopolitical tensions to environmental risks in the Middle East. However, much of the conversation focused on rising tensions between the U.S. and Iran, driven by the recent news that the U.S. government designated Iran's Revolutionary Guard as a terrorist organization, coming on the heels of the U.S. reinstating sanctions against Iran earlier in 2018.
 
To open the seminar, SPF Chairman Nobuo Tanaka alluded to these themes, stating that while the international situation concerning Iran has become increasingly tense, the country has a key role to play moving forward considering its position as a large and highly educated country with abundant resources, such as energy. Mr. Tanaka also underscored the importance of SPF participating in global affairs as a private foundation by supporting exchange programs, such as the ones run by the Middle East and Islam Program Department, to encourage collaborative ties during times of uncertainty.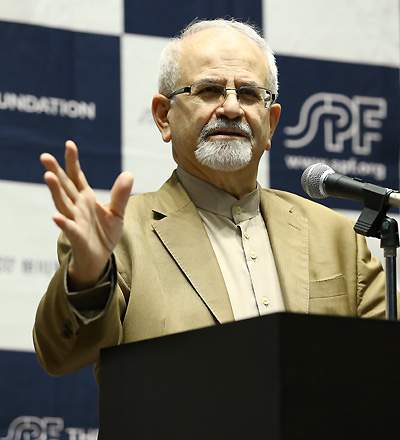 Dr. Seyed Sajjadpour, Deputy Foreign Minister for Research and Education of Iran
Dr. Sajjadpour structured his opening remarks using his familiar rhetorical device of organizing content according to what he called his "ABCs." He began by discussing what he described as the negative depiction of Iran by the international community, characterizing it as "alarmistic," "black and white," and "confrontational." He also argued that Iran's regional and international positioning can be understood by the concepts of "actorship," or Iran's ability to act as a self-dependent regional power, "buildership," which emphasizes Iran's building not only of normative values but also of political institutions, and "cooperative relationships," wherein Iran has fostered a number of long-lasting bilateral, regional, and multilateral relations including the 90-year relationship with Japan.
 
Regarding the U.S. designation of Iran's Revolutionary Guard as a terrorist group, Dr. Sajjadpour stated that the action, which he characterized as against international law and violating Iran's sovereignty, was driven by domestic politics in the United States and was unlikely to cause any notable shift in Iran. "I think nothing will happen because we are not frightened by Americans," said Dr. Sajjadpour, pointing out that the Iranian National Security Council had already reciprocated by designating U.S. Central Command, the military division responsible for the Middle East, as a terrorist group.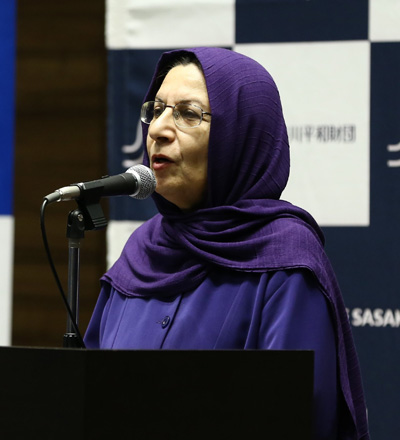 Dr. Saideh Lotfian, professor of Political Science at the University of Tehran
Dr. Lotfian used her opening remarks to paint a broad picture of the current security dilemmas faced by the Middle Eastern region, with factors including rising instability, the presence of foreign military forces in the region, persistent conflicts, cyberattacks, and environmental problems caused by climate change. She also emphasized the need for regional and global collaboration to confront these challenges, arguing that "national boundaries have no meaning in the face of such threats."

To conclude, she suggested that four points need to be addressed to contend with the array of pressing regional security concerns, namely arms control in the Middle East, especially relating to new weapons systems and nuclear arms; further analysis of perceived threat by regional states; progress toward a political solution to the threat of nuclear proliferation; and intervention to deal with the socio-economic problems in the region by boosting regional economic integration and trade.

Following these opening remarks, Dr. Matsunaga and Dr. Horinuki added their perspectives as Japanese academics specializing in the Middle East. Dr. Matsunaga, an Iran expert who noted that his perspective largely aligned with the two presenters, wondered about how Iran will act in the short term to contend with various issues, including growing economic and social problems and the challenges related to the recovery from recent flooding that caused widespread damage.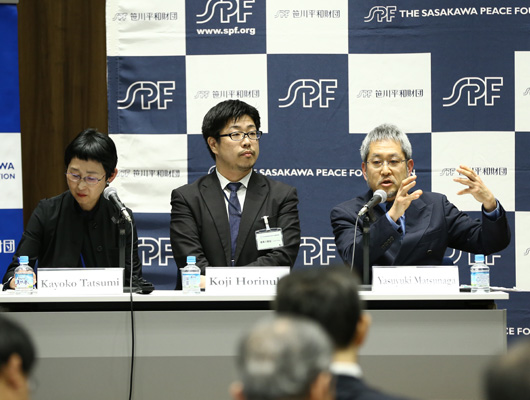 From left to right: Dr. Kayoko Tatsumi, Director of SPF's Middle East and Islam Program Department, Dr. Koji Horinuki, and Dr. Yasuyuki Matsunaga
Dr. Horinuki brought in a divergent perspective as an Arabist, and raised several questions about Iran's role in the current conflict in Yemen. He also asserted that Iran is increasingly seen as a source of threat by other countries in the Middle East, and that the region must work to address historical relations to resolve international rivalries.
In response to the questions raised by the panel, Dr. Sajjadpour noted that Iran has a long history of independence regarding its security and also has a strong background in decision-making based on what he called the country's multilayered foreign policy. Dr. Lotfian built on those remarks by asserting that Iran is not an isolated country, and argued that in the next few years Iran will likely seek to confront the U.S. and establish itself as a regional power by working to strengthen ties with allies and partners.
Jackie Enzmann, Chief Editor