The "new face" of Jakarta: Dr. Anies Baswedan on his first two years as governor and goals for the future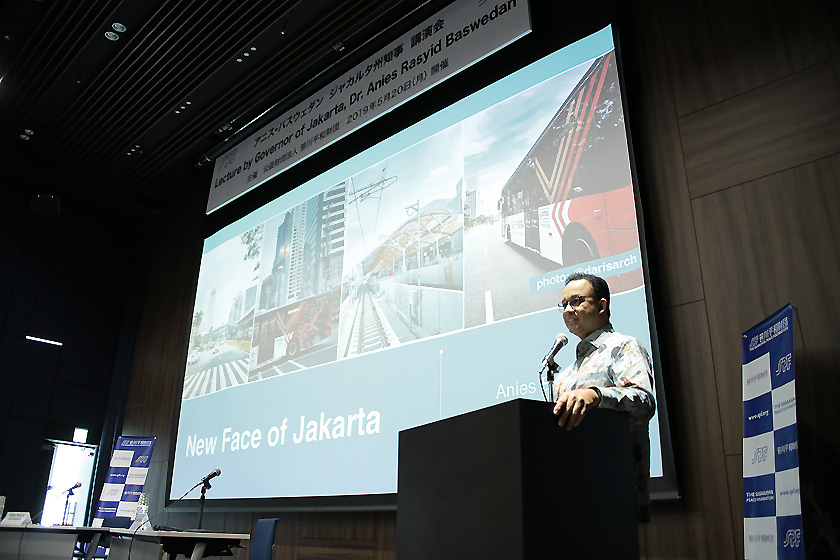 Governor of Jakarta Dr. Anies Baswedan during remarks at SPF
On May 20, 2019, Dr. Anies Baswedan, the governor of Jakarta, returned to the Sasakawa Peace Foundation (SPF) for a speech showcasing what he called the "new face" of Jakarta and outlining his policy agenda in support of a sustainable future for the city.

SPF's Asia Peace Initiatives Department first invited Dr. Baswedan to Japan in July 2017, just months before his inauguration in October 2017, to give a speech at SPF outlining his vision as the newly elected governor of Jakarta. This year, taking advantage of Dr. Baswedan's participation in the Urban 20 (U20) Tokyo Mayors Summit, SPF welcomed him back to the foundation to reflect on his achievements during his first two years as governor and present his ideas for the second half of his term.

During his opening remarks, Dr. Baswedan presented an ambitious slate of policy proposals designed to contend with rising inequality and other social and economic issues in Indonesia's largest city. While progress in many areas continues apace, the city faces various challenges including more than 3 million people in Jakarta living on 1 million rupiah per month or less (approximately 70 USD) and 40% of the population lacking access to pipe water.

"Making sure that basic infrastructure is available, that is our priority," said Dr. Baswedan, emphasizing the need for greater development at the household level, or what he called micro-infrastructure. Throughout his remarks, he noted that a lack of household-level infrastructure often has an outsized impact on the city's most vulnerable populations. "It's more expensive being poor in our city. That is our basic challenge," he explained.

As one example, poorer populations without access to pipe water have to spend nearly six times more to buy bottled water than individuals living in an apartment with access to clean tap water. To address these disparities, Dr. Baswedan outlined several key development targets including ensuring access to clean water for 100% of the population and building 600,000 new housing units, both by 2030.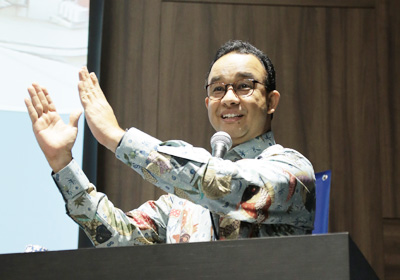 Dr. Baswedan also addressed Jakarta's persistent traffic, which is estimated to cost around 100 trillion rupiah (7.04 billion USD) in annual economic losses. The so-called "first mile/last mile" problem, where commuters do not have easy access to public transportation from their home or workplace, has emerged as a key factor in the city's gridlock. In Jakarta, the population of 10 million people own an estimated 13 million motorized vehicles, and some commuters have resorted to using multiple private motorbikes or cars for a single commute, filling parking lots and adding to the overall number of vehicles on the road.
 
To combat these trends, Dr. Basweden announced that the government intends to make public transportation accessible within 500 meters of the homes of 95% of Jakarta's population. Proposed policies in support of this goal include expanding the newly opened Jakarta Mass Rapid Transit (MRT) subway system from 16 kilometers to 231 kilometers by 2030 as well as building out the bus, monorail, and light rail systems throughout the city. The government will also continue efforts to streamline services between the 11 local public transportation firms already operating in Jakarta.
 
In addition, Dr. Baswedan proposed that the city should rethink its overall development strategy and move to prioritize projects that target pedestrian and bicycle traffic rather than focusing on private vehicles and public commuters. By increasing access to public transportation on the individual level, Dr. Baswedan also expressed hope that this use of communal spaces, in addition to shortening commute times, could also break down barriers between different segments of the population. "MRT is a tool for social integration. It doesn't matter where you sit in the office – when you come to MRT, everyone stands together," he reasoned.
 
Dr. Baswedan also touched on Japan's role in supporting infrastructure development, highlighting the recent partnership to build the MRT, the first ever subway in Jakarta that opened in March 2019. However, he warned that Japan should expedite its planning procedures in order to compete with the growing influence of Chinese investment in the region. "Japan has quality, but [it's] a bit slow in the process. China [has] less quality, but moves fast. In politics, you need to move fast because you have elections coming up...You need to present to the public that progress is being made."
 
During the Q&A session, Dr. Baswedan fielded a range of questions from the audience on topics including the root causes of extremism, President Joko Widodo's proposal to move Indonesia's political capital out of Jakarta, the shifting digital landscape in the country, and more.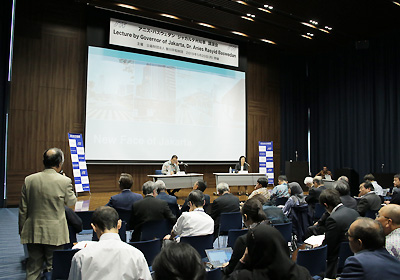 Dr. Baswedan in conversation with the audience
Regarding extremism, Dr. Baswedan argued that the source of violent attacks or terrorism can often be traced to a feeling of inequality by a person or group left unaddressed over time. In Jakarta's case, he contended that the government can combat extremism by increasing opportunities for underserved populations through expanded access to jobs, education with an emphasis on critical thinking, and the creation of legitimate avenues for expressing discontent through political institutions.
When asked about his own political aspirations, Dr. Baswedan sidestepped questions about a future presidential run. Tapping into the transportation theme, he said that when driving, "if you turn on your signal long before the intersection, you may be bypassed," implying that he did not want to tip his hand regarding his intentions. Instead he conceded only that "my plan is to complete this term by 2022, hopefully all the plans are able to be implemented, and then I'll see what's next."
Jackie Enzmann, Chief Editor