Opportunities and Challenges in Iran's Foreign Policy: Seminar featuring Dr. Seyed Sajjadpour, Deputy Foreign Minister for Research and Education for the Islamic Republic of Iran
February 15, 2019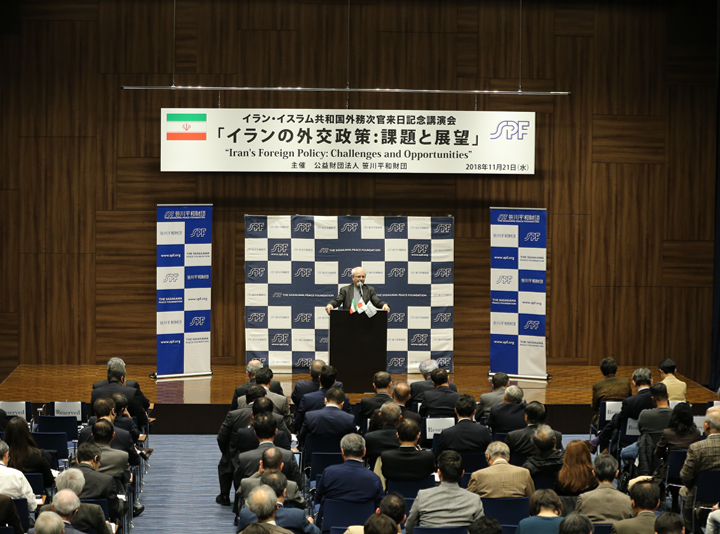 On November 21, 2018, the Sasakawa Peace Foundation (SPF) Middle East and Islam Program Department welcomed Dr. Seyed Sajjadpour, Iran's Deputy Foreign Minister for Research and Education, to the foundation to speak about the opportunities and challenges in Iran's foreign policy. During the seminar, Dr. Sajjadpour outlined the key elements of Iran's diplomatic strategy and addressed what he described as mistaken assumptions about the nature of the country's foreign policy. He also responded to the current escalation of tensions between Iran and the United States in light of the Trump Administration's decision to withdraw from the Joint Comprehensive Plan of Action (JCPOA) and reinstate sanctions on Iran.
Dr. Sajjadpour is a foreign policy expert with decades of experience in diplomacy and academia, including previous positions as an Ambassador to the United Nations and as a professor for the School of International Relations in Tehran. In addition to his current post as Deputy Foreign Minister, he also serves as the President of the Institute for Political and International Studies (IPIS), a foreign policy think tank affiliated with Iran's Ministry of Foreign Affairs.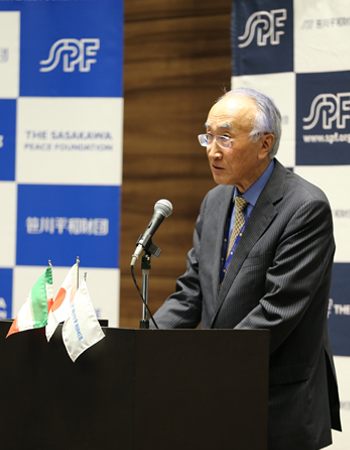 To open the seminar, SPF Chairman Nobuo Tanaka welcomed Dr. Sajjadpour to the foundation and highlighted several milestones in the bilateral relationship between Japan and Iran as well as the cooperation between Iran and SPF. "2019 marks not only the 10th year of exchange programs between SPF and Iran, but also the 90th anniversary of the establishment of diplomatic relations between Iran and Japan," said Mr. Tanaka. "Amidst this period of rapid change in the international environment, SPF as a private foundation looks forward to building on this friendship from a long-term perspective."
Dr. Sajjadpour began his remarks by commenting on Iran's work with SPF, stating that "what the Sasakawa Peace Foundation is doing is a real contribution to peace and security by creating understanding [between Iran and Japan]. I think this is unique, we appreciate it, and we are proud of our common work." He also touched on the importance of peace as "the most important public good," which must be prioritized by the international community.
During his main speech, Dr. Sajjadpour outlined what he called the fundamental ABCs of Iran's foreign policy: 1) assumptions, 2) building blocks, and 3) context. Dr. Sajjadpour paid particular attention to the concept of assumptions about Iran's diplomacy, which he saw as leading to broader misunderstandings by the international community. Specifically, he identified what he called reductionist assumptions about Iranian missile technology, nuclear activities, participation in proxy wars, and others, asserting that these oversimplifications are dangerous, incompatible with international peace, and "should be deconstructed, rejected, and looked at with so much suspicion and care."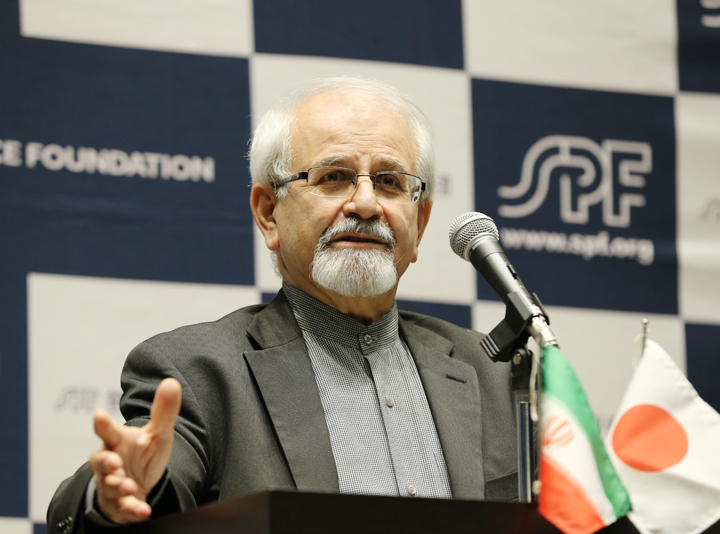 The second element of building blocks consisted of Iran's physical location, the country's achievements, and Iran's decision-making process. Dr. Sajjadpour first described the geopolitical context of Iran as a country located in the Middle East with 15 neighbors spanning from the Arab world to the Mediterranean and Central Asia. "Iran is surrounded by this very difficult neighborhood and I think neighbors never can be changed," said Dr. Sajjadpour. He also pointed to what he called the normative values infused in Iranian foreign policy, such as the concepts of independence and willingness to engage in debate. Within these values, Dr. Sajjadpour highlighted the cooperation, both bilateral and multilateral, that led to the successful agreement of the JCPOA, arguing that "Iran is a cooperative player and this is a very important component of understanding Iranian foreign policy."
Regarding the final element of context, Dr. Sajjadpour identified various domestic and global circumstances that have influenced Iran's actions on the world stage, including challenges in the region such as terrorism, extremism, lack of institutions, and instability caused by international intervention. He also described the "delicate" global context, making reference to the unpredictable foreign policy of the Trump administration. However, Dr. Sajjadpour commented that the debating nature of Iranian domestic society has given the country confidence in its ability to implement foreign policy initiatives and withstand pressure from abroad.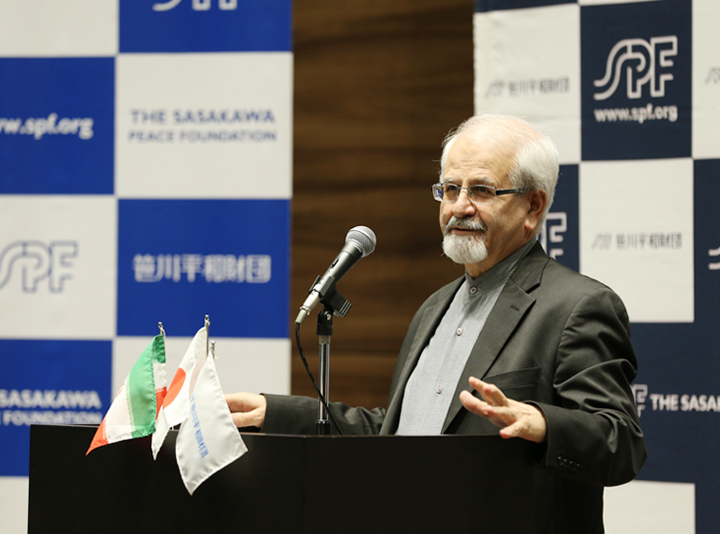 Throughout his speech, Dr. Sajjadpour was also critical of the U.S. policy to reinstate sanctions, arguing that actions by the U.S. have inflicted damage on the global community. "The U.S. withdrawal from the JCPOA is not just against Iran. It is against the international community, against Europe, and against Japan," said Dr. Sajjadpour. "Iran negotiated, Iran came to an agreement, and it was based on international law. On one side you have international law, international organization, and diplomacy, and on the other you have unilateral policies and very personal tendencies, which is not acceptable by the normal mind."
Strained relations between Iran and the U.S. remained a central topic of discussion during the Q&A session. In response to questions from the audience, Dr. Sajjadpour emphasized the unilateral nature of U.S. actions, stating that "if you accept today what the U.S. is telling you...international law would be dead, peace is not going to be there, and tomorrow an executive order by any American president can become international law," which is "very dangerous for our interests, for your interests, and for the rest of the world." He also argued that because the JCPOA was reached through a multilateral dialogue, he could not see Iran entering bilateral negotiations with the United States.
Jackie Enzmann, Chief Editor