Japan Matters for America/America Matters for Japan (2019)
Japan Matters for America/America Matters for Japan (2019, 3rd edition)
Category
Booklet
Year of Publication

March, 2019

Author/Editor

East-West Center
The Sasakawa Peace Foundation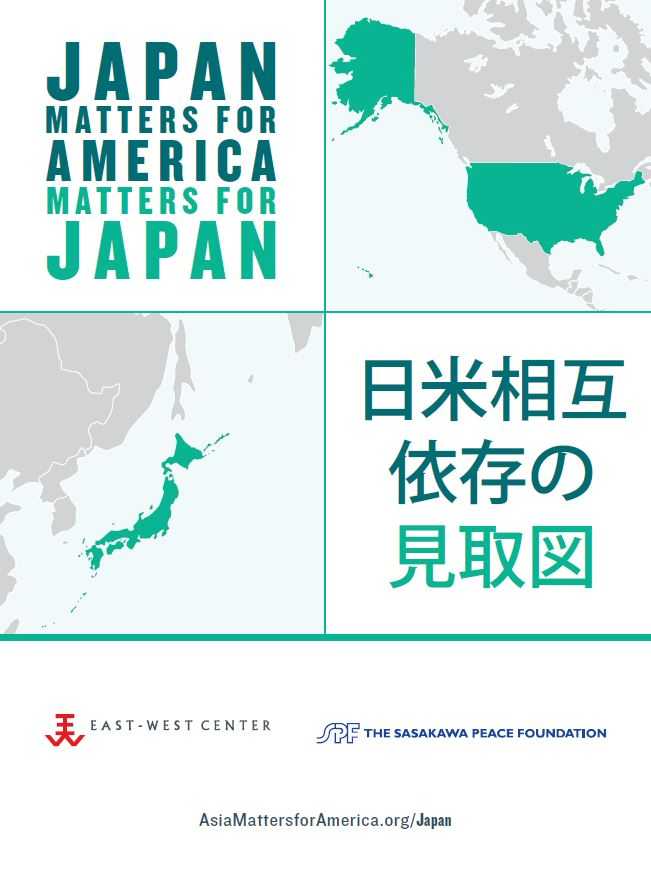 The East-West Center and the SPF Japan-U.S. Program have published the third edition of the
"Japan Matters for America/America Matters for Japan" (JMA/AMJ) booklet
.  
This JMA/AMJ booklet, written in both English and Japanese, provides readers with information about the bilateral connections between Japan and the U.S. through the alliance, trade, jobs, investment, tourism, education, population, and sister city relationships. Data for the booklet has been collected from extensive research at the state, city, and local levels.  
Highlights:
★ Opinion polls show that 78% of the Japanese population approve of the Japan-U.S. Alliance and 82% of American answered that the alliance should be maintained.
★ Japan creates more U.S. jobs than any other Indo-Pacific country.
★ The U.S. is the top destination for Japanese investment and the largest investor in Japan.
★ The U.S. sends more students to study in Japan than any other non-Asian country. Americans represent over 50% of all JET participants annually.
★ Japan and the U.S. share more sister city/state relationships with each other than with any other country around the world.  
Along with the JMA/AMJ booklet, an updated database on state and congressional district information is available now. This database provides a one-page summary for each state and congressional district outlining how they interact with Japan in terms of trade, investment, jobs, exchange students, Japanese-American population, tourism, and community connections. This database has received great attention from congressional representatives.  
The JMA/AMJ booklet and database are available at:
https://asiamattersforamerica.org/japan