Gender Investment and Innovation Department
Women's empowerment works in Japan's interest
A call for male leaders to realize its value and promote it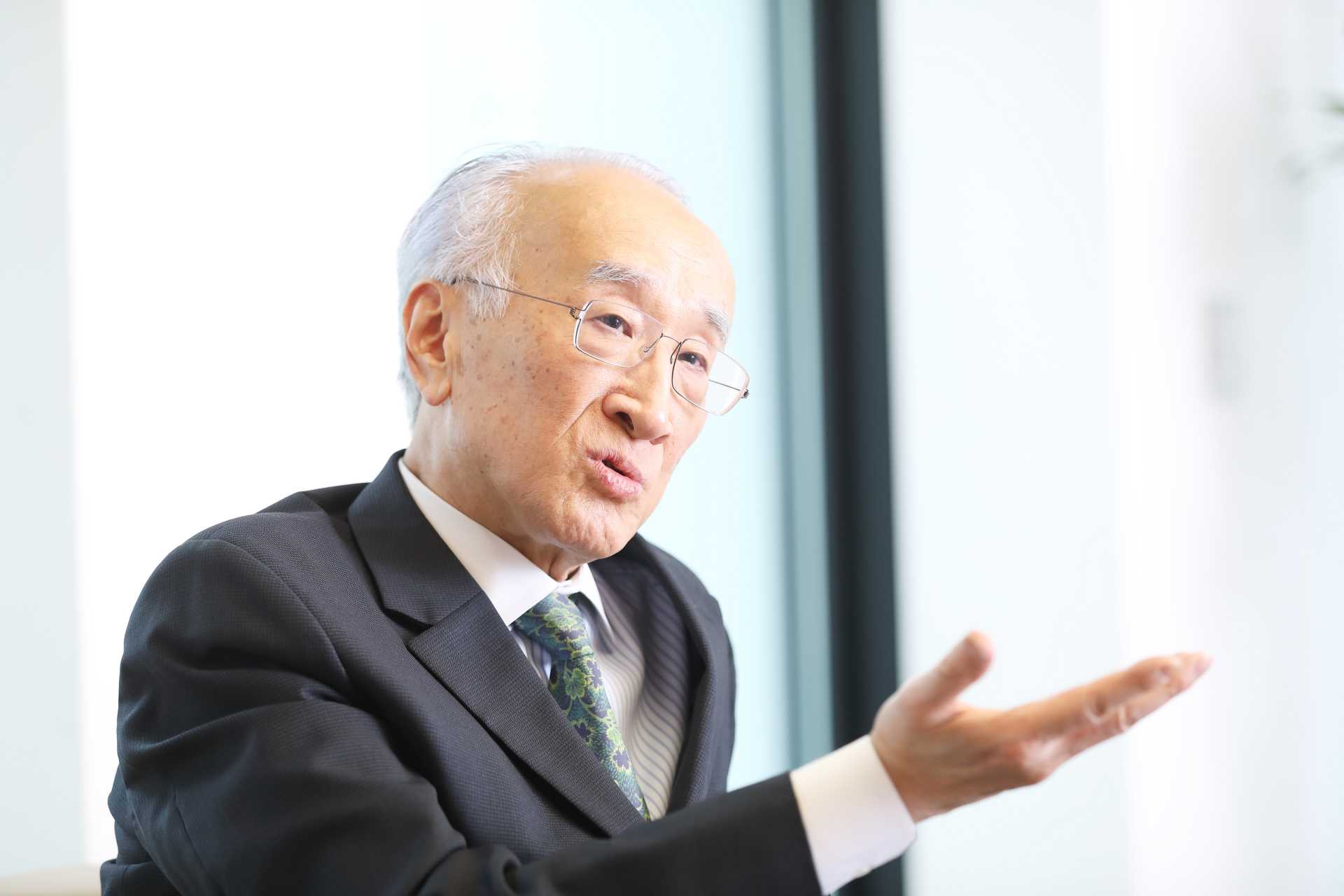 On Saturday, March 23, 2019, the Sasakawa Peace Foundation (SPF), together with WE EMPOWER JAPAN held a special session during the 5th WAW!/W20 entitled "Gender Lens Investing: Emerging Global Trends." Leaders and experts in the field of gender lens investment discussed specific strategies to encourage more investment in gender equality and women's empowerment. Ms. Renge Jibu, a member of the W20 Steering Committee, spoke with SPF Chairman Nobuo Tanaka ahead of the session about women's empowerment.
――Women's empowerment has been the focus of SPF's programs since 2017.
Chairman Tanaka: Our programs are supported by five strategic pillars. Four are related to the areas of Japan–U.S. relations, Asia, the Middle East and Islam, and ocean governance. To these we have added a fifth element, the perspective of women's empowerment.

Women's empowerment is a common issue that transcends countries and regions. For example, SPF's Japan–U.S. Program held a seminar that invited women to Japan who are key players in a project to increase the number of women in public office in the U.S. The event was a great success and encouraged many of the Japanese women who attended to consider running for office themselves. While the small number of female politicians here in Japan is still an issue, we at SPF believe we can empower women in Japan and around the world by successfully leveraging these kinds of programs.
――The Leader's Declaration from the 2018 G20 Summit speaks of the importance of "gender mainstreaming." Including the perspective of women's empowerment in all of your major programs is a strategy that follows international trends.
Chairman Tanaka: I was appointed SPF's chairman four years ago. Since then, the percentage of women holding administrative positions at the foundation has reached 40%. As an employer in Japan, ours is a workplace where women are extremely active. When I was first appointed it was my belief that by declaring that the foundation would focus on women's empowerment, many more talented women would come work with us.

My area of expertise is energy policy. When people hear the word "energy," they most likely think of it as a field dominated by men, but I myself have worked to support the women who are active in this field. This includes providing support to a women's group called Women for Energy and speaking at meetings for female university students interested in energy issues. Since these sorts of activities allow for discussions that touch on perspectives that would be missed with only male participants, I believe this enables me to make more convincing arguments on this subject.
――What caused you to have an interest in women's empowerment?
Chairman Tanaka: It was my own global experience. I worked twice at the Organisation for Economic Co-operation and Development (OECD) and once at the International Energy Agency (IEA). I met many talented Japanese women at these kinds of international organizations. Many were fluent in two languages, such as English and French, some could even speak three, and all were exceptional at what they did. However, the Japanese men temporarily assigned to these organizations from Japanese government agencies tended as a whole to be more laid back about their duties, possibly because they were of the mindset that there was a place waiting for them when they went back home.

This difference between the women and men surprised me, so I asked the Japanese women working at these organizations what they thought about it. They all said the same thing: they didn't intend to return to Japan, and even if they did, there was no way they could make use of their abilities there.

Hearing this, I realized that an extraordinary brain drain is taking place in Japan. As someone concerned about Japan's future, I believe serious thought needs to be given to figuring out what can be done to stem this outflow of talented Japanese women overseas, as well as what can be done to encourage those who are already overseas to come back to Japan in the future.
――What do you personally think should be done to stop this brain drain of Japanese women?
Chairman Tanaka: We need to change the mindset of Japanese men. The only option is for Japanese companies and other employers to change. Since half of the country's population is female, it's only logical that thirty percent of executives and half of the Diet be made up of women. Considering the gap that exists between the way things are now and how they should be, I believe that we need a quota system.

The Nordic countries, which are considered to be making great strides toward equality between men and women, were early adopters of the quota system. If we in Japan wait for this change to happen naturally, it will most likely take an extraordinary amount of time.
――Many of those who believe in the necessity of promoting the advancement of women are against such a quota system.
Chairman Tanaka: I think that you often hear such opposing opinions from women who are in high ranking posts within the current system. This is because they have been recognized for demonstrating their abilities within the present environment and they consider it a mistake to give women an artificial advantage.

However, if we let things go at a natural pace, change will occur much too slowly, and during that time Japan's population will decrease and talented Japanese women will move to other countries. As promotions can take a variety of forms, I see no problem with people making their way to the top of an organization through some sort of quota mechanism.
――One of the goals for SPF's programs is strengthening Japan's relationship with Islamic communities in the Middle East and Asia. Are you also including women's empowerment in these programs?
Chairman Tanaka: Yes. In fact, we have a program that facilitates dialogues with Iran and we also carry out discussions on women's empowerment within that. Women in Iran can drive, and there are many female members of parliament. Of the country's five vice presidents, two have been women. SPF even invited one of them to attend a large conference that we held in Iran's capital of Tehran. We're proud to be one of the few organizations in Japan that is working on empowering women in the Middle East.

According to research by UN Women, women are key supporters of the peace building process. One very successful example of this is a dialogue we held between female Muslims and Buddhists in southern Thailand.
――SPF is a platinum sponsor at the W20 to be held in Tokyo on March 23 and 24. What are your expectations for the summit?
Chairman Tanaka: We need the power of women in order to change Japanese society. Female leaders from around the world will attend the W20 Summit, serving in roles including as member country delegates and panel discussion speakers. I hope that change will be created that leads to a better future through the interaction that takes place there between foreign and Japanese women leaders, and the world's women and male Japanese leaders.
――In closing, is there anything you would like to say to male leaders in Japan?
Chairman Tanaka: When you look overseas, you immediately realize that there are many places where women play active roles. While everyone is different, women in general tend to take slightly different approaches than men. Having both men and women actively participate enables their unique strengths to be leveraged. I believe this is the essence of diversity, and making the most of diversity is the key to strengthening any organization.

It is my sincerest hope that more male Japanese leaders realize this, speak out about promoting women's empowerment and diversity, and directly support the women working within their own organizations. This will not only benefit them, but also the future of Japan as well.
Renge Jibu, Journalist
Photos by Aiko Suzuki