Asia Peace Initiatives Department
'Dialogue for the Future: Digital Aging and Active Aging' Symposium
Co-organised to discuss low birth rates and population aging, a problem shared by Japan, Korea and Thailand (11 March, 2019)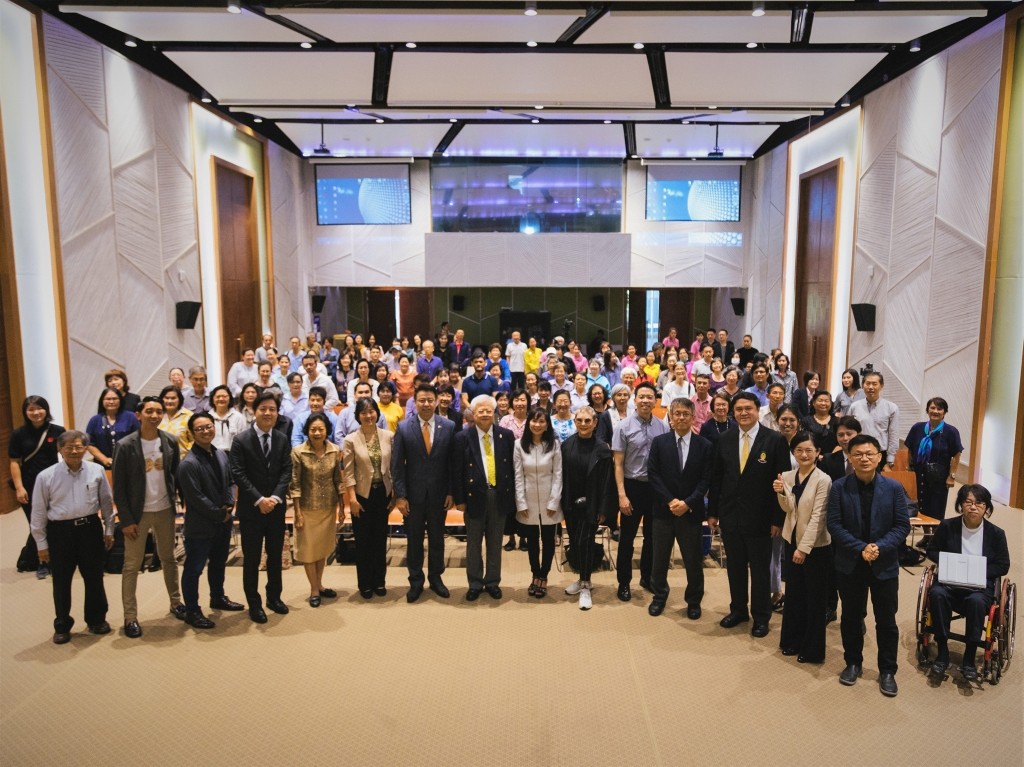 The Asia Social Integration Department aims to demonstrate alternative solutions to the issues of population aging, low birth rates, and associated challenges in a practical manner, believing that the experiences and lessons of Japan, which has undergone population-related challenges earlier than its neighbours, can provide useful reference points for other countries in Asia.
On 11th March 2019, the Sasakawa Peace Foundation co-organised a symposium in Bangkok entitled 'Dialogue for the Future: Digital Aging and Active Aging' along with
the Japan Foundation Bangkok Japan Cultural Center
,
Thai Health Promotion Foundation
, and
Young Happy
. In the symposium, experts and practitioners discussed a certain theme in each of the three sessions. The first session discussed policy measures for population aging in Japan and Korea and the lessons learned. The second session was about start-up companies that use digital devices to provide services to customers of a wide range of ages, including older persons. The third session demonstrated efforts to change the negative way in which older persons are sometimes perceived.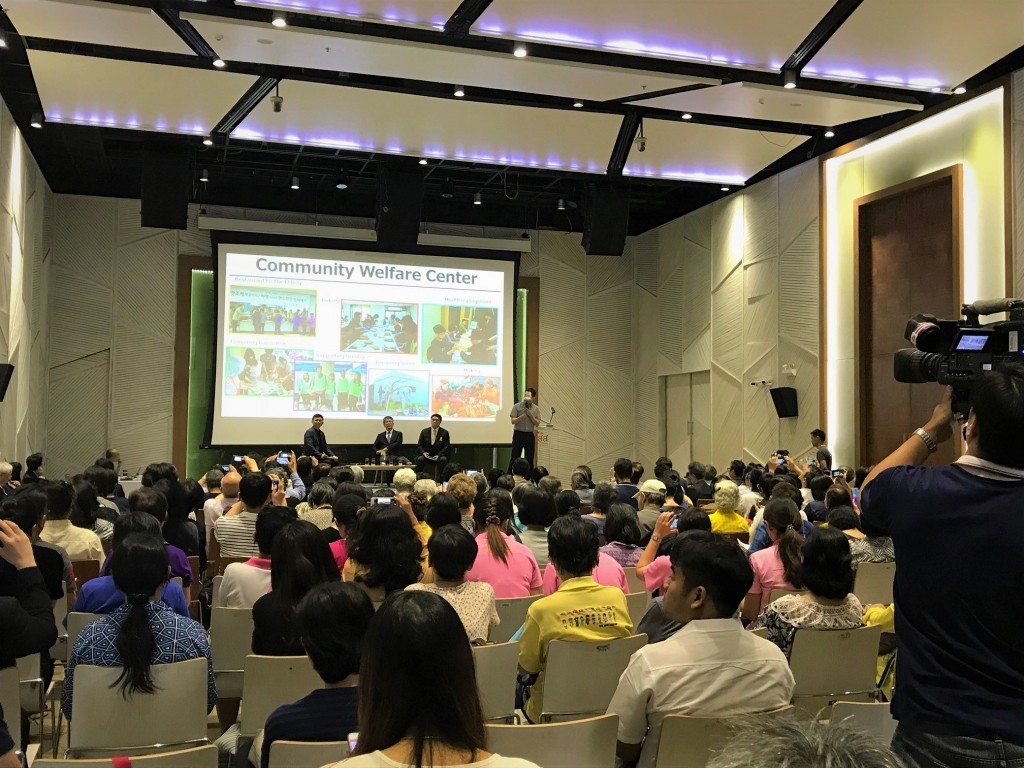 The audience at the symposium
In the first session, presentations were delivered by Dr. Keiichiro Oizumi, a Senior Economist at the Economics Department of the Japan Research Institute, Limited (currently, a Professor at the Institute for Asian Studies, Asia University), and Dr. Kim Sung Won, an Associate Professor at the Graduate School of Humanities and Sociology, University of Tokyo. Dr. Oizumi explained that Japan established a long-term care system for older persons while it was suffering from a high fiscal burden, and thus became the most indebted country in the world. Following on from Dr. Oizumi's presentation, Dr. Kim talked about the Korean experience of blindly introducing Japanese-style social protection measures, which did not function well in Korea due to a shortage of financial resources. In Korea's case, the fiscal burden was kept low and thus the standard of welfare provided was also low, while the poverty rate among older persons was high. Reflecting on the experiences of their two countries, the speakers called the audience's attention to how Thailand would look in the future when the society had aged as a whole, emphasising that the concept of the family, in particular, would have a major impact on the measures that would be required.
     Thailand has a growing interest in the "time banking" system, in which one "saves" working hours and receives equivalent value in the form of labour at a later date. As examples of this trend, Dr. Oizumi introduced a cloud-based business for time banking in use in Japan, while Dr. Kim presented the "Beautiful Neighbors" project in Korea, in which welfare services are provided through collaboration between social welfare centres, local businesses and poor households.
In the second session, Mr. Thanakorn Phromyos, co-founder of '
Young Happy
', a social start-up enterprise operating in Thailand, and Mr. Yojiro Koshi, the founder and CEO of
TalentEx
, engaged in dialogue on multigenerational interaction using digital technology and ageless entrepreneurship and labor.
Young Happy
's activities were both novel and impressive. For example, the enterprise has developed a mechanism to promote the social participation of older persons, in which those who take part in 
Young Happy
's activities get a point via their smartphone. Given that more than half of the approximately 200 participants in the symposium were
Young Happy
members, it was clear that the enterprise is very popular. The other speaker, Mr. Koshi, has been operating an internet-based employment agency based in Bangkok, Japan and Russia. Although his business does not focus on older persons, he shared his interesting experience with an older female entrepreneur, an artisan making the straps of the
geta
sandals, a kind of traditional Japanese footwear. The entrepreneur had participated in Mr. Koshi's entrepreneurship support project for adolescents and was able to set up her business through interacting with young entrepreneurs.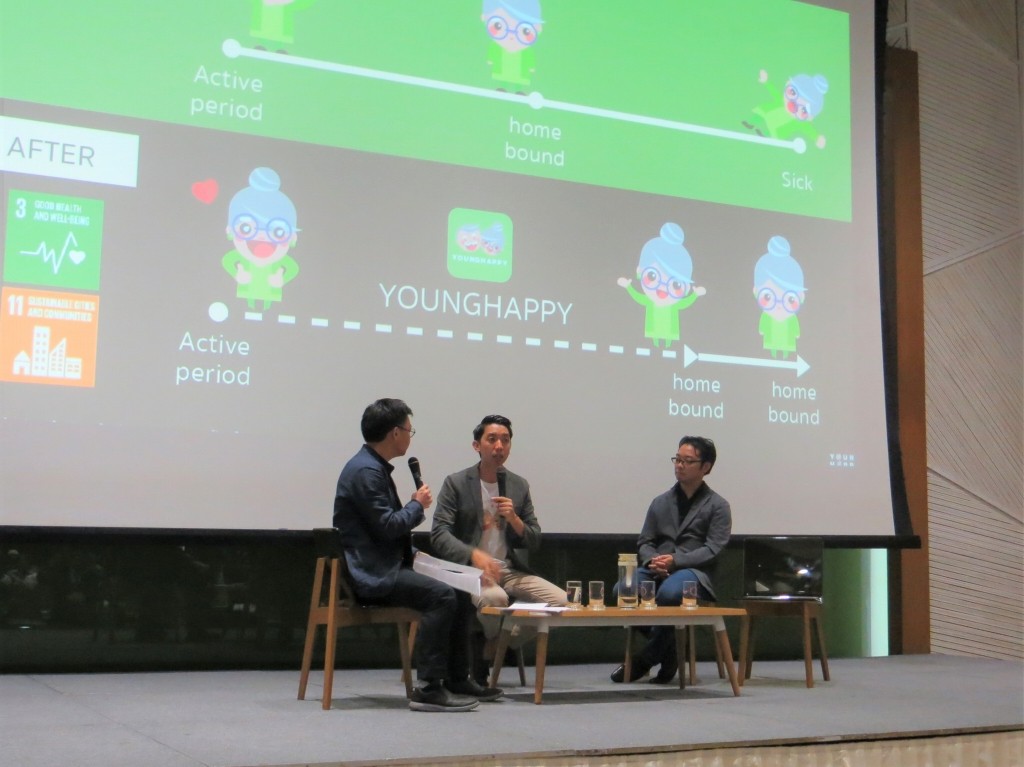 Discussion between Mr. Thanakorn Phromyos (middle) and Mr. Yojiro Koshi (right)
In the third session, Ms. Patravadi Meejudhon, an award-winning actor in her 70's, and Mr. Prasan Ingkanunt, the president of 'Boon Me Rit,' a TV production company, introduced their own approaches to change the negative public perception of older persons. Ms. Patravadi Mejudhon established
Patravadi School Hua Hin
, a boarding school that uses performing arts in education while she was engaging in the problems of street-children through cultural and artistic activities. Speaking as if she was addressing the entire audience at the venue, she described the importance of being gentle towards children when interacting with them and what an interesting experience it is to change one's life through dialogue with children.
     Mr. Prasarn Ingkanan has produced documentary videos on active aging that have been broadcast on TV and the internet. Older persons feature in these videos, including an old woman who is enjoying
Sepak takraw
(kick volleyball) with young people, old women singing traditional songs in a rap style and thus passing them down to the younger generations, and old men and women putting on young people's makeup and clothes and posing to take pictures as if they were fashion models. The videos were bright and lively, and brought smiles to the faces of all those at the venue.
■Networking meeting
In the afternoon, a networking meeting was held for 10 organisations working for the benefit of older persons, such as ministries and their agencies, universities, research institutes, older persons' committees and groups, and NGOs. The organizations spoke about their ongoing projects, plans for future activities, and their views on policies and projects for older persons in Thailand.
Various points were raised. For example, while efforts for older persons are being made at the policy level, they are not being sufficiently implemented in practice. Moreover, although various organisations, including civil society organisations, have been active for many years, a system for collaboration between them has yet to have been developed. Hopefully, this networking meeting will act as a catalyst to create a platform for collaboration in the future.
     As closing thoughts, Mr. Oizumi, Mr. Kim, and Ms. Fumiko Okamoto, Director of the Asia Social Integration Department at the Sasakawa Peace Foundation, suggested that we should learn from each other and especially from Southeast Asia, where relationships at the community level remain strong. This idea highlights the assumption that Western welfare state models would not be helpful or adequate for Asian countries in developing measures to cope with the current situation regarding the declining birth rate and aging population. The speakers also called for cooperation to build a new framework that leverages Asian characteristics.
Networking meeting
(Report: Sanae Hayashi / Photos: Yuichi Yamashita, Asia Social Integration dept.)