Asia Peace Initiatives Department
Thinking about Active Aging
The 2nd Asia Impact Dialogue (Fukuoka)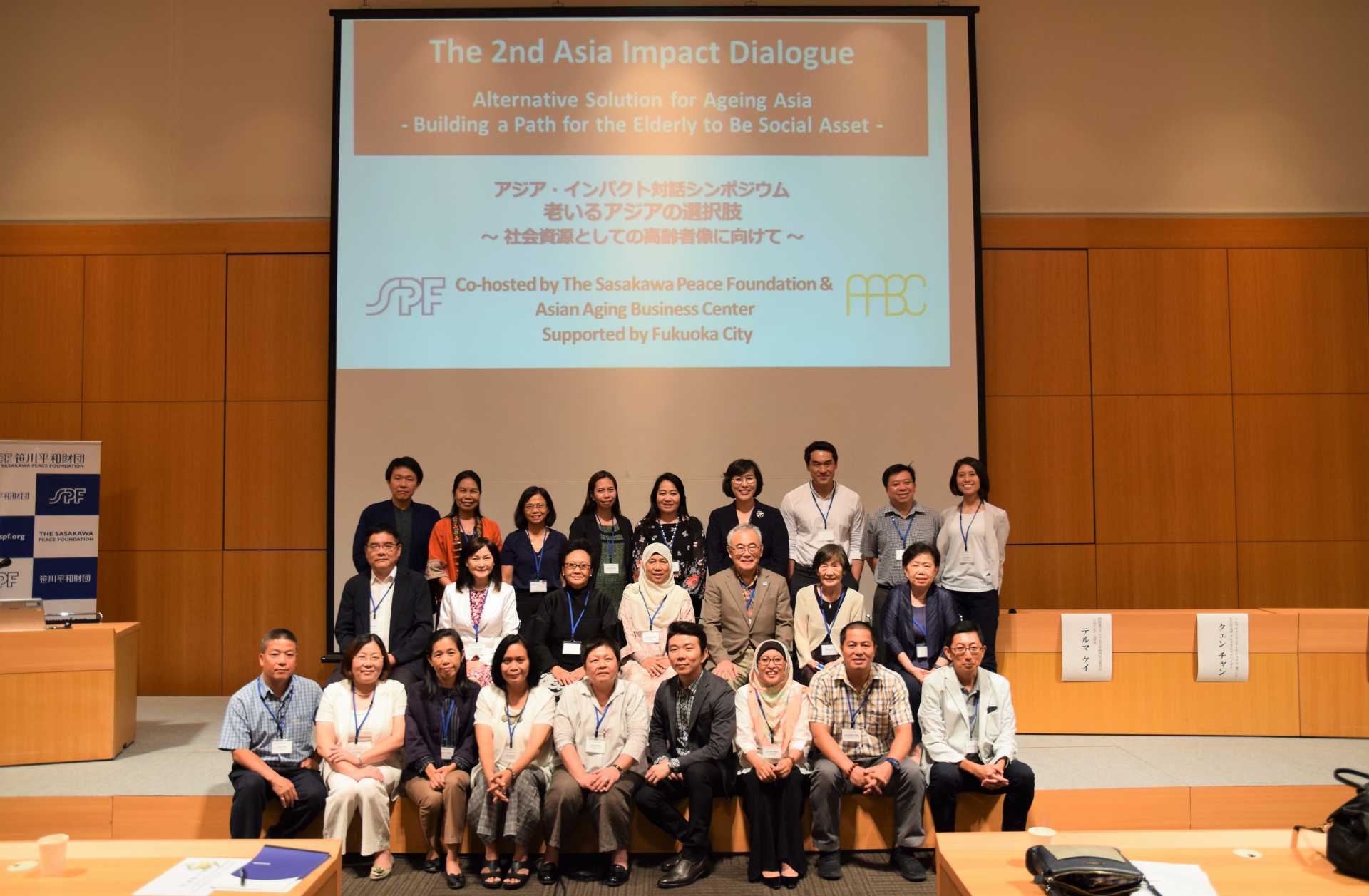 The Sasakawa Peace Foundation (Minato-ku, Tokyo, Chairman: Nobuo Tanaka) and the NPO
Asian Aging Business Center
(Fukuoka City, Fukuoka Prefecture; President: Takeo Ogawa) jointly hosted the "Asia Impact Dialogue" in Fukuoka City over a three-day period beginning August 29. A variety of events were held over the three days, including a symposium on the topic of "Options for an Aging Asia: Towards an Image of the Elderly as a Social Resource." The focus throughout was on initiatives and issues for active aging in Japan and the rest of Asia.
In many Asian countries such as Singapore and Thailand, the birthrate is declining and the population is aging faster than in Japan, which is currently the world's most aged society. According to the United Nations, the proportion of people aged 65 and over in East and Southeast Asia was 10.6% in 2015, but is expected to exceed 30.6% in 2050. The symposium attracted 21 experts and practitioners from nine Asian countries, as well as other parties including representatives of Fukuoka City promoting the "Fukuoka Health Advanced City Strategy" (
Fukuoka 100
), all of whom introduced their various initiatives with a focus on active aging.
At the opening of the symposium on August 30th, Shuichi Ohno, President of the Sasakawa Peace Foundation, said, "Fukuoka City understands that we are approaching the era of the 100-year lifespan, and it is one of Japan's leading cities in terms of its focus on activities for the elderly. As such, our foundation was very keen to invite the experts and practitioners tackling the issue of aging in Fukuoka so that we could better understand the activities the city is carrying out. And for this reason, we held this year's dialogue in Fukuoka City.
This event is being held as part of a new project at the Sasakawa Peace Foundation entitled 'Asia Impact Dialogue.' Aging is an issue common to Japan and the rest of Asia, and while we will be aiming to highlight Japan's experiences and lessons as a so-called "developed country facing challenges," we also wish to make an attempt at mutual dialogue that will allow Japan to learn from the efforts of other Asian countries, who are our partners in Asia. Japan has the most aged society of all of the developed countries facing challenges, however the other countries in Asia will soon know what it is like to have a huge proportion of their population being elderly. When this happens, they could view the issue in many different ways: Will they see the elderly as people that are in need of care, as has been the case in the past? Or will they change their mentality and consider the elderly as people who should be able to live and prosper in their old age? This is going to be a major topic in Asia in the years to come."
Next to speak was Hidehiro Nagafuchi, the director of the Public Health & Welfare Bureau in Fukuoka City, who read out a message from the mayor of Fukuoka City, Soichiro Takashima. In his message, Takeshima mentioned that "Japan is aging rapidly, and although Fukuoka is aging more slowly than other cities in Japan, the proportion of elderly people in Fukuoka has already reached 21%, making it a super-aged society. Fukuoka City launched the "Advanced Health Promotion Strategy" in March last year, and is working on a project entitled "
Fukuoka 100
" that aims to realize a society in which both individuals and the city as a whole can live happily throughout a lifespan of 100 years. By attempting to take 100 separate actions to combat aging by 2025, we are promoting the development of a super-aged society that will serve as a model for Asia as well as the rest of the world."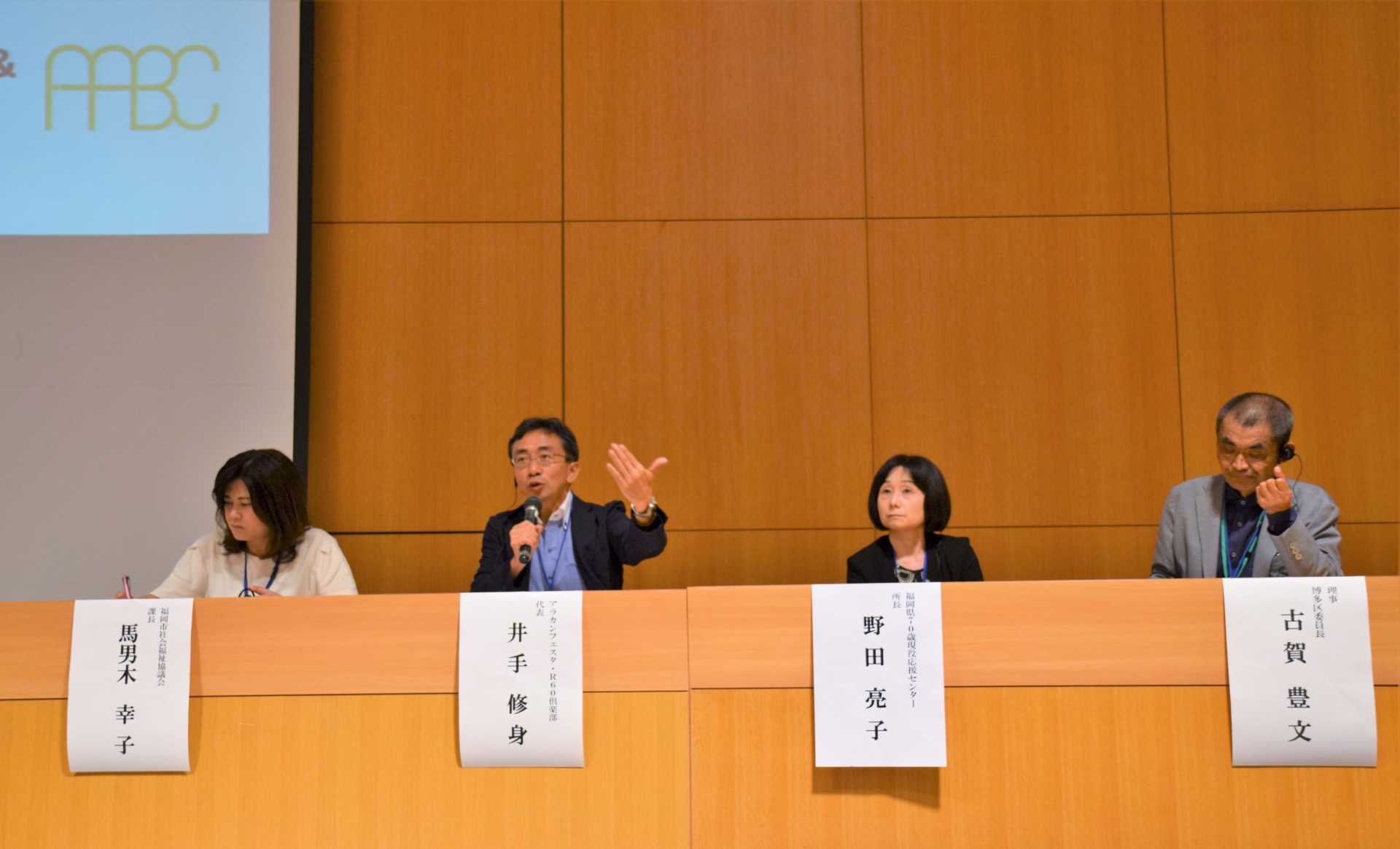 Representatives of Fukuoka Prefecture and Fukuoka City introduce various approaches at the symposium
At the symposium, which was entitled "The Future of an Aging Fukuoka City," speakers introduced the latest efforts of Fukuoka Prefecture and Fukuoka City.
Ryoko Noda, Director of the "
Fukuoka Prefectural 70-year-old Active Duty Support Center
" which supports employment and social participation so that the elderly can have various opportunities to participate actively in society, stated that "There are increasingly more elderly people that have a strong desire to participate in society," noting that about 70% of the elderly want to work even after the age of 70. She went on to underline that if we are to achieve a society in which even those in their 70s continue to work, it will be necessary to transform the elderly from people who are supported into people who themselves provide support, in line with the ambitions and needs of the elderly.
Noda further mentioned that since the support center was opened in April 2012, its efforts have included: (1) recruitment of elderly people, (2) expansion of the number of companies in which people can still work in their 70s, (3) corporate awareness reforms, and (4)
the Fukuoka child-care meister system
.