Middle East and Islam Program
Current Situations of Ukrainian Evacuees in Japan: Towards Inclusive Societies and the Future of Education
Report on Public Symposium
The Sasakawa Peace Foundation (SPF) held a public symposium entitled "Current Situations of Ukrainian Evacuees in Japan - Towards Inclusive Societies and the Future of Education" on March 7, 2023, in cooperation with the NPO Forum for Refugees Japan (FRJ) and the NPO Citizens' Network for Global Activities (CINGA), and with the support of The Nippon Foundation. The symposium consisted of three parts including a keynote speech by the Ambassador of Ukraine to Japan, a lecture by the UNHCR, and presentations and an exchange of opinions from various perspectives regarding the reception of Ukrainian evacuees.

In his opening remarks, Dr. Atsushi Sunami, president of SPF, mentioned the need for continued support for Ukraine and the possibility of improving education to support the creation of a society in which people with diverse backgrounds and abilities, including refugees, displaced persons, and children with foreign roots, can flourish.
In his keynote speech, H.E. Dr. Sergiy Korsunsky, Ambassador Extraordinary and Plenipotentiary of Ukraine to Japan, shared via video message the current situation of the people in Ukraine and thanked the Japanese people for their support to the Ukrainian evacuees.

Ms. Nadia Vozdigan, First Secretary of the Embassy of Ukraine in Japan, gave a report on the current state of education in Ukraine under the title of "Education in Ukraine in the Times of War."
The next speaker, Mr. Ayaki Ito, UNHCR representative in Japan, spoke about the "Overall situation of refugees in the world," explaining the situation of over 100 million refugees and other forced displacements in the world, as well as the Global Compact for Refugees.
Part 1: Reception Policy and Current Situation of Ukrainian Evacuees

Mr. Masahiro Yamagata, deputy director of the Border Management Division of the Immigration Services Agency of Japan, gave a lecture titled "Immigration policy and assistance for Ukrainian evacuees" on the status of residence of Ukrainian evacuees, support by the Japanese government, and support for those who have no guarantor.
 
Next, Mr. Kyosuke Soda, senior specialist for evaluation of Japanese language education for the Japanese Language Division of the Agency for Cultural Affairs, gave a presentation titled "Japanese Language Education Support by the Agency for Cultural Affairs." He described the agency's efforts in providing initial Japanese language education to Ukrainian evacuees as well as Japanese language education necessary for living in Japan after they are accepted (cases eligible for assistance). The lecture also included a presentation on the Japanese language learning website for "foreign residents as lifers" (Tsunahiro).
Part 2: Support and activities by civil societies

Mr. Keiichi Kamiya, manager of the Ukraine Evacuees Support Center with The Nippon Foundation, gave a lecture titled "Assistance for Ukrainian evacuees by The Nippon Foundation" on the foundation's initiatives, the results of a questionnaire survey, and a new initiative, "Japanese Language School Scholarship for Ukraine Evacuees."
 
Next, representatives from CINGA presented three reports. First, Ms. Ritsuko Aoyagi, Support-R consultation coordinator, administrative scrivener, and social worker, gave a presentation on "What We Learned about Supporting Supporters through Support Center for Refugees Japan (Support-R)" and the issues that were identified through consultations. Next, Ms. Zhuravel Olha, psychologist of Support-R as well as a Ukrainian evacuee, gave a report titled "Activity Reports on Phone Consultation Center in Ukrainian (Support-Ukr.)" on the content of consultations and typical problems. Ms. Miho Nakagawa, Support-R consultation coordinator and Japanese language teacher, gave a presentation entitled "Problems and new challenges in supporting Japanese language education for displaced people in Ukraine" about a report titled "Challenges on Teaching Japanese to Ukrainian Evacuees and Our New Approach." Based on the results of a nationwide telephone survey on Japanese language education support, she discussed CINGA's new challenge, which is based on the understanding that if people cannot participate actively, it may not lead to acquisition and continuation of Japanese language education.
 
In addition, as the last report of the Part 2, Ms. Mutsumi Akasaka, director of FRJ, gave a report titled "Lessons Learned: Japan's Response to Protect People Fleeing From Ukraine" on the welcome guide and FAQ for evacuees used by Support-R. The report also discussed the future challenges of creating a scheme that anticipates a variety of options as well as the ethics required of the supporters.
Part 3: Assistance of education

First, Mr. Itsu Adachi, SPF executive director, and Ms. Masako Iwashina, SPF program officer, reported on the results of a survey about the current situation of educational support for Ukrainian evacuees.
 
In the panel discussion that followed, the two panelists gave opening remarks on the reception of Ukrainian evacuees based on their respective fields. Firstly, Ms. Iki Tanaka, project director at the Multicultural Children and Youth Japanese Language School, NPO Youth Support Center, gave a presentation titled "Specialized Educational Support Program for Children and Youth with Overseas Roots: Support Practices at YSC Global School" on the current situation of children with overseas roots and the YSC's support for evacuee children from Ukraine. She spoke about the current state of this support, the lack of and inadequate school and community support systems for Ukrainian evacuee children, and the disparity between regions, which is also an issue in receiving children of Ukrainian origin, as in other cases.
 
Secondly, Mr. Junichi Akashi, professor with the Faculty of Humanities and Social Sciences at the University of Tsukuba, gave a presentation titled "What the Reception of Ukrainian Evacuees Poses to Japanese Society Today: Policy Context," in which he explained ongoing policy developments and summarized the issues regarding the reception of displaced persons. Based on these two reports, the panelists discussed various challenges related to the reception of Ukrainian evacuees with Ms. Mieko Ishikawa, general director and social worker with International Social Services Japan, serving as moderator.
    
The discussion included the need to ensure that the unprecedented progress in policies related to refugees and displaced persons that has been made in Japan following the reception of the Ukrainian refugees is not a temporary phenomenon, and that support for the reception of refugees can be synergistic and expanded in conjunction with other forms of support for various kinds of people facing difficulties 

Finally, in the closing remarks, Ms. Kaoru Yamaguchi, director of FRJ, pointed out that the problems faced by the Ukrainian evacuees this time are very similar to the problems faced by other people who were suddenly deprived of their daily lives and were forced to evacuate to Japan due to various circumstances, as well as the problems faced by those who supported them in their struggle. Since there are many commonalities, it was suggested that it would be good to look beyond the issue of individual Ukrainian evacuees.
3. Answers to preliminary questions

We received many questions in advance, but due to time constraints, we were unable to answer them all. Below are the answers to some of the questions from the speakers.

Q1: To Mr. Yamagata of the Immigration Services Agency of Japan: What will happen to the extension or change of status of residence for Ukrainian refugees in the future? Also, for those who have no relatives, the Japanese government provides support such as temporary accommodation, living expenses, Japanese language study, and matching with local governments and private companies, etc. Will this continue after April of next year?

A1: At this time, the situation in Ukraine is still uncertain. Therefore, displaced Ukrainian nationals who wish to stay in Japan due to the unstable situation may apply for extension of period of stay and change of status. These procedures are available on the Immigration Agency's website, and a letter in Japanese, English, and Ukrainian was sent to all Ukrainian evacuees in February of this year to inform them of the procedures for renewal of their period of stay.
 
In February of this year, we decided to continue providing living expenses and other support to those evacuees who have no relatives for another year. In addition, support such as Japanese language classes at temporary accommodation facilities and matching services will continue to be provided from April onward.
 
The government of Japan will continue to provide support to displaced people, paying close attention to their needs.

Q2: To Mr. Soda of the Agency for Cultural Affairs: It seems that the length of stay of the refugees is longer than originally expected, and there is a need to continue to follow up on their Japanese language skills following the 150-hour Japanese language training on site. Are you considering any measures to address this?

A2: The level of proficiency that can be achieved in 150 hours of Japanese language training is A1, the lowest of the Japanese language proficiency levels indicated in the Japanese Language Education Reference Framework, and this number of hours targets a level where the trainee can communicate as a basic-level language user, or what might be called survival Japanese.
 
As I mentioned at the end of my explanation at the symposium, we at the Agency for Cultural Affairs believe that in order to lead a safe and secure life as an independent language user in Japan, a person needs about 320 to 520 hours of learning time equivalent to B1 level, and as you mentioned, 150 hours is not enough.

The Agency for Cultural Affairs is implementing a Japanese language teaching program for refugees resettled in a treaty or third country, and 572 credit hours program for Japanese language education is being developed on the premise that the students will be resettled in Japan.
 
Since not all people displaced from Ukraine have established their intention to settle in Japan, we do not believe that they can be treated the same as those who have been granted refugee status, but those who wish to settle in Japan need that amount of study time.
 
The Agency for Cultural Affairs is also working with local governments to improve the learning environment for Japanese language education for foreign residents in prefectures and ordinance-designated cities throughout Japan, so that Japanese language education up to the B1 level can be offered in every corner of the country.

Q3: I believe that there are many things that need to change in Japanese society as a whole, including myself, when considering how to create a harmonious society. I would like to learn as many specifics about this as possible and think about what I can do based on that.

A3: How about cooperating with volunteer Japanese language classes or inviting people of foreign origin you have met to participate in local community or hobby activities? Even if you have never had a relationship with a person from another country before, I believe that by establishing a face-to-face relationship, you will be able to expand your circle of mutual understanding.
 
From my point of view as a foreign resident counselor, I would like to ask you to connect people with foreign roots to the appropriate counseling organization if they have any problems.
 
Furthermore, I hope that all people, not only those with foreign roots, will not be isolated and that we can live in a society where we can live together in harmony.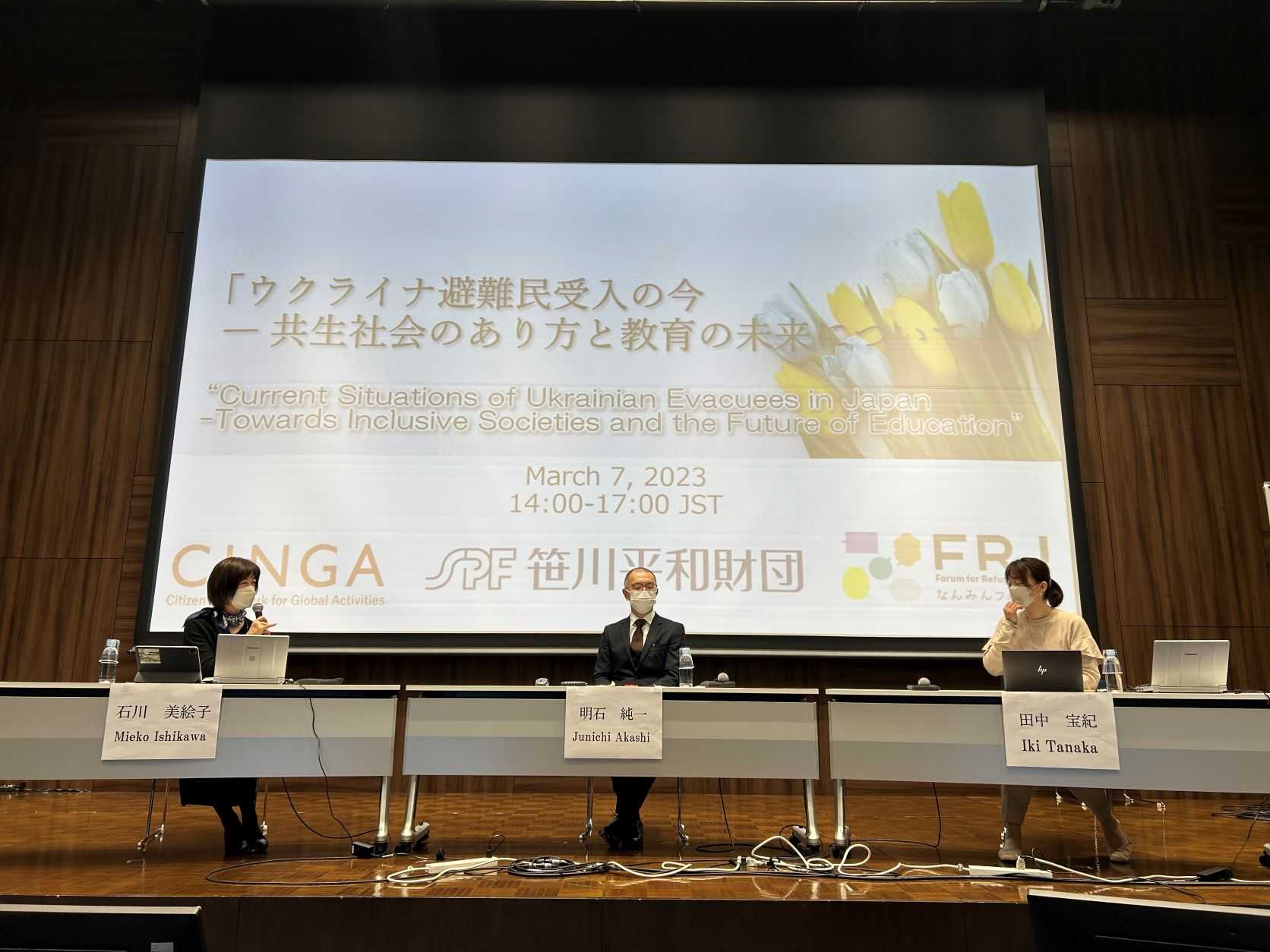 Panel discussion
*Please note that no screenshots or other images of the symposium may be taken, reproduced, or used for secondary use without prior permission.
Contact:
Ms. Masako Iwashina, Mr. Jinya Mizutani
Asia and Middle East Program
Sasakawa Peace Foundation
E-mail: asia@spf.or.jp