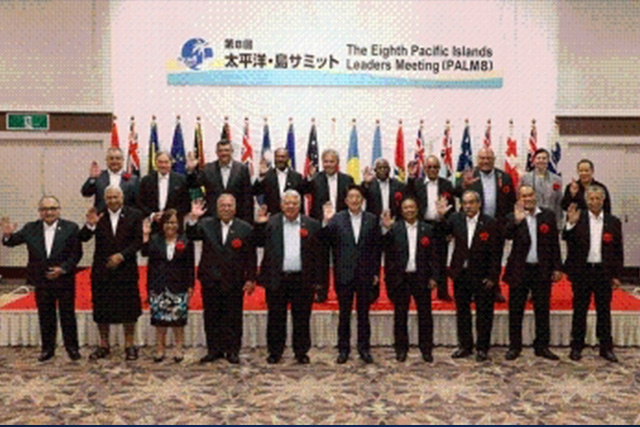 Photo courtesy of the Cabinet Public Relations Office.
The situation surrounding the Pacific islands region[1] has been undergoing rapid change in recent years as China expands its influence, the Pacific island countries themselves seek greater autonomy, and such countries as the United States, Australia, Britain, France, and New Zealand renew their engagement in the area. This was the backdrop to the Eighth Pacific Island Leaders Meeting (PALM 8), held on May 18–19, 2018, in Iwaki, Fukushima Prefecture. The summit was a valuable opportunity for Japan and the countries of the region to reaffirm their partnership and announce their commitment to further deepening their ties.
I have been involved in building partnerships between these countries and Japan for the past 15 years, and there are now perceptible shifts in local nuances as change sweeps through the region. I hope to articulate some of those shifts in a series of articles for this website. The topics I will be focusing on include the achievements and significance of PALM 8, the shifting regional order, the role of regional institutions, the efforts of the island countries toward greater political autonomy and economic growth, the expanding influence of China, and developments in regional security. In my first article I will discuss the achievements and significance of PALM 8.
Bilateral and Multilateral Relationships between the Pacific Island Countries and Japan
The Pacific island countries are of great importance for Japan; their votes can have great bearing on the decisions reached at international forums, and their jurisdictional waters contain rich fishery resources as well as offer alternate sea lanes to the Middle East that bypass the South China Sea and the Malacca Strait. Japan established diplomatic ties with these countries soon after they gained independence and has a long history of people-to-people bilateral exchange, as typified by the unbroken dispatch of Japan Overseas Cooperation Volunteers to Samoa since 1972.
Japan's main channel of policy coordination with the region is the inter-governmental Pacific Islands Forum. The PIF was established in 1971 as the South Pacific Forum by Australia, New Zealand, and five island countries and changed its name to the PIF in October 2000.[2] Today, it comprises 18 countries and territories[3] and promotes regional cooperation on such issues as regional stability, nuclear arms, resource management, maritime environment, climate change, natural disasters, the preservation of biodiversity, the promotion of trade, investment, and tourism, and sustainable development based on the principles of sovereignty, the rule of law, freedom and democracy, respect for traditional culture, inclusiveness, and an emphasis on the United Nations.
Japan's ties with the PIF began in 1981, when the then SPF lodged a protest against a Japanese plan to discard radioactive waste into the sea. A dialogue was initiated, which led, in 1996, to the joint establishment of the Pacific Islands Centre in Tokyo aimed at promoting trade, investment, and tourism between Japan and the Pacific island countries. The first Pacific Islands Leaders Meeting (then called the Japan-SPF Summit Meeting) was held the following year. PALM summits have since continued for 21 years, with meetings being hosted by Japan every three years.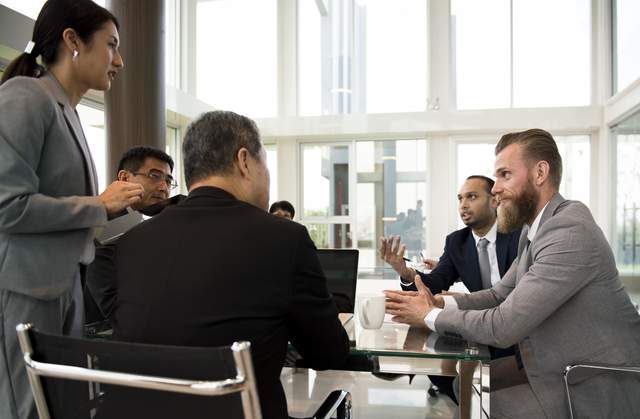 Weakening Interest in the PALM Process among the Pacific Island Countries
Despite PALM's strategic importance for Japan, a number of Pacific government officials began voicing their dissatisfaction with the PALM process, complaining that the meetings were long on ritual and short on substance. When informed that the topic of PALM 8 would focus on maritime issues, many governments further lost interest, as they hoped to discuss not only the maritime environment and fishery management but also broader issues relating to sustainable development—particularly with climate change and rising sea levels threatening their very existence—and approaches to achieving sustainable economic growth through trade, investment, tourism, and human resources development.
To revive interest in the PALM process, the Sasakawa Peace Foundation, in April 2017, launched a project to promote track-2 dialogue between Japan and the Pacific island countries. We conducted a roundtable in June 2017, traveled to countries without a diplomatic mission in Japan between July and December 2017 for dialogue with foreign policy officials, and hosted an international symposium in January 2018. We drafted our recommendations based on these discussions and submitted them to most Pacific island governments, the Pacific Islands Forum Secretariat, and the Japanese Ministry of Foreign Affairs ahead of PALM 8.[4]
The Japanese government, too, worked hard to ensure the success of PALM 8. Embassy personnel met on numerous occasions with government officials of the participating countries and the PIF Secretariat staff, and then Parliamentary Vice-Minister for Foreign Affairs Iwao Horii visited Prime Minister Tuilaepa Sailele Malielegaoi of Samoa—the PALM 8 co-chair—on April 30, 2018, and PIF Secretary General Meg Taylor of Papua New Guinea on May 1, 2018.[5]
Free and Open Indo-Pacific Strategy
At PALM 8, Japan explained the three pillars of the Free and Open Indo-Pacific Strategy (FOIPS) that it is advancing as being the "(a) promotion and establishment of the rule of law and freedom of navigation, (b) pursuit of economic prosperity through strengthening connectivity, and (c) commitment to peace and stability such as cooperation in the fields of maritime safety and disaster risk reduction."[6] In bilateral talks, however, only the three Freely Associated States with the United States, namely, Palau, the Federated States of Micronesia, and the Marshall Islands, along with economically resilient Papua New Guinea and Fiji, declared their support for the strategy. The other nine island countries agreed only to continue discussing this topic, perhaps out of deference for China's Belt and Road Initiative.[7]
Japanese and Pacific island leaders did affirm, though, that their partnership through the PALM process will be guided by a shared vision for "maintaining stability through rules-based order (commitment to the respect for sovereignty, rule of law, and peaceful resolution of disputes in accordance with international law)" and the "pursuit of enduring prosperity (self-sustained and sustainable economic development underpinned by open markets and facilitation of trade and investment, strengthened connectivity and enhanced resilience of societies)."[8] The PIF leaders, moreover "highly valued Japan's enhanced diplomatic presence in the region over the past years."[9]
During PALM 4 in 2006, Japan sought the unanimous support of Pacific island leaders for its bid to gain a permanent seat on the UN Security Council. Tonga, though, under pressure from Beijing, turned down Japan's request. At PALM 8, though, all participating countries, for the first time, gave their backing for Japan's permanent membership.[10]
Thus while the Pacific island countries may appear to have withheld their support for FOIPS, the strategy is fully consistent with the values that they have long upheld, and the Pacific island leaders even indicated that they highly value Japan's enhanced presence in the region. Japan should continue to pursue dialogue and cooperation with the Pacific island countries in good faith and seek their understanding and support.
Strengthening Ties on Many Fronts
China in recent years has been skillfully expanding its influence in the region; it has sought to build an alternative regional order among developing countries, or non-OECD member countries, through economic cooperation, including economic activities in the private sector. Not surprisingly, such an order does not necessarily adhere to the rules of developed countries nor OECD/DAC standards. In Palau, for example, because 70% of its GDP is related to the tourism sector, it was able to achieve 11.4% economic growth in 2015 through tourism-related investments and an influx of tourists from China.[11] Although Palau does not have diplomatic ties with Beijing but with Taiwan, by experiencing greater economic benefits, many people of Palau, including legislators, have become sympathetic toward Beijing. As a result, there were some motions to grant approved destination status (ADS) to Beijing, which encourages Chinese tourist groups to visit Palau, and a bilateral investment agreement with Beijing to attract Chinese investors. Since such arrangements require diplomatic ties with China, there are public discussions on whether Palau should break diplomatic relations with Taiwan. Not only Palau but also some other countries in the region expect to enhance economic relations with China for their economic growth, and Japan's influence in the region could weaken in relative terms.
Meanwhile, the Leaders' Declaration at PALM 8 was remarkably concrete and extensive. It called for much stronger cooperation in the fields of trade, investment, and tourism and welcomed Japan's commitment to the South Pacific Tourism Organization—whose only non-PIF member at present is China.[12] This will highlight Japan's potential as a major Asian tourist market and may also provide an objective point of view to the SPTO, which has sought economic benefits through a rapid influx of tourists from China without having concerns about emerging environmental and social problems.
Japan also expressed its intention to pursue closer coordination with the sub-regional efforts of the Pacific island countries and announced support for the launch of a Japanese language course at the University of the South Pacific. The Pacific island leaders welcomed Japan's efforts to strengthen people-to-people exchange and cooperation in the fields of sports and education, trade and investment by small and medium-sized enterprises, and networking by local governments. These statements set our expectations for further deepening people-to-people ties and economic relations between the Pacific island countries and Japan.[13]
Participation of Two French Territories at PALM 8
From my personal experience, I had believed that the PALM process should remain an exclusive forum for discussion between the Pacific island countries and Japan. However, through discussions at the international symposium in January 2018 at the Sasakawa Peace Foundation and related dialogues, I recognized that the Pacific island countries are now confident about their status in international society and no longer need to give extra consideration to the views of Australia and New Zealand. In addition, because Japan enjoys close bilateral relations with each country in the region, it may be time to open up the PALM framework and invite other non-PIF countries to support the economic development of this region.
The Japanese Ministry of Foreign Affairs, to its credit, decided to invite New Caledonia and French Polynesia—which became full PIF members in 2017—to PALM for the first time, against the recommendation of the expert committee for PALM 8.As a consequence, we could see the flags of France and the EU, which share common values with Japan, among the PALM nations' flags. Thus, PALM is now open to Europe under the leadership of Japan.[14]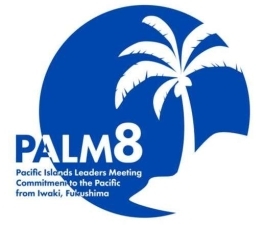 Significance and Achievements
Looking back at the history of PALM, the first three meetings, held between 1997 and 2003, were probably significant simply for the fact that summit meetings between the Pacific island countries and Japan were taking place at all. PALM 4 to 7, between 2006 and 2015, focused on the content of the assistance pledged by Japan, so there was a clear dichotomy between the donor and recipient countries.
PALM 8 participants included the leaders of 15 PIF countries, the deputy prime minister of Tonga, and cabinet ministers from Australia and New Zealand. Japan and the Pacific island countries reaffirmed such shared values as the rule of law, freedom, and democracy. In addition to regional topics, the participating leaders also discussed the situation regarding North Korea and other global issues, suggesting that the Pacific island countries and Japan now see each other as equal partners.
PALM 8 was a landmark event that demonstrated that the Japan-PIF relationship is maturing and is ready to enter a new phase. To further solidify this relationship, the agreements reached at the meeting should be implemented through private-public cooperation, and the parties should continue to pursue close dialogue.
Notes
1Consists of 14 countries and 8 territories.
2After gaining independence as associated states of the United States, the Federated States of Micronesia and the Marshall Islands joined SPF in May 1987 and Palau in September 1995. With new Northern Hemisphere members, the organization—at the start of a new millennium—chose to change its name to the Pacific Islands Forum.
3There are 16 countries (Australia, Cook Islands, Federated States of Micronesia, Republic of Fiji, Republic of Kiribati, Republic of the Marshall Islands, Republic of Nauru, New Zealand, Niue, Republic of Palau, Papua New Guinea, Samoa, Solomon Islands, Tonga, Tuvalu and Vanuatu) and 2 territories (French Polynesia and New Caledonia). See the Ministry of Foreign Affairs website on Japan-Pacific Relations,https://www.mofa.go.jp/region/asia-paci/index2.html.
4The Sasakawa Peace Foundation in April 2017 established a project to promote track-2 dialogue with Pacific island countries. See https://www.spf.org/pacific-islands/news/20180425.html (in Japanese).
6The Eighth Pacific Islands Leaders Meeting Leaders' Declaration, item 10.
https://www.mofa.go.jp/a_o/ocn/page4e_000825.html.
7See MOFA's "Eighth Pacific Islands Leaders Meeting (PALM 8) (Overview of Results)"https://www.mofa.go.jp/a_o/ocn/page3e_000900.html
8PALM 8 Leaders' Declaration, item 5.
9Ibid., item 8.
10Ibid., item 45.
12PALM 8 Leaders' Declaration, item 31, reads: "The FIC Leaders welcomed Japan's effort in convening the Japan-Pacific Island Countries Tourism Ministers meeting, and its commitment to cooperate on specific and practical activities, including with the South Pacific Tourism Organisation, to benefit the tourism sector."
13Ibid., items 9, 34, and 38.
14Address by Prime Minister Shinzo Abe at PALM 8, https://www.mofa.go.jp/a_o/ocn/page4e_000824.html.