Prior to Russia's invasion of Ukraine, Russian President Vladimir Putin reportedly tried to persuade Finland not to give up its neutrality, saying, "Now, when we look over the border towards Finland, we see a friend. If Finland joins NATO, we will see an enemy.[1]" On May 18, Finland and Sweden, two Nordic countries that had maintained a certain distance from NATO, officially submitted applications for membership in the military alliance. This was prompted by not only Russia's growing military threat but also the need for collective defense against armed invasions and a joint response to nuclear threats, as competition for resources and security in the Arctic Ocean and High North[2] has intensified in recent years. This article examines the significance and implications of these two countries becoming members from the perspective of NATO's Russia strategy and the maintenance of the alliance.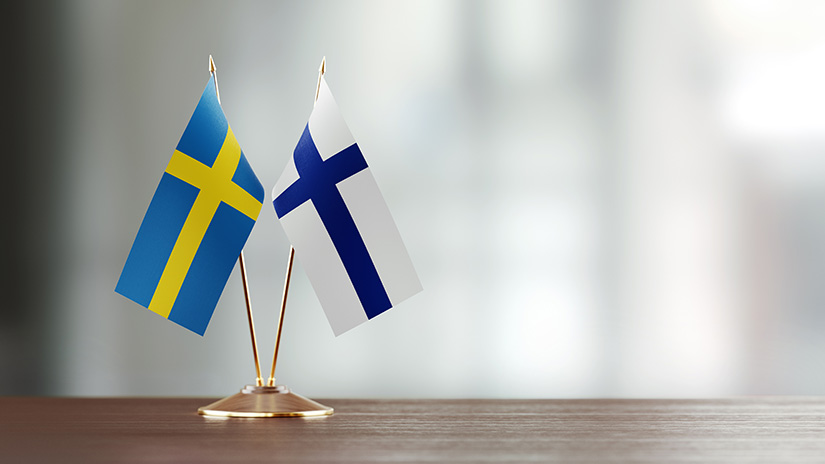 Russia's Containment
 In addition, Russia's hybrid warfare capabilities in in the new operational areas of space, cyber, and cognitive domains will be greatly affected. Since Russia's annexation of Crimea in 2014, Europe has taken systematic countermeasures against hybrid warfare, which combines traditional military operations with such nonmilitary means as cyber-attacks, deceptive and sabotage activities, and disinformation. Independent research institutes called Centers of Excellence (CoEs), for example, have been established one after another to deal quickly and effectively with threats from new domains, and they are advancing research into and developing concrete responses to hybrid threats[4]. Helsinki, Finland, is home to the European Center of Excellence for Countering Hybrid Threats (Hybrid CoE)[5], which offers expertise and training to counter hybrid threats, while Stockholm, Sweden, hosts the Center for Asymmetric Threat Studies (CATS)[6], which conducts research on hybrid warfare. Given their high technological literacy, Finland and Sweden can be expected to make an immediate contribution to research into the new domains. NATO emphasizes cooperation with the European Union and other international partners and will see its anti-hybrid warfighting capabilities improve should the two countries join, possibility even surpassing Russia in those domains.
New Military Challenges
In the future, NATO will be required to rebuild its existing military strategy and tactics as Russia redeploys its forces in response to the accession of Finland and Sweden. In 2020, NATO approved the Deterrence and Defense of the Euro-Atlantic Area (DDA) as a new military strategy. However, it will inevitably face new challenges in collectively defending northeast Europe should the two countries join. To meet those challenges, NATO must urgently "reset" its military posture[7].
Conclusion
NATO Secretary General Jens Stoltenberg has made it clear that Finland and Sweden are strong, mature democracies and important partners of NATO and that the process for their accession is expected to progress smoothly [13]. The process requires accession negotiations and the ratification of the Accession Protocol by all member countries. Therefore, a certain amount of time will be required before both countries can become members[14]. Turkey, moreover, has indicated it is opposed to their accession for political reasons[15]. Conflict and tensions among alliance members are nothing new, however, as seen during the Suez Crisis in the 1950s and the Iraq War in 2003, and NATO has both experience and confidence in overcoming such crises. Over the years, NATO has developed an organizational culture that accepts diversity and differences of opinion[16]. As long as members agree on the fundament importance of maintaining a US-Europe alliance, NATO—even after Finland and Sweden join—will likely be able to adapt to changing circumstances and continue to evolve as a political and military alliance that fulfills its inherent responsibilities.
Translated from an article originally published on the Japanese IINA website on June 2.
(2022/06/24)