Introduction
In an earlier article on this website, I analyzed the series of missile tests conducted by North Korea in September and October 2021 and examined the security implications for Japan. Here, I will offer an update, presenting a summary of test launches, including of new missiles, between January and April 2022.
This period was marked by Pyongyang's announcements suggesting a resumption of nuclear tests and intercontinental ballistic missile (ICBM) launches. Between the end of February and end of March, it launched hypersonic missiles and ground-based ballistic missiles with intermediate or longer ranges, as well as the new Hwasong-17 ICBM. On March 24, it launched a missile with a maximum range of 15,000 km on a "lofted" trajectory (firing missiles to a higher altitude and shorter horizontal distance). North Korea can thus be said to have resumed full-scale ICBM-class ballistic missile launches for the first time since November 2017.
January to March 2022
North Korea test fired a rapid succession of missiles—including new types—in September and October 2021, and the January–March 2022 period was similarly marked by a large number of launches. They were particularly numerous in January, when North Korea launched 11 missiles on seven occasions—the highest number ever in a single month—among them being a new type of hypersonic missile, as described below. In a major policy reversal, Pyongyang indicated in January that it would resume nuclear tests and launches of ICBMs.
There was little activity during February, but North Korea resumed its tests from the end of the month, conducting repeated launches of the ICBM-class Hwasong-17 before firing its first full-scale ICBM since November 2017 on March 24. (Missile specifications cited below are based on announcements by Japan's Ministry of Defense unless otherwise noted.)
January 5
Pyongyang conducted what it claimed to be a test launch of a hypersonic missile whose range, had it followed a normal ballistic trajectory, would have been about 500 km and whose maximum altitude was about 50km. The Korean Central News Agency (KCNA) reported that its range reached about 700 km, however, as it performed evasive maneuvers using flank mobility technology [1]. The KCNA claimed the missile "made a 120 km lateral movement in the flight distance of the hypersonic gliding warhead from the initial launch azimuth to the target azimuth and precisely hit a set target 700 km away [2]." The South Korean Joint Chiefs of Staff (JCS) announced that it reached a maximum speed of Mach 6, while Japan's Ministry of Defense said it was a new type of ballistic missile, believed to have been on display at the Self-Defense 2021 national defense exhibition held in October 2021. It was launched from Chagang Province.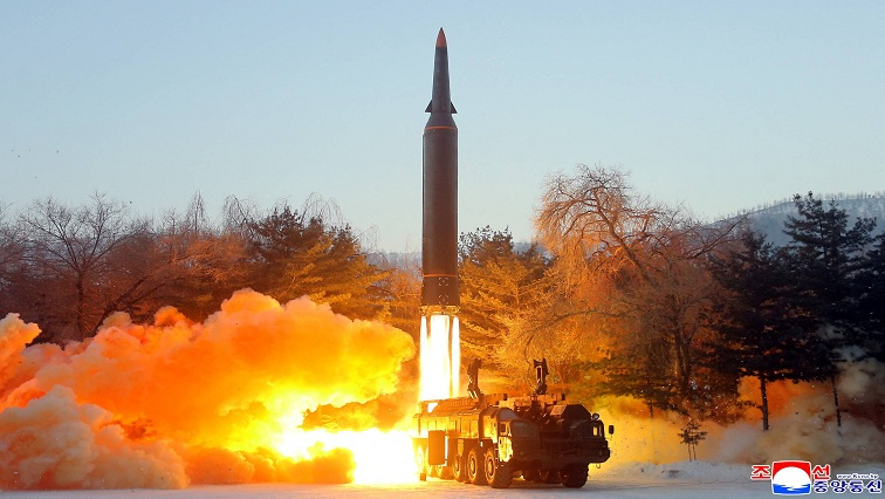 January 11
North Korea again test fired a "hypersonic missile" on January 11. Its range was estimated to have been less than 700 km if on a normal ballistic trajectory but with the potential to reach over 700 km, and in fact it was observed maneuvering northward. The KCNA announced that "the hypersonic glide vehicle made glide jump flight from 600 km area before making a 240 km corkscrew maneuvering from the initial launch azimuth to the target azimuth and hitting the set target in waters 1,000 km off[3]." The missile is believed to have reached a maximum altitude of around 50 km and maximum speed of Mach 10. In addition to maneuvers characteristics of a hypersonic glide vehicle (HGV), it also exhibited flanking mobility, which would make it quite difficult to intercept with existing ballistic missile defense (BMD) systems. Like the test conducted a week earlier, the missile was launched from Chagang.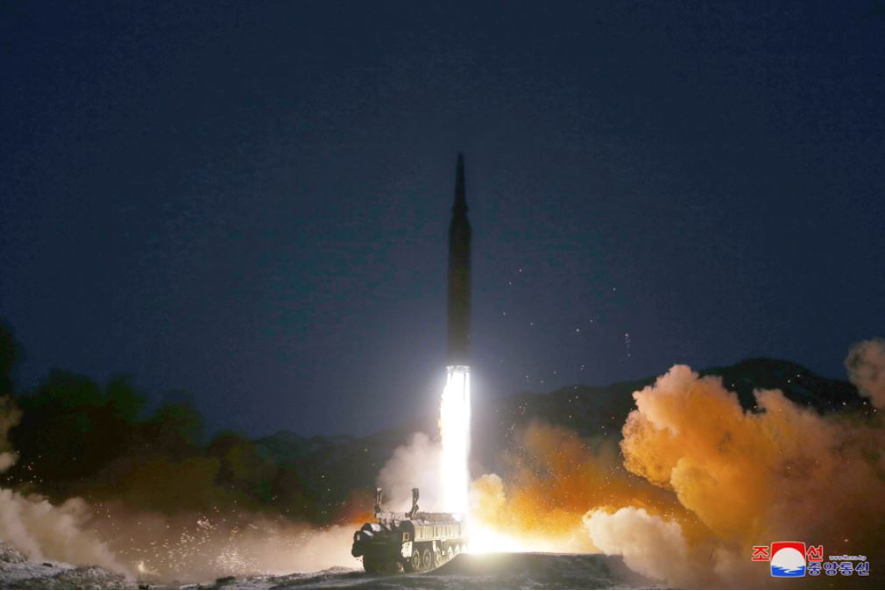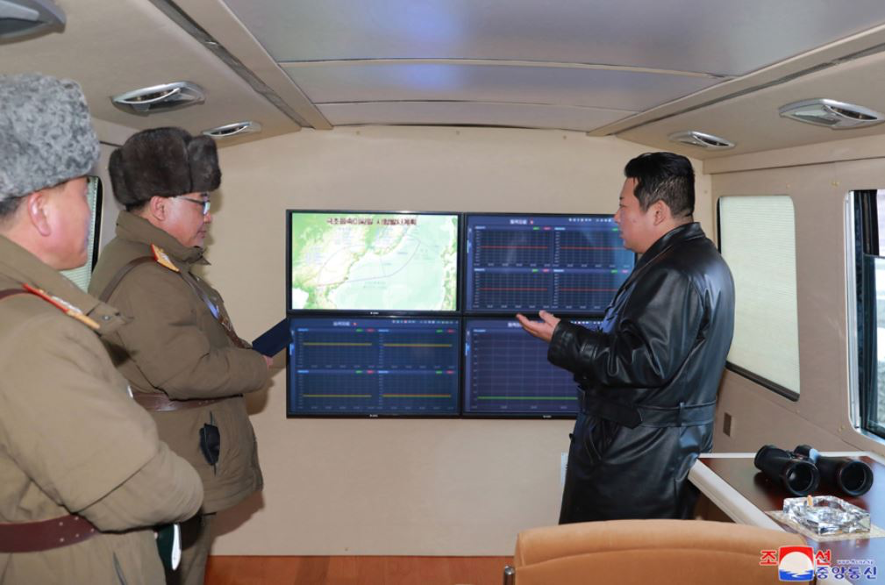 January 14
Two KN-23-class ballistic missiles were test fired by a "railway-borne missile regiment[4]." Their range, had they followed a normal ballistic trajectory, is believed to have been about 400 km with a maximum altitude of around 50 km. South Korea's JCS reported that they reached a top speed of Mach 6. They were launched from Uiju, North Pyongan Province.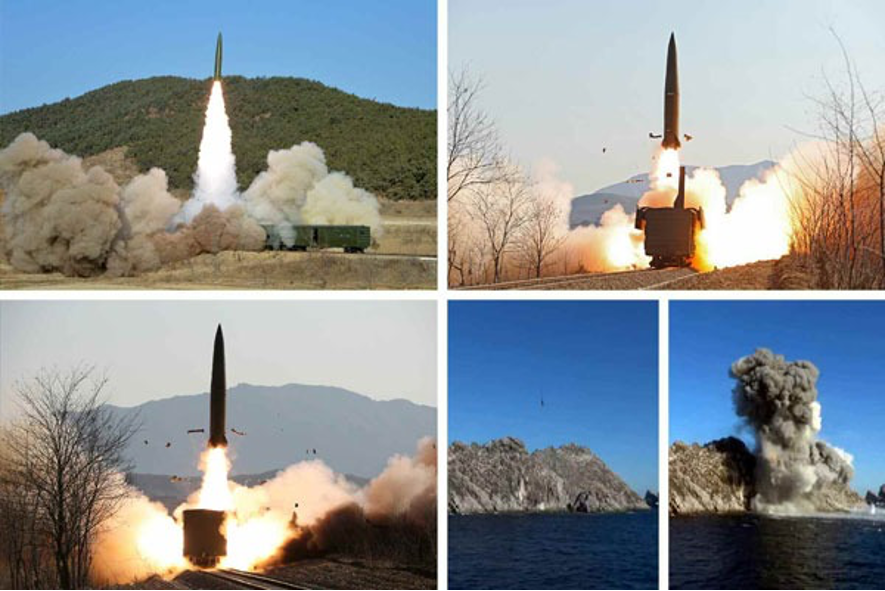 January 17
Two "tactical guided missiles" were test fired [5], reaching a range some 300 km on a normal ballistic trajectory and an altitude of around 50 km. The JCS reported that their maximum speed was about Mach 5. Photos provided by North Korea suggest they were KN-24-class missiles, similar to the Army Tactical Missile System (ATACMS) manufactured in the United States. Pyongyang's claims to be verifying the accuracy of the missiles suggest it is readying the KN-24 for deployment. The launch site is believed to have been Pyongyang Sunan International Airport.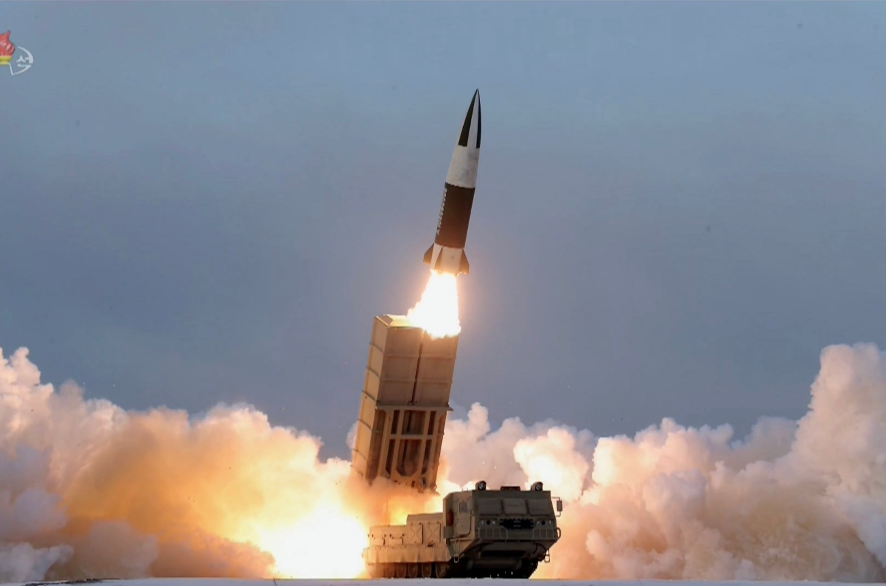 January 19
At the sixth Political Bureau meeting of the Workers' Party of Korea's eighth Central Committee, Washington's "hostile policy and military threat" were assessed to have "reached a danger line that can no longer be overlooked," prompting General Secretary Kim Jong-un to instruct relevant departments "to promptly examine the issue of restarting all temporarily-suspended activities [6]." This has been interpreted to mean that Pyongyang would resume its ICBM launches and nuclear tests, which had been suspended since 2018, as corroborated by subsequent developments.
January 25
North Korea test fired two cruise missiles to "update" its long-range cruise missile system. The KCNA stated that the "two long-range cruise missiles flew for 9 137 s[econds] along the flight trajectory over the East Sea of Korea to hit the target island 1,800 km away[7]." This may have been an updated version of the long-range cruise missiles launched in September 2021, which flew for 7,580 seconds and hit a target 1, 500 km away. These missiles are thought to have been on display at the Self-Defense 2021 exhibit. It should be noted that cruise missile launches, unlike those of ballistic missiles, are not in violation of UN Security Council resolutions.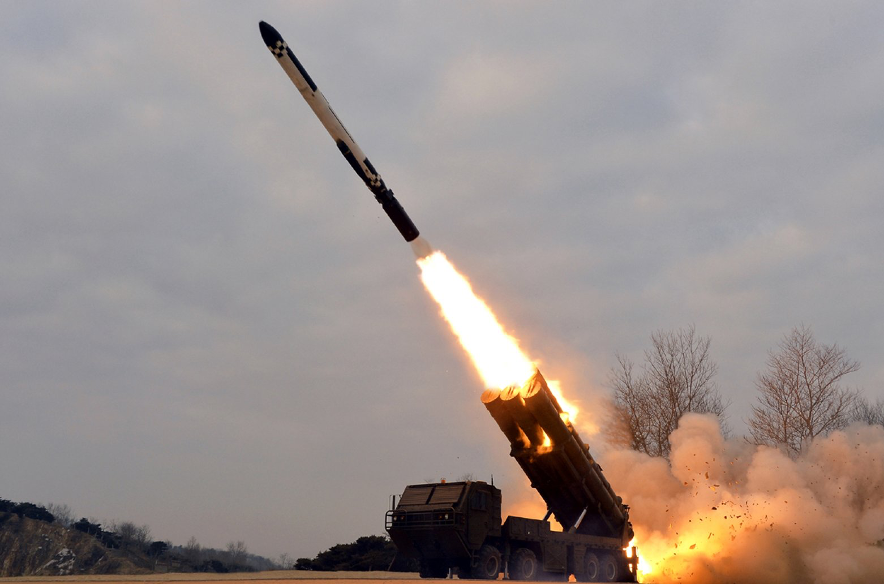 January 27
Two ballistic missiles were test fired "for confirming the power of conventional warhead for surface-to-surface tactical guided missile[8]." According to the South Korean JCS, the range was about 190 km, and maximum altitude was around 20 km. The missiles, presumably KN-23s from photos released by North Korea, appear to have been launched on a significantly depressed trajectory, perhaps to demonstrate Pyongyang's ability to carry out such operations. They were launched from near Hamhung.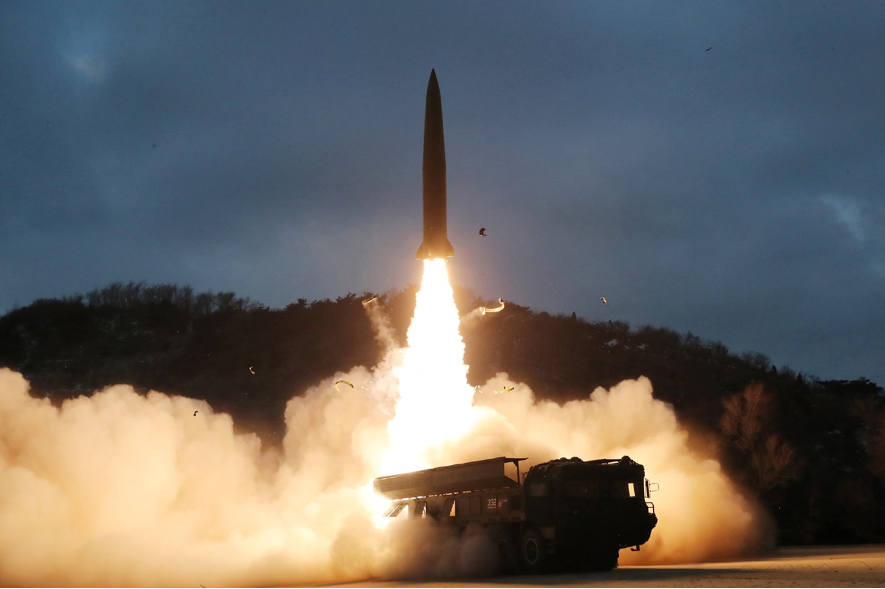 January 30
North Korea test-fired a Hwasong-12 ballistic missile[9], which flew for about 30 minutes before landing 800 km away and flying to an altitude of 2,000 km. It was launched on a lofted trajectory from Mupyong-ni, Chagang Province. Had it been fired on a normal, minimum-energy trajectory to maximize its range, it could have reached up to 5,000 km. The Hwasong-12 was the first ground-launched ballistic missile with an intermediate or longer range to be fired since the Hwasong-15 ICBM on November 29, 2017, and was presumably launched in preparation for the resumption of ICBM launches, as suggested in the January 19 Political Bureau decision. The fact that Pyongyang claimed the test launch was to "verify the overall accuracy of the weapon system" suggests that the Hwasong-12 is being readied for deployment. Among the photos released by North Korea were images of the Earth taken by a camera from the missile's warhead.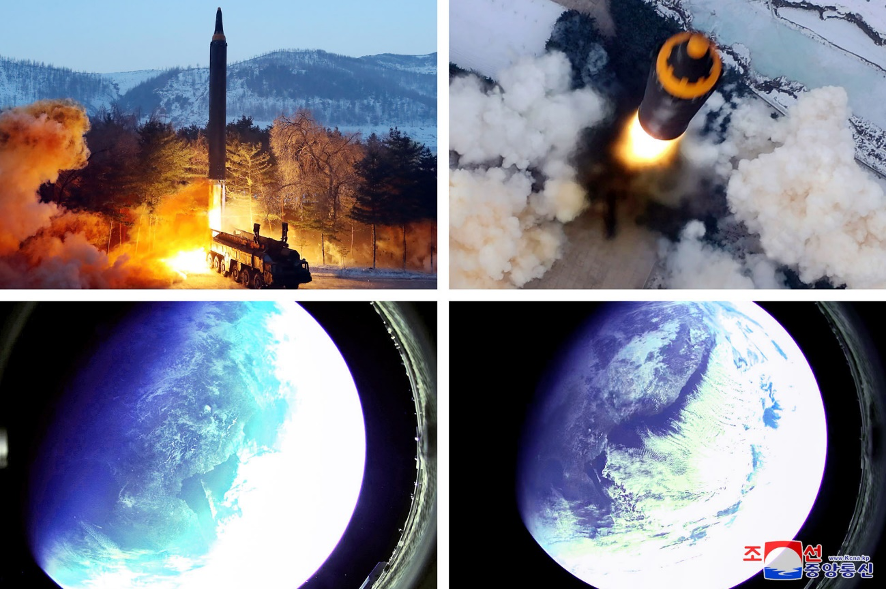 February 27
North Korea launched a ballistic missile for what it claimed to be a test for developing a reconnaissance satellite system[10]. The missile had a range of about 300 km and a maximum altitude of about 600 km and was launched from Sunan near Pyongyang. Two photos of the Korean Peninsula taken from a camera mounted on the warhead were released. North Korea has launched Unha carrier rockets—essentially ICBMs—on a number of occasions in the past, describing them as satellite launches to circumvent the ban on ICBM tests. Observers believe Pyongyang is once again seeking to resume ICBM launches under similar pretexts.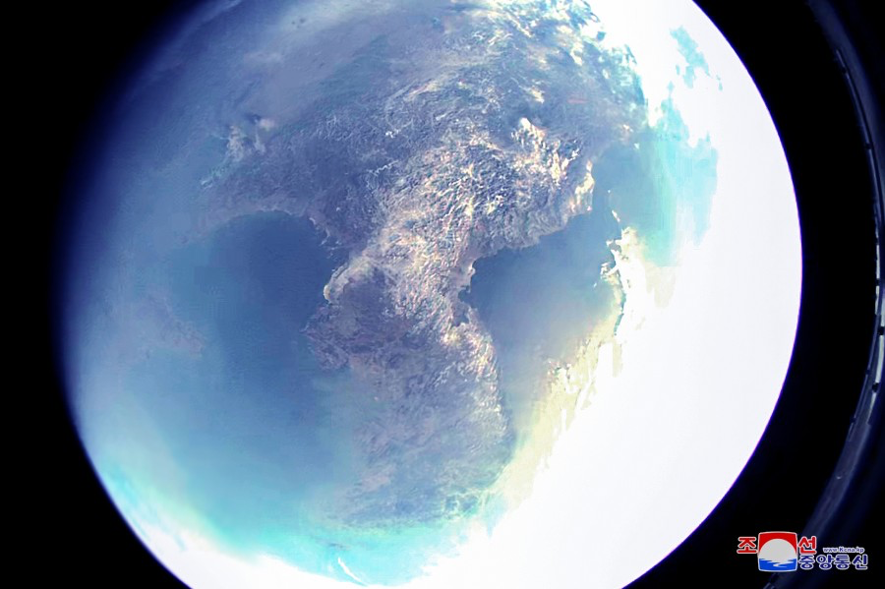 March 5
Another "important test . . . under the plan of developing a reconnaissance satellite[11]." was conducted a week later. This missile had a range of about 300 km and a maximum altitude of around 550 km. The launch site, again, was Sunan. The missile's trajectory suggests that it was almost identical to the one launched the previous week, but no photos from the warhead were released.
It should be noted that the US Department of Defense released a statement statement on March 10 analyzing the ballistic missile launches of February 27 and March 5, saying, "the United States Government has concluded that these launches involved a new Intercontinental Ballistic Missile (ICBM) system that the DPRK is developing, which was originally unveiled during the Korean Workers Party parade on October 10, 2020." Japan's Ministry of Defense similarly announced that both launches were assessed to be of ICBM-class ballistic missiles, identical to those first identified at the October 2020 military parade.
The missile at the parade was the Hwasong-17, which was mounted on an 11-axle transporter-erector launcher (TEL); it was also displayed at the Self-Defense 2021 exhibition in October. The trajectories of the February 27 and March 5 launches had suggested that they were medium-range ballistic missiles (MRBMs), but it now appears that they were fired at short ranges using the Hwasong-17 system. If they really were ICBM launches, they would be the first since the Hwasong-15 was test fired on November 29, 2017, with significant strategic implications for Japan, the United States, and South Korea. Subsequent developments suggest, though, that these were preliminary steps for launches conducted on March 16 and 24.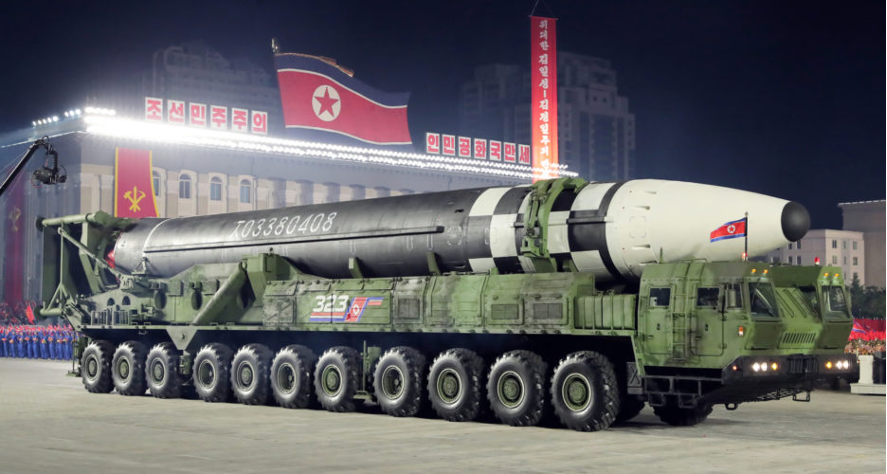 March 10
Kim Jong-un was reported to have visited the National Aerospace Development Administration in Pyongyang, where he stated that the development of reconnaissance satellites "takes an important share in attaining the five major goals for developing the defence power set forth at the 8th Party Congress" and that the "purpose of developing and operating the military reconnaissance satellite is to provide the armed forces of the DPRK with real-time information on military actions against it by the aggression troops of the U.S. imperialism and its vassal forces in south Korea, Japan and the Pacific." He went on to call for "diversely putting a lot of military reconnaissance satellites into sun-synchronous polar orbit in the period of the five-year plan[12]." These statements suggest that the reconnaissance satellites are being launched not just as a pretext for firing ICBMs but to acquire the capability of flying multiple independent reentry vehicle vehicles (MIRVs)—that is, separately targeted warheads—on its ballistic missiles. The following day, Kim Jong-un inspected the Seohae satellite launch site at Dongchang-ri, North Pyongan Province[13].
March 16
A launch pad was confirmed to have been set up in Sunan—the site of the February 27 and March 5 launches—leading to speculations prior to the firing of another missile test. The Japanese Ministry of Defense stated that the projectile did not take a normal flight path, while the South Korean JCS said that a missile exploded in midair at an altitude of 20 km or less. It is assumed to have been a Hwasong-17, although this has not been confirmed, as there has been no public announcements from Pyongyang.
March 24
North Korea fired a ballistic missile from Sunan that, according to the Ministry of Defense, reached an altitude of over 6,000 km and flew for about 71 minutes to a destination 1,100 km away, landing in the Sea of Japan (within Japan's EEZ) 150 km west of Hokkaido's Oshima Peninsula. Although it was fired on a lofted trajectory, the missile was clearly an ICBM—the first such launch since the November 29, 2017, launch of the Hwasong-15. The Ministry of Defense has characterized it as a new type of ICBM-class ballistic missile. Pyongyang announced the following day that it had test launched the Hwasongpho-17 (Hwasong-17) and released a series of photos[14]. It claimed that the missile reached a maximum altitude of 6248.5 km, flew for 4,052 seconds over a distance of 1,090 km, and landed precisely in an area on the high seas east of the Korean Peninsula. These specifications are significantly higher than those of Hwasong-15 launched in November 2017 (maximum altitude of 4,475 km, distance of 950 km, and flight time of 53 minutes). Had it been launched on a minimum-energy trajectory, the missile could have traveled in excess of 15,000 km, enabling it to reach anywhere on the planet except South America; the entire North American continent, including the East Coast of the United States, would have been within its range. Needless to say, such an ICBM would pose a serious threat to the United States.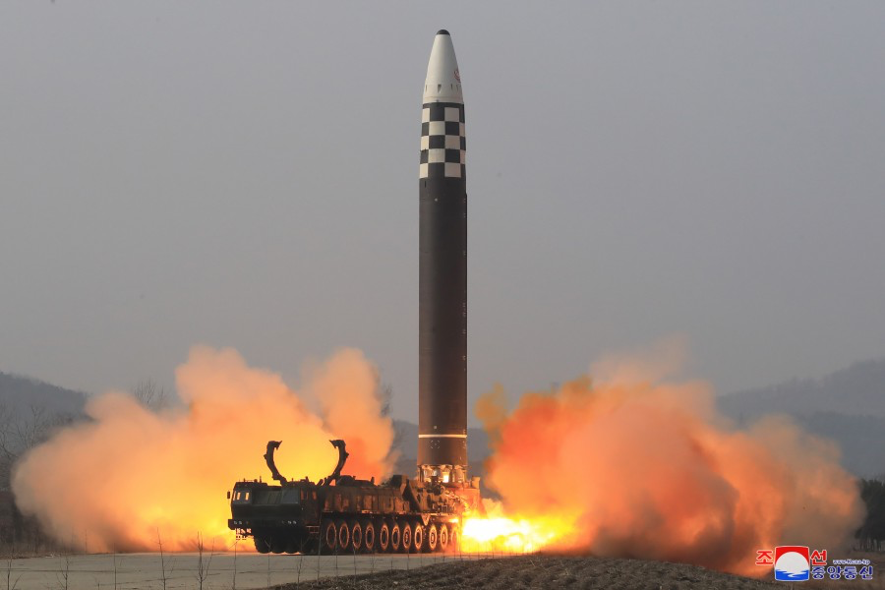 However, according to reports as of the end of March, there is some dispute as to whether the March 24 launch was indeed of a Hwasong-17. Documents submitted by the South Korean Ministry of National Defense to the National Defense Committee of the National Assembly on March 29 maintains that the launch was actually of the Hwasong-15 and that North Korean claims were fabricated. The document notes that having botched an ICBM launch on March 16, Pyongyang needed to promptly communicate a "message of success" to local residents who witnessed the earlier failure, so it actually launched a Hwasong-15—considered more reliable owing to its record of successful launches. Corroborating such speculation is the fact that the ICBM launched on March 24 had two engine nozzles like the Hwasong-15, whereas the Hwasong-17 has four, and that the engine combustion time of the first stage rocket was similar to the Hwasong-15. The series of photos and videos released by North Korea after the March 24 launch are regarded as having been of images taken earlier.
The South Korean military noted that detailed analysis conducted by the United States also pointed to a Hwasong-15, although no conclusion was reached. There are some even in South Korea, though, including the National Intelligence Service, that contend the launch was indeed of the Hwasong-17, and this also remains the official position of the Japanese government, as outlined by Chief Cabinet Secretary Hirokazu Matsuno at a press conference on March 28. A comprehensive assessment of an array of data, including flight altitude, he said, suggests that a new type of ICBM was launched. While no definitive judgment can be made, it may be prudent at this time not to dismiss the North Korean claim that the missile was actually the Hwasong-17.
The strategic implications for Japan, the United States, and South Korea are that if North Korea truly possesses an ICBM like the Hwasong-17 that can be fitted with a MIRV payload, the United States may need to think twice about intervening in a conflict on the Korean Peninsula for fear of a nuclear attack on the US mainland[15]. And while North Korea's development of ICBMs may primarily be to deter attempts by the United States to overthrow the Kim Jong-un regime, it also allows Pyongyang to continue its provocations against Japan and South Korea, such as gray-zone and low-intensity conflicts. If US intervention can be deterred and an escalation in tensions can be mitigated, Pyongyang will feel safer conducting low-level provocations against the region's US allies, so the development of ICBMs is by no means irrelevant for Japan and South Korea. Rather, it should be seen as a serious—albeit indirect—threat to the security of the two countries.
Summing Up: January to March
North Korea's missile launches from January to the end of March 2022 were noteworthy for three reasons. First, in January, Pyongyang declared a change in policy to resume launching ICBMs and conducting nuclear tests and followed through with new ICBM launches from the end of February to the end of March. After having successfully tested the Hwasong-15 in November 2017, Pyongyang had announced a moratorium on launches of longer-range ballistic missiles and had been test firing mostly short-range missiles since May 2019. The firing of the Hwasong-12 IRBM in January 2022 and tests of ICBM-class missile since the end of February indicate that Pyongyang has indeed ended its moratorium. Going forward, it is expected to conduct additional tests of ballistic missiles with intermediate or longer ranges and to convert ICBM warheads to MIRVs. There have been reports, moreover, of efforts to restore tunnel number 3 at the Punggye-ri nuclear test site, which had been shut down, raising the specter of a seventh nuclear test as early as mid-April and an escalation of North Korean provocations.
Second, although the North Korean tests in January were not of ICBMs, the various missiles fired should nonetheless be regarded as posing a direct threat to Japan. Two new hypersonic missiles, in particular, are believed to have been fitted with HGVs different from the type used with the Hwasong-8 fired in September 2021. The new missile reportedly has a range of 700 km to 1,000 km—significantly longer than the Hwasong-8 (with a range of less than 200 km)—and has demonstrated strong flanking mobility, making it a serious threat to Japan. This is because the extended range enables it reach targets in Japan and that advances in HGV technology make such missiles difficult to intercept with existing defense systems. Additional concerns include the fact that North Korea has launched a new long-range cruise missile that it claims has improved performance and that the deployment of the Hwasong-12 appears imminent.
The third noteworthy fact about North Korean missile tests between January and March is that they show clear signs of a thaw in Beijing-Pyongyang relations. Launches were suspended during much of February, no doubt to avoid interrupting the Winter Olympic Games on February 4–20. The border between the two countries had been closed due to North Korean fears of an influx of COVID-19, but on January 17 cross-border train traffic resumed for the first time in nearly two years. As a permanent member, China is in a position to condemn North Korea's ballistic missile tests that violate UN Security Council resolutions, but Beijing and Moscow have repeatedly blocked efforts to censure such launches[16]. Even after North Korea resumed full-scale ICBM tests, China and Russia opposed the US call for tougher sanctions and have instead demanded that sanctions be eased.
The Security Council has become even more dysfunctional following Russia's invasion of Ukraine on February 24[17]. North Korea's missile launches represent an additional headache for the United States and Japan but are strategically convenient for China. Japan is scheduled to issue its revised National Security Strategy, National Defense Program Guidelines, and Medium-Term Defense Program at the end of 2022, and it will need to substantially strengthen its defense capabilities, such as by clearing a path to intercepting incoming missiles while they are still flying over enemy territory.
April
Many had predicted additional provocations, such as a nuclear test, on April 15—the 110th anniversary of Kim Il Sung's birth. This did not come to pass, as the day was marked by a "national meeting and a public procession[18]" in Pyongyang, without a military parade.
Two short-range ballistic missiles were launched the following day, however, at around 6:00 p.m. The missiles, launched from Hamhung, had a range of about 110 km, maximum altitude of about 25 km, and maximum speed of Mach 4, according to the South Korean JCS. The KCNA announced on April 17 that it had test fired a "new-type tactical guided weapon" with Kim Jong-un present to observe the launch[19]. Photos released indicate that the projectiles were KN-23-class missiles.
Although the specifications of the April 16 launch were not exceptional, the KCNA described the weapon system as being "of great significance in drastically improving the firepower of the frontline long-range artillery units and enhancing the efficiency in the operation of tactical nukes of the DPRK and diversification of their firepower missions." In other words, there is a strong possibility that this was North Korea's first launch of a ballistic missile intended to carry a tactical nuclear weapon. This, one can assume, is also why Kim Jong-un observed the launch in person.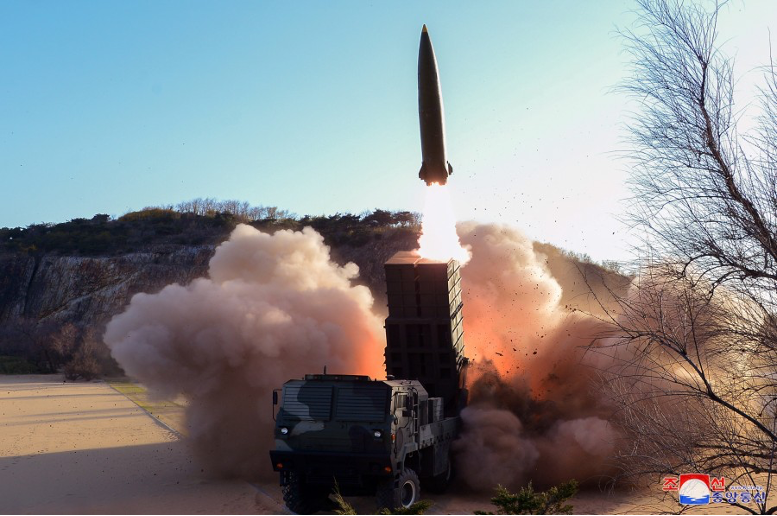 One can infer from this that North Korea is likely to resume nuclear tests with the aim of developing tactical nuclear warheads. A nighttime military parade was held on April 25 to commemorate the 90th anniversary of the founding of the Korean People's Revolutionary Army, and close attention must continue to be made to analyze the development of North Korean weapon systems.
(2022/06/16)