Contents
No.12 2018/12/27
Current Status of the Chinese Economy—December 2018—
Osamu Tanaka (Project Professor, Nara Prefectural University)
Introduction
Tensions between the United States of America and China have escalated in regard to the Chinese external economy and the deterioration of domestic economic indicators. These are causing downward pressure to the Chinese economy. In this essay, based on past indicators including the gross domestic product (GDP) growth rate between July and September, the current status of the Chinese economy and policy responses for 2019—which were decided at the Central Economic Work Conference held between December 19-21 in 2018—will be discussed.
1. Gross Domestic Product (GDP)
The actual GDP growth between January and September was 6.7 percent. The growth rates per quarter were 6.8 percent between January and March, 6.7 percent between April and June and 6.5 percent between July and September, so the overall economic growth is showing a clear downward trend.
Seeing this from the percentage contribution to growth rate per demand, the final consumption was 78.0 percent, the capital formation was 31.8 percent and the net export (external demand) was -9.8 percent. The external demand shrunk considerably to a negative figure, but this was not due to tensions with the U.S.A. but because import growth has been exceeding export growth. The percentage contribution to the export growth rate during January and June before the U.S. vs. China revenge game heightened was already -9.9 percent.
2. Changes in Indicators
The table below shows the changes to major economic indicators.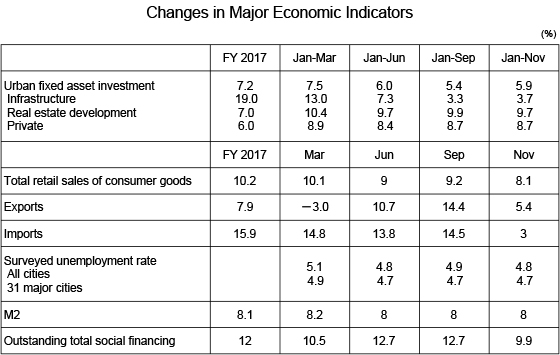 (1) Infrastructure Fixed-Asset Investment
During the first half of FY2017, the growth of the urban fixed-asset investment was slow. This was due to the growth of infrastructure investment, which had been supporting the entire fixed-asset investment and was then suppressed to reduce debt risks within local governments.
However, the trend of a downward growth rate became clear during the period from July to September, and the government tried to shore itself up with infrastructure investment in October. As a result, the growth of infrastructure fixed-asset investment has been stable at 3.7 percent since October.
(2) Real Estate Development Fixed-Asset Investment
China retains high growth in its real estate fixed-asset investment. However, the overheated housing market, the reason for the growth, is slowly settling down.
In November, the prices of newly built houses in 70 large and medium-sized cities in China went up in 63 cities, remained the same in 2 cities and dropped in only 5 cities from their prices in October. However, according to city size, the house prices went up by 0.3 percent (0.6 percent in September) in the first-tier cities, by 1.0 percent (1.2 percent in September) in the second-tier cities and by 0.9 percent (0.7 percent in September) in the third-tier cities. Increases in the first- and second-tier cities have been slowing down. In particular, among the four first-tier cities in which the growth rate of the house prices were high, Beijing and Shanghai have continued to rise, but it remained unchanged in Guangzhou and dropped in Shenzhen.
During the period of January and November, the residential building sales area has increased by 1.4 percent over the same period of the previous year (2.9 percent during January and September). Residential building sales have increased by 12.1 percent over the same period of the previous year (13.3 percent during January and September). Similar to sales of newly built houses, the growth of the residential building sales has also slowed down. Such movement in the housing market affected real estate development investment, and real estate development investment has begun to slowly decline.
(3) Private Fixed-Asset Investment
Private fixed-asset investment growth has remained relatively stable. In the first half of FY 2017, the People's Bank was strictly controlling the expansion of its off-balance sheet business and shadow banking to prevent an increase in debt risk. However, this caused private companies and small and micro enterprises difficulty in procuring funds and high costs of fund procurement after the month of June, and the default rate of bonds issued by these companies has increased.
After this, the People's Bank encouraged financial institutions to drop their deposit reserve ratios and increase fund supplies to small and micro enterprises. In addition, General Secretary Xi Jinping hosted a "private enterprise symposium" on November 1 and instructed financial institutions to develop fund procurement routes for private enterprises and increase financial support for promising private enterprises. As a result, financial support for private companies and small and micro enterprises has increased since November.
(4) Retail Sales of Consumer Goods
Consumer spending has been slowing down for a long time. The reason for this is an increase in housing loan debt in the household sector. Soaring house prices are greatly affecting household consumption.
Income growth in urban areas is also affecting consumption. The real increase in average disposable income per city resident during the period of January and September was 5.7 percent, far below the housing growth rate. This is also affecting consumption expenditure. The real growth of consumption expenditure per city resident between January and September was 4.3 percent.
(5) External Demand (Net Export)
The growth rate of exports during the month of November has rapidly slowed down, but this was a reaction against the October growth of 15.5 percent in exports and 20.8 percent in imports over the same period of the previous year. During September and October, as U.S.-China tensions became tumultuous, last minute exports and imports were made. The U.S.-China tension has brought more of a psychological impact than a direct impact due to increased import duties.
(6) Employment
Both surveys of Nationwide Cities Unemployment Rates and 31 Large Cities Unemployment Rates are showing stable increases. An increase of newly recruited employees between January and September was 12.93 million and far exceeded the annual goal of "at least 11 million." Also, the active job opening ratio during July and September was 1.25 (1.23 during April and June). Although the employment indices are good, China needs to be careful because there was a report that the demands in the labor market have recently become slightly tight due to worsening U.S-China tensions and the psychological impacts of a slow growth rate.
3. Central Economic Work Conference Discussion Points

In this section, I will give a brief introduction of the matters which directly affect the Chinese economy in 2019.
(1) Macroeconomic Policy China's current macroeconomic policy is to strengthen counter-cyclical adjustments against business fluctuations, make pre-emptive adjustments and fine-tune policies at the proper times, and ensure stable aggregate demand.
[1] Proactive Fiscal Policy
China's current fiscal policy is "to increase our strength, increase efficiency, implement greater tax and fee cuts, and significantly increase the size of local government special bonds." With tax cuts and cost cuts as its core measures, China is planning to support its investments by increasing investments to its rural infrastructure, which is profitable.
[2] Prudent Financial Policy
China's current financial policy is "to keep it neither too tight nor too loose, maintain rational and sufficient liquidity, improve the transmission mechanism of its financial policy, increase the proportion of direct financing, and solve the high costs of fund procurement and other issues private companies and small and micro enterprises experience."
The word "neutrality" was removed from the 2017 financial policy, and the term "reasonable growth" was changed to "rational and sufficient" to make it sound more prudent. However, this prudence does not apply to everyone, and the market liquidity clause of the policy is only for private companies and small and micro enterprises.
[3] Structural Policy
China's current structural policy is "to strengthen the construction of the structural mechanism, insist on the impetus for reforms, deepen reforms in areas such as state-owned enterprises, fiscal and financial services, land, market access and social management, and strengthen the basic position of competition policy, create systems and an environment of fair competition and encourage rapid growth of small and medium-sized enterprises."
In the 2017 policy the focus was on the growth of consumption and private fixed-asset investments, but this year's policy has an emphasis on deepening the reforms, which is a prerequisite for these.
[4] Social Policy
China's current social policy is "to strengthen functions of social protection, implement policies which place a priority on employment, guarantee the subsistence needs of the people and integrate governance into services."
At the conference, China positions the year 2019 as "the year which marks the 70th Anniversary of the founding of New China and is also a crucial year for building a well-off society in an all-around way." Thus, China is placing an importance on overall social stability.
(2) Consumption
China's current policy for consumption is "to make efforts to satisfy the final demand, improve product quality, accelerate the development of service industries—including education, childcare, elderly care, medical care, culture and tourism, improve the consumption environment, firmly implement specific additional deductions personal income tax policies, enhance the consumption capacity so that people can eat safely and wear what they like."
As for personal income tax, raising the minimum taxable income and expansion of the low tax rate threshold were implemented in October 2018. In 2019, China is planning to increase its disposable income by expanding special deductions and stimulate consumption by improving product quality and ensuring diversification, safety and security.
(3) Investments
The Chinese government states, "The potential for investment demand in China's development is still huge at present, and we should play a key role in investment." As the major targets of investments in 2019, China listed the following goals: to increase frequencies of technological upgrading and equipment replacement, accelerate the commercialization of its fifth-generation mobile communication system (5G), accelerate the establishment of a new infrastructure including artificial intelligence (AI), industrial internet and the Internet of Things (IoT), strengthen investment in inter-city transportation, logistics and municipal infrastructure, complement the shortcomings of rural infrastructure and public service facilities, and strengthen the capacity of its natural disaster control.
(4) Economic System Reform
China's goal for the year is "to deepen the reform of the framework, focus on enhancing the vitality of microeconomics and to steadily promote relevant reforms." They specified each matter as follows:
[1] Acceleration of Reforms to State-Owned Assets and State-Owned Enterprises
As for China's management style, which has been criticized from overseas, it decides "to strictly keep the government and the enterprises separated, the government and the assets separated and adhere to the principle of fair competition, and strengthen and enhance state-owned assets and accelerate the transformation from enterprise management to asset management." They decided to continue to promote the transformation from state-owned enterprise management to state-owned asset management in 2019.
They also promise "to actively promote the reform of mixed ownership and accelerate the transformation of the shareholding system of the China Railway Corporation." There is a fear that rapid expansion of its railway network may increase new debt risk.
[2] Development Support for Private Enterprises
The Chinese government states that they need "to create a legalized environment to protect the personal safety and asset security of private entrepreneurs." They adopted this from the "Private Enterprise Meeting" on November 1, 2018.
[3] Deepening Financial System Reform with a Focus on Adjustment and Optimization of Financial System
The Chinese government has decided "to develop private banks and community banks and encourage city commercial banks, rural commercial banks and rural credit cooperatives to return to basics." They made it very clear that their focus will be on strengthening loan business for private companies, small and micro enterprises and the "sannong" (agricultural industry, villages and farmers). Also, they will strengthen administrative and service capabilities and "build a standardized, transparent, open, dynamic and resilient capital market by deepening reforms."
[4] Promotion of Fiscal and Tax Reforms
The Chinese government has decided "to establish a sound local tax system and to regulate the fund procurement mechanism by issuing government bonds." This shows that debt management of local governments is still an important issue.
[5] Solid Transformation of Government Functions
By stating that they plan to "significantly reduce the government's direct allocation of resources, strengthen supervision during and after action implementation, allow the market to adjust on its own and allow enterprises to do what they can do," the Chinese government re-emphasized its market reforms.
(5) Open Door Policy
As for the U.S.-China tensions, the Chinese government reported that it has "handled the U.S.-China trade tensions appropriately" in 2018. In 2019, they will "implement the consensus of the U.S.-China Summit Meeting and promote U.S.-China economic and trade negotiations."
For an all-out opening to the outside world, the Chinese government has decided to promote the transition from the existing fluid-type opening of products and production factors to a system-type opening of rules. They listed examples by stating that "market access will be relaxed, a system which added a negative list management system to a pre-established national treatment will be fully implemented, the legal rights and interests of foreign businesses in China—particularly their intellectual property rights—will be protected and the practice of sole-funded businesses will be allowed in many more fields."
Moreover, considering the criticism against "government-led debt," when discussing the joint construction project of the "Belt and Road," the Chinese government showed their consideration to the debt situation of partner countries, stating that they plan to "let enterprises play proactive roles and effectively manage and control various risks."
In the decisions being made at this time in similar descriptions as above, we can see that China is paying great consideration to the U.S.
Regarding external demand, they stated, "We will expand import-export trade, promote diversification of the export market and reduce import-related systematic costs."
Conclusion
During the first half of 2018, China had been implementing "structural deleveraging" and attempting to lower the debt ratio while implementing its institutional reforms. However, the process caused investments and consumption to slow down and private, small and micro enterprises to experience hardship and high fund procurement costs, and the country's economy is showing a downward trend. In addition, after the second half of the year, the U.S.-China trade tensions became heightened, which added more uncertainty to China's economy.
The result of the U.S.-China economic and trade negotiations, which began in January 2019, is difficult to forecast. However, around October last year, a movement to accelerate reforms and open policies by using external pressure as the drive became stronger. Specifically after the "Private Enterprise Meeting" on November 1, the developmental support for private companies and further promotion of market reforms were clearly set.
We cannot be optimistic about the current economic situation in China. However, the governing organization led by Xi Jinping steadily and accurately implements institutional modifications and reforms while effectively controlling debt risks. Therefore, even if the growth rate slows down, economic and social stability in 2019 is quite possible.
(Dated Dec 25, 2018)