Report Publication: "Allies Growing Closer: Japan–Europe Security Ties in the Age of Strategic Competition" by Dr. Jeffrey Hornung
Report Publication: "Allies Growing Closer: Japan–Europe Security Ties in the Age of Strategic Competition" by Dr. Jeffrey Hornung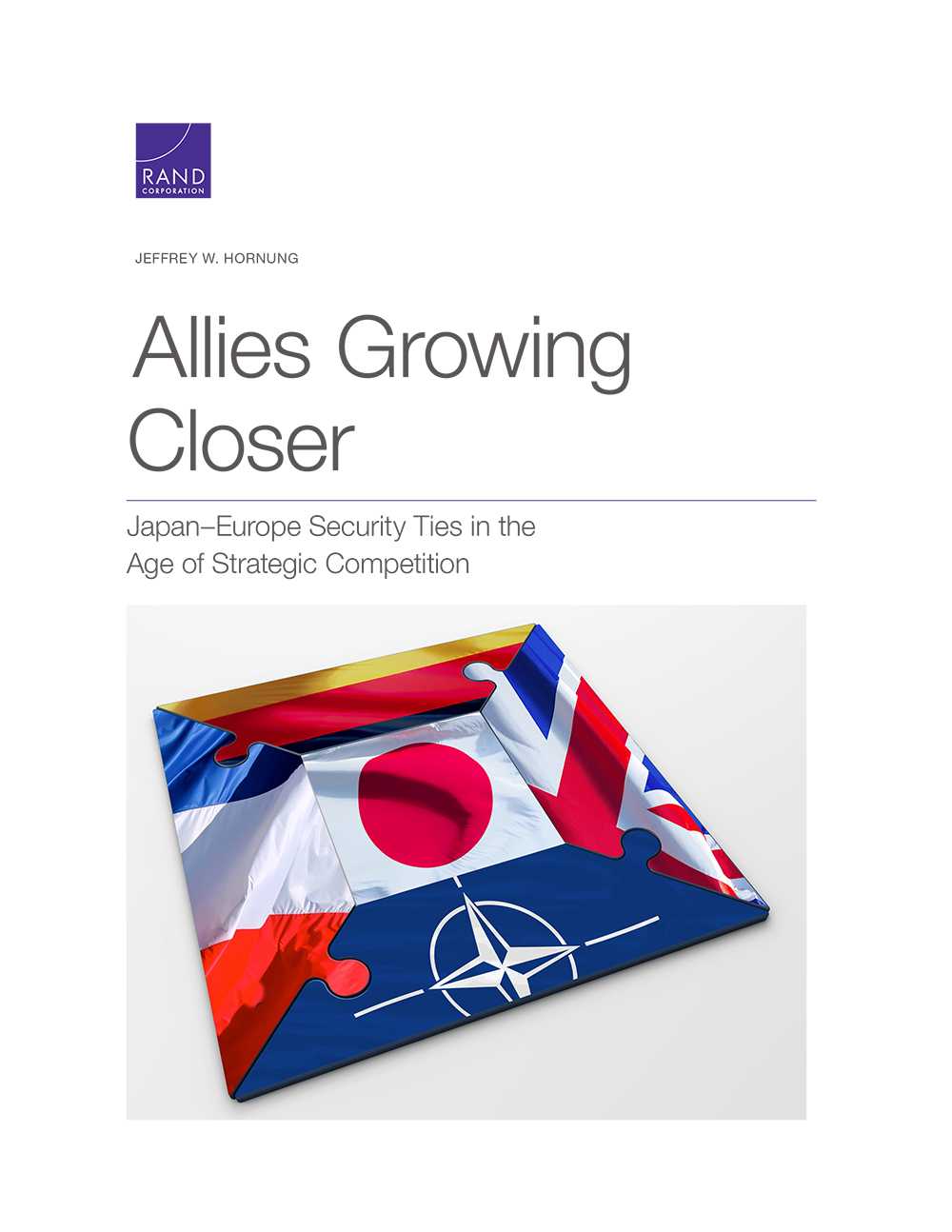 The Japan-U.S. program worked with Dr. Jeffrey Hornung, political scientist at the RAND Corporation in the U.S., for a research project from 2019-2020 on the issue of Japan–Europe security relations from the U.S. perspective. The findings of this research have been published as "Allies Growing Closer: Japan–Europe Security Ties in the Age of Strategic Competition" on RAND's website. During his research, Dr. Hornung stayed in Japan for a month as an SPF visiting fellow in the summer of 2019 and also made a research trip to Europe.
The report describes the different types of cooperation in the security domain between Japan and European countries, the two most reliable allies for the United States in light of the current resurgence of great power competition.
The contents of the report include (1) Japan–U.K. relations, (2) Japan–France relations, (3) Japan–Germany relations, and (4) Japan–NATO relations. These relationships are discussed from various perspectives, taking into account the different historical backgrounds; ongoing collaborative activities including strategic dialogues, defense exchanges, as well as joint training and exercises; the motivations of each country to strengthen this type of cooperation; and the different levels of awareness of the international environment between Japan and European countries. The report concludes with a summary of the significance of these relations for the United States followed by policy recommendations.  
Click the link below to download the PDF full text.
https://www.rand.org/pubs/research_reports/RRA186-1.html#download
<Index>
CHAPTER ONE  Introduction
Organization of This Report, Methodology
CHAPTER TWO  The Strategic Context
U.S. Strategic Documents, Japanese Motivations, Conclusion
CHAPTER THREE  The United Kingdom
History, Defense and Strategic Dialogues, Defense Exchanges, Defense Cooperation, and Defense-Related Industrial Cooperation, Training and Exercises, Motivations, Divergences, Conclusion
CHAPTER FOUR  France
History, Defense and Strategic Dialogues, Defense Exchanges, Defense Cooperation, and Defense-Related Industrial Cooperation, Training and Exercises, Motivations, Divergences, Conclusion
CHAPTER FIVE Germany
History, Defense and Strategic Dialogues, Defense Exchanges, Defense Cooperation, and Defense-Related Industrial Cooperation, Training and Exercises, Motivations, Divergences, Conclusion
CHAPTER SIX  The North Atlantic Treaty Organization
History, Defense and Strategic Dialogues, Defense Exchanges, Defense Cooperation, and Defense-Related Industrial Cooperation, Training and Exercises, Motivations, Divergences, Conclusion
CHAPTER SEVEN  Conclusion
Similarities, Differences, Significance for the United States, Recommendations, Conclusion