The origin and objectives of 'World Forum of Muslim Democrats'
By the initiative of Datuk Seri Anwar Ibrahim, the Sasakawa Peace Foundation (SPF) has collaboratively launched a movement to promote "Muslim Democrats" with the Habibie Center (THC, Indonesia), Institute for Policy Studies (IPS, Malaysia) and Foundation for Political, Economic and Social Research (SETA, Turkey) in 2014.
This initiative has established a common platform known as "World Forum for Muslim Democrats (WFMD)" for the purpose of establishing a platform for leaders, intellectuals, and professionals from the Islamic faith, together with their counterparts from other faiths and persuasions, to articulate their progressive views on matters pertaining to freedom, democracy, justice, and development.
This movement defines a Muslim Democrats as, among other things, a Muslim who values peace and democracy, freedom and dignity, tolerance and inclusiveness regardless of national, political, social and cultural differences.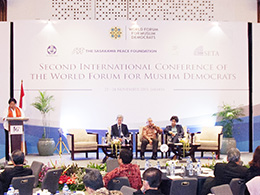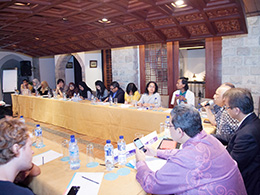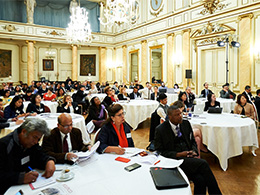 Achievements to date
Since its inception, WFMD has brought together leaders, intellectuals and professionals of the "Muslim Democrats", together with their non-Muslim counterparts to articulate the progressive views on matters pertaining to freedom, democracy, justice and development.
The 1st WFMD was held in Selangor, Malaysia on 3-4 November 2014. This forum was the official launch of WFMD, articulating the roles of "Muslim Democrats" and stating commitment in undertaking a long-term effort in promoting and strengthening the core principles for Muslim Democrats. The 2nd WFMD was held in Jakarta, Indonesia on 23 and 24 November 2015, at which we addressed issues regarding Islamic State, sectarian conflict and Islamic extremism; human rights and refugees.
The 3rd World Forum for Muslim Democrats
Sasakawa Peace Foundation Building, Tokyo, Japan
24-25 November 2016

---