Asia Peace Initiatives Program
Policy Dialogue on "Adapting to Population Ageing in Asia: Social Participation and Employment Perspectives"
The Asia Impact Dialogue Workshop Series #3 in Hanoi, Vietnam (March 7, 2019)
Report by Akihiro Ueda & Nami Yokogi, Photos by Yuichi Yamashita, Asia Social Integration Department
---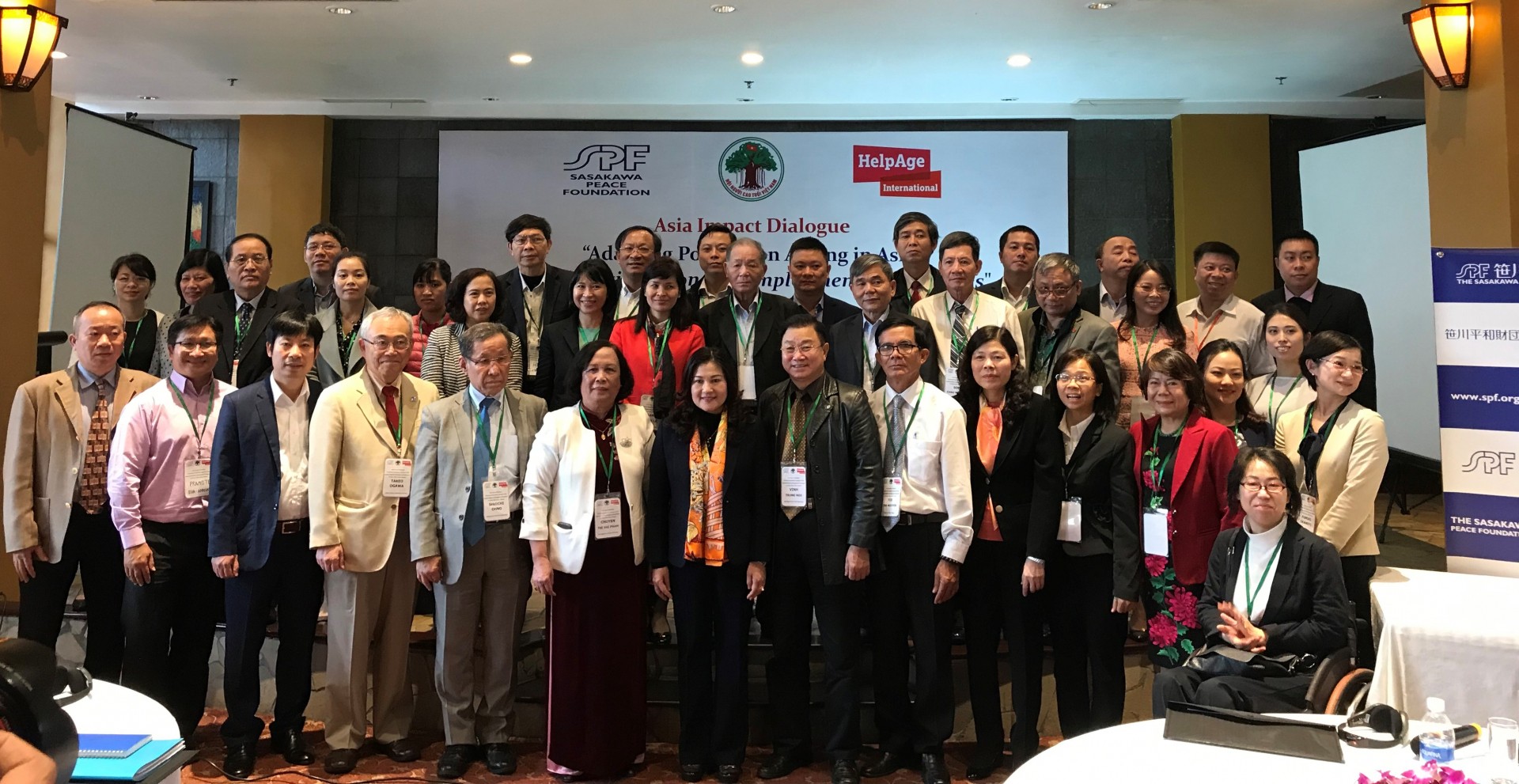 Japan and the rest of Asia are both facing the same challenge: an ageing population. The Sasakawa Peace Foundation (SPF) has been hosting workshops on population ageing in Asia as a key part of its "Issues and Implications of Ageing Asian Population" project, in collaboration with the "Asia Impact Dialogue" project. For the third event in this dialogue series, a workshop was co-hosted by the international NGO
HelpAge International Vietnam
(HAIV) and the
Vietnam Association of Elderly
(VAE) together with SPF on 7th March, 2019. Approximately 50 attendees, including Ms. Nguyen Thi Ha, the Vice Minister of the Vietnam Ministry of Labour–Invalids and Social Affairs, policymakers in Vietnam, local practitioners, and experts from Thailand and Japan discussed adaptation to population ageing in Asia from the perspective of social participation and employment.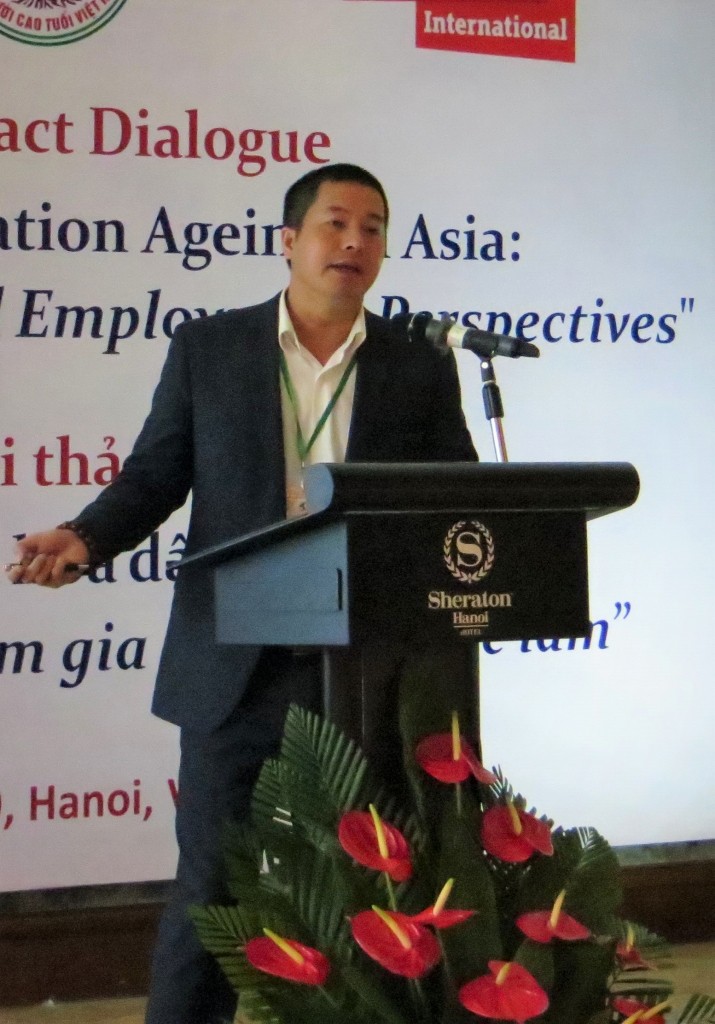 Assoc. Prof. Giang Thanh Long
In the first session, Dr. Giang Thanh Long, an Associate Professor at Vietnam National Economics University, delivered the keynote presentation titled "Ageing Population in Asia: Opportunities and Challenges." He explained demographic changes in Asia, making various connections with economic growth, the movement of peoples, poverty, health, and long-term care, among other topics. According to his presentation, the rate of population ageing in Vietnam is one of the highest in Asia. It is projected that the proportion of people aged 65 and over in Vietnam will double—from 7% to 14%—in just 15 years. In addition, because of the low GDP and low public expenditure on pensions and social insurance, income from labor is the leading source of income for older people in Vietnam. Facing the risk of disease and decline in physical ability, however, many older people still engage in unpaid work such as caring for grandchildren or volunteering, and Dr. Giang raised the question of how the government and civil society organizations will be able to respond to this situation. In his concluding remarks, Dr. Giang pointed out that whether ageing provides opportunities or challenges will depend on the approach that individual countries take. Developing policies that treat ageing as part of a natural and inevitable process (in Dr. Giang's word, "flow") is valuable not only for those who are already in the older age bracket, but also for future older generations (i.e., the youth of today). Policies for ageing should be part of national development policies that cover such important goals as economic growth, job creation, health care, education, etc., and should also be reconsidered over time, stated Dr. Giang.
In the second session, the Japanese and Thai experts commented on Dr. Giang's presentation, and shared their respective countries' efforts to adapt to population ageing. Dr. Ogawa Takeo (President, Asian Aging Business Center; expert from the Japanese group) stated that Japan's experience can act as a good reference to countries like Vietnam and Thailand, as the demographic compositions in these countries look similar to those of Japan in 1970 and 1995. He further noted that collaboration between areas (such as "formal and informal", "public and private", and "for profit and non-profit") and sectors (such as the community, the market, and the government) could be the key in tackling issues of population ageing, showcasing Fukuoka-city's policies and practices. From Thailand, Dr. Pramote Eua-amnua (Program Manager, Senior Citizen Council Thailand: SCCT) presented his organization's role in Thailand, namely, managing a nationwide network of older people's clubs. Older people's clubs in Thailand function to promote older people's health, social participation, income generation, and life-long learning. He also explained how public-private partnerships work in Thailand, showcasing SCCT's collaborations with local governments, public organizations, universities, and research institutes.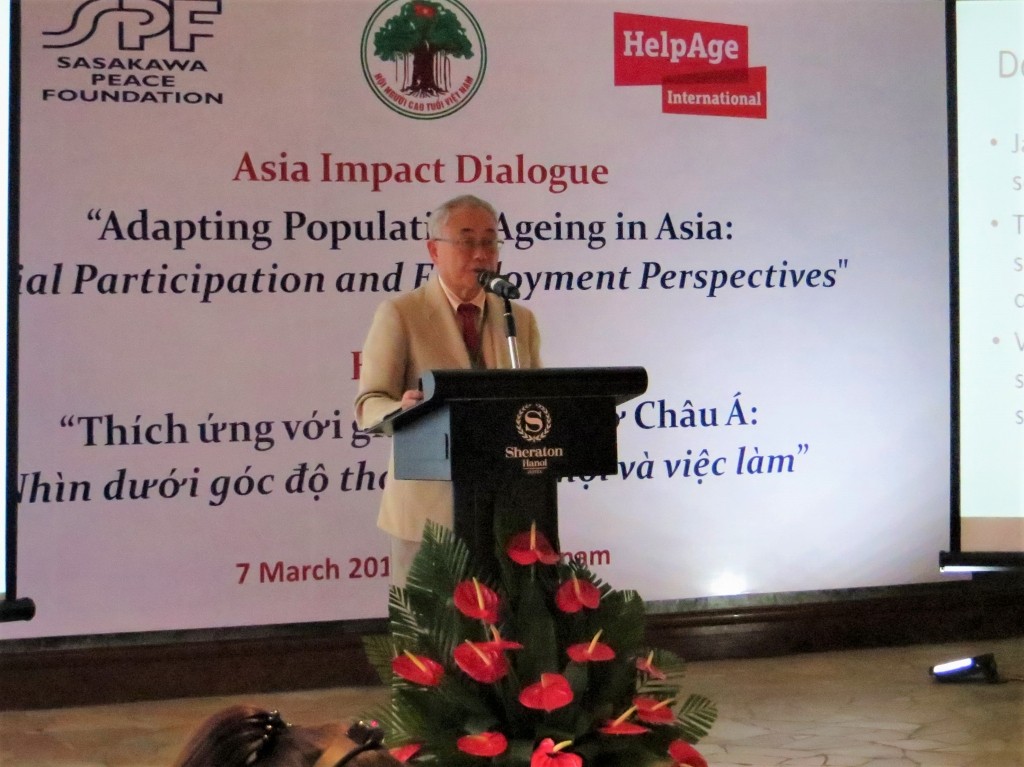 Dr. Takeo Ogawa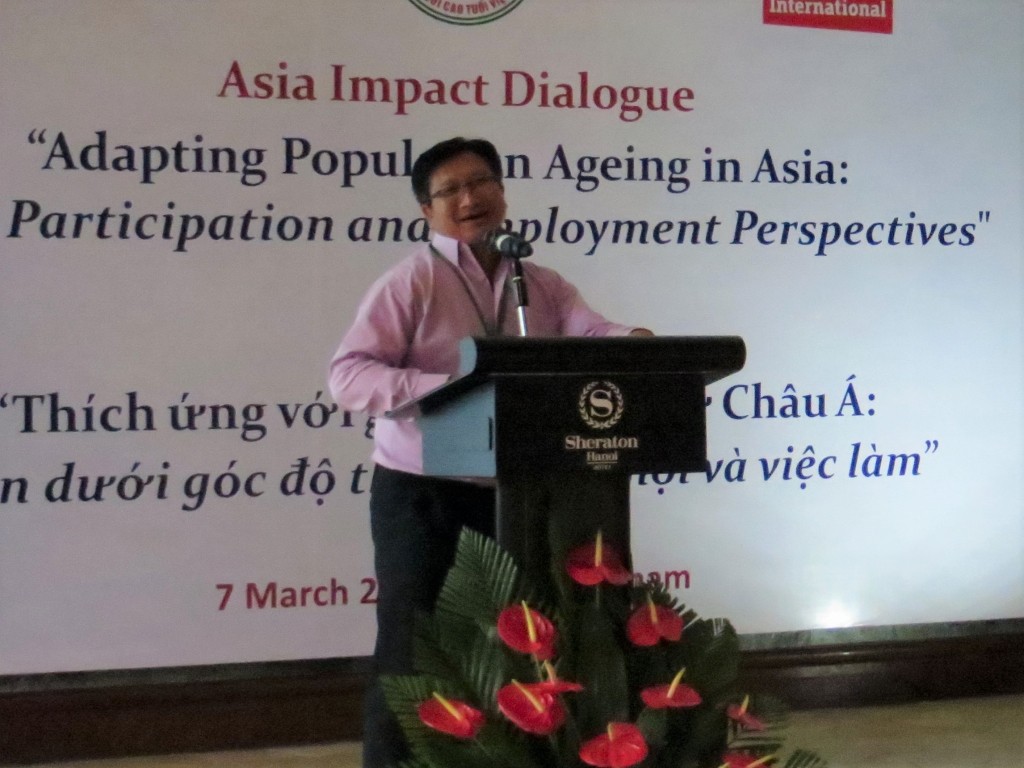 Mr. Pramote Eua-amnuay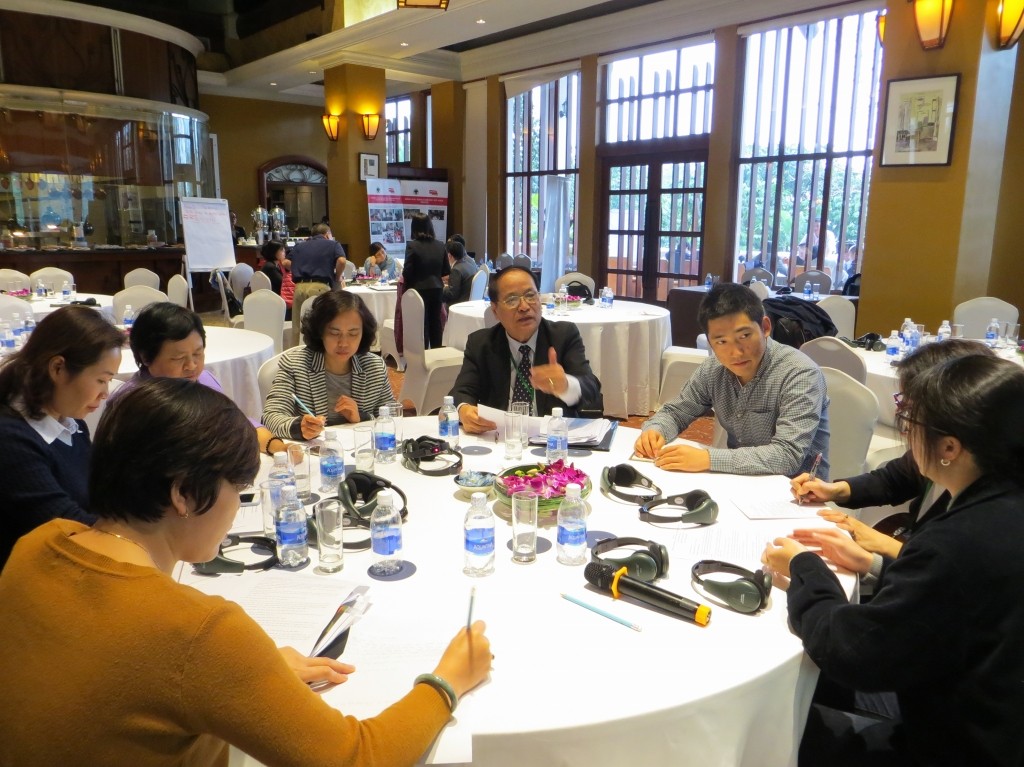 Group discussion
The final session involved group discussions on two themes: older people's social participation and employment/income-generating activities. Attendees were divided into four groups (two groups for each theme), and discussed challenges and possible solutions on each theme. In the groups discussing social participation, the following were identified as important themes: awareness raising for both older people and society, activities that consider gender differences, infrastructure improvement, macro policy development, health promotion, encouragement of communication between families and communities, and raising of retirement ages in companies and the public sector. In the groups discussing employment/income-generating activities for the older people, the themes identified for consideration were: raising of the retirement age in the public sector and private companies, work-sharing between younger and older generations, incentives to private enterprises to participate in the labour market for older people, vocational training and schools for older people, access to loans and credit, involvement of the younger generation, better recognition of unpaid work (such as housework, childcare, long-term care for older people), policies against domestic violence, and discrimination against older people. The results of the group discussion were shared by the representatives of each group at the end of the session.
Vietnam plans to revise its Law on the Elderly and set a new national action plan for 2020-2030 within the next two years. Looking ahead to these plans, the workshop provided a valuable opportunity to discuss Vietnam's next step for adapting to an ageing population with policymakers and practitioners. The workshop attracted attention from local media, featuring in several articles and the evening news on Phap Luat TV, which shows Vietnam's high level of interest regarding the issue of ageing.

SPF will continue to tackle the issue of population ageing in Asia. The "Asia Impact Dialogue" project will move on to its next theme in this fiscal year, which will be "gender equality and empowerment of women," and continue dialogue on this theme in the future.