The Sasakawa Peace Foundation signs a memorandum of understanding with the ISEAS-Yusof Ishak Institute
Asia Peace Initiatives Program
The Sasakawa Peace Foundation signs a memorandum of understanding with the ISEAS-Yusof Ishak Institute
By Chika Miyatake, Editor, Public Relations Division
---
On November 14, 2018, Nobuo Tanaka, chairman of the Sasakawa Peace Foundation (SPF), and Choi Shing Kwok, director of the Singaporean think tank ISEAS-Yusof Ishak Institute (ISEAS), signed a memorandum of understanding (MOU) in Tokyo to establish a partnership between the two institutions. The agreement outlines areas for future cooperation to bolster mutual understanding between Japan and Southeast Asia as well as contend with the various challenges in the region. This is the first time SPF has signed an MOU with ISEAS.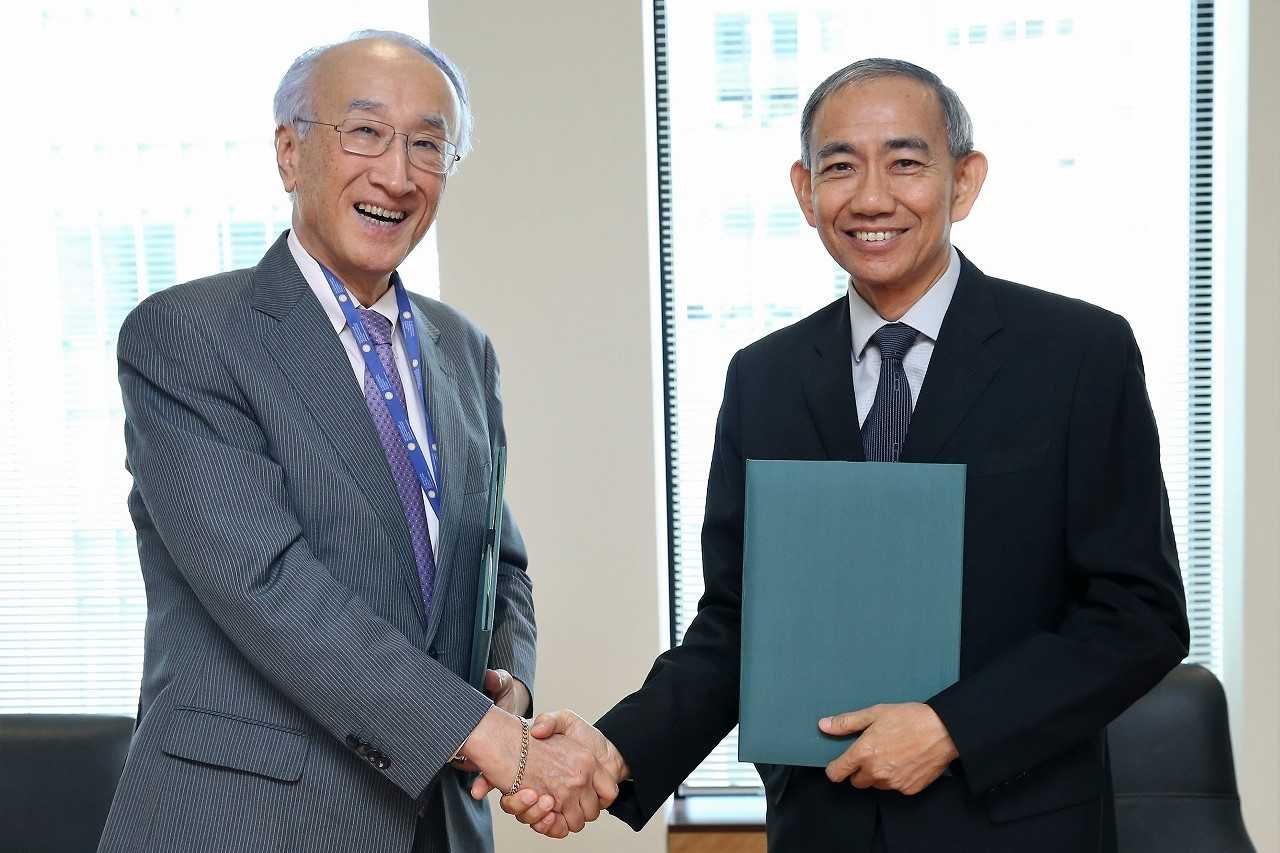 ISEAS Director Choi (right) and SPF Chairman Tanaka shake hands following the MOU signing ceremony
The primary goals of the MOU include producing viable solutions for the issues facing Japan and Southeast Asia, strengthening problem-solving skills, and contributing to prosperity in the region. More specifically, the agreement outlines future joint activities for SPF and ISEAS such as organizing workshops, events, seminars, and conferences; enhancing research and awareness of critical issues in Southeast Asia and Japan through personnel exchanges; and seeking further areas for collaboration, information exchange, and resource sharing.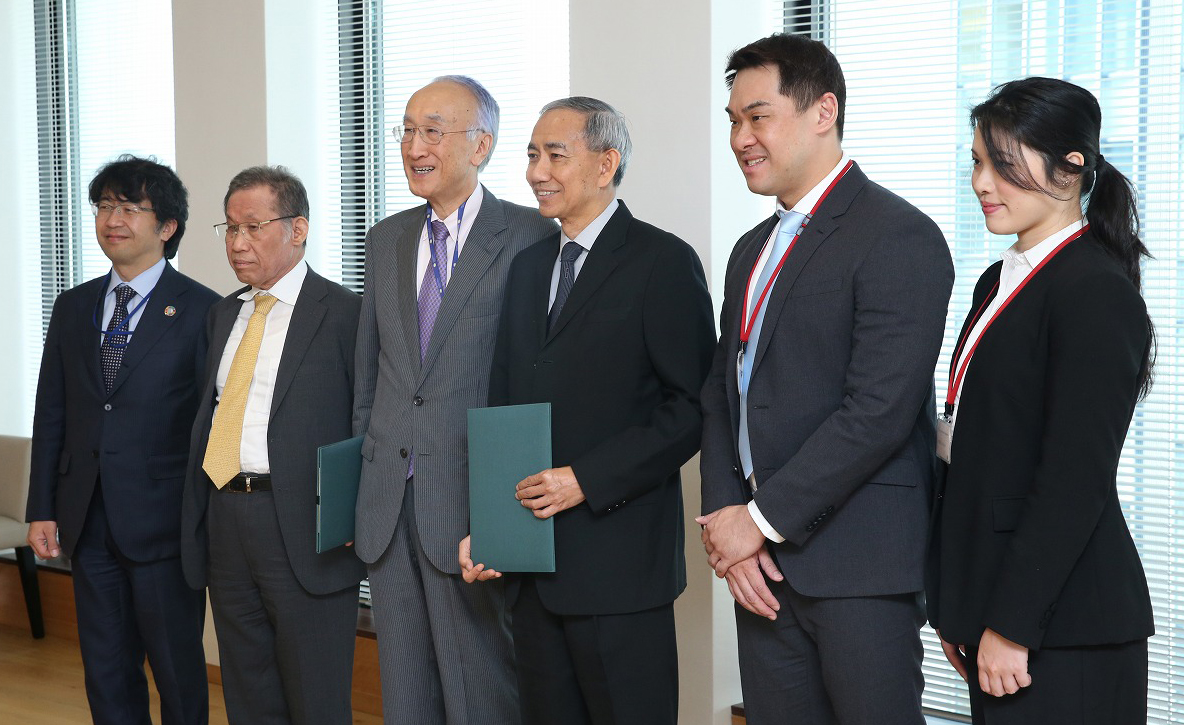 The representatives from SPF and ISEAS
Additional ceremony participants included Shuichi Ohno, president of SPF; Atsushi Sunami, executive director of SPF; Dr. Benjamin Loh, fellow and coordinator for the Regional Social and Cultural Studies Programme at ISEAS; and Alice Wu, manager of development at ISEAS.

In remarks following the signing ceremony, Mr. Ohno said that the "ISEAS-Yusof Ishak Institute is one of the most prestigious research institutes in Southeast Asia and their activities and research are highly acclaimed not just in the region but worldwide. It is our honor to sign this MOU. We look forward to working together to tackle social challenges that we both face."

Mr. Ohno also discussed the background of the agreement, saying that in "February, we co-hosted the Asia Impact Dialogue Workshop in Singapore focusing on aging and demographic change. I emphasized my belief that Japan and ASEAN nations have entered a new phase in their partnership. Both Japan and the ASEAN region should engage with common issues as members of the same community and from a common perspective. Japan and ASEAN nations have developed their own areas of expertise, and I look forward to sharing Japan's experience with ISEAS. I am hopeful that this MOU between SPF and ISEAS is a step forward in this new partnership."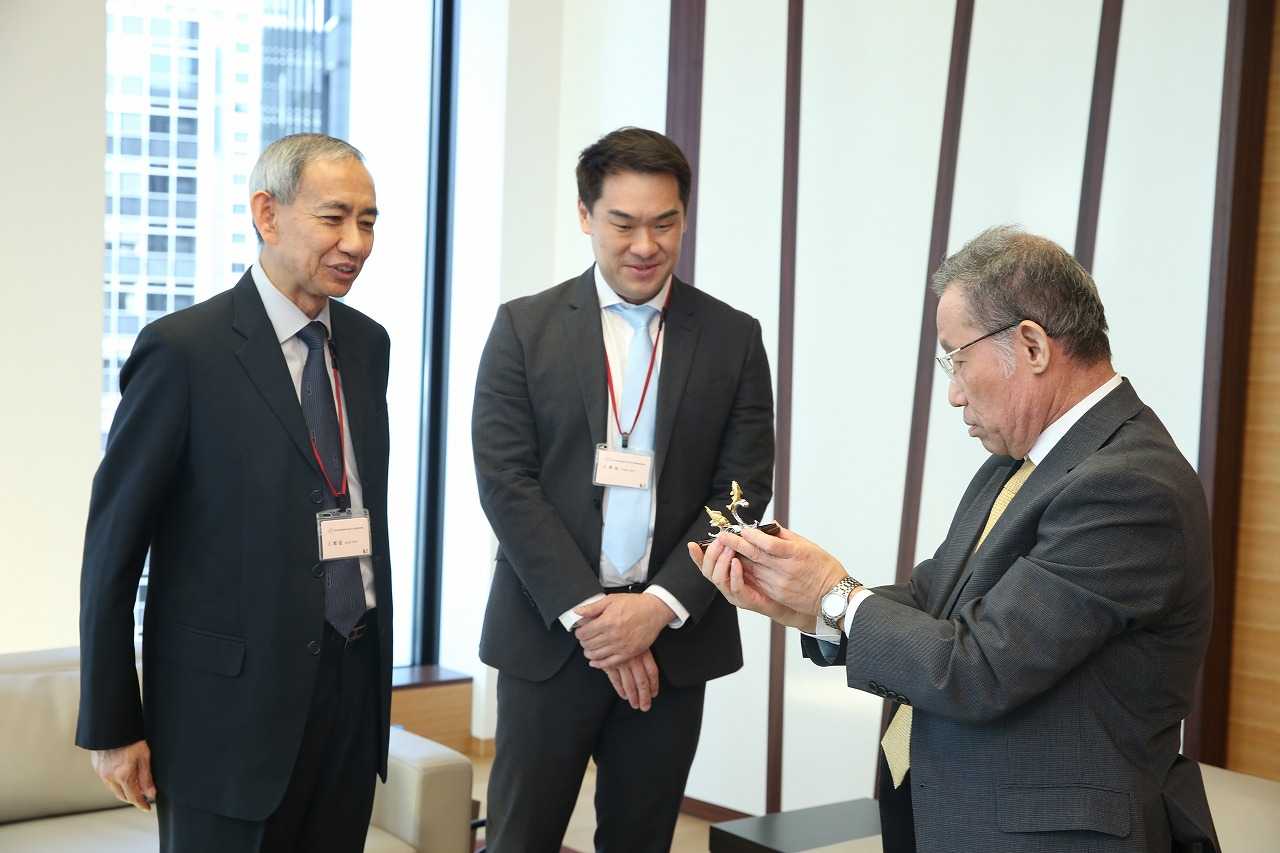 SPF President Ohno (right) and ISEAS Director Choi (left) in conversation
Mr. Choi, who became director of ISEAS-Yusof Ishak Institute in January of this year and previously served as the Permanent Secretary in the Ministry of Environment and Water Resources, commented on the long history of cooperation between SPF and ISEAS. "The Sasakawa Peace Foundation has been a good partner for us, and we appreciate how SPF has helped our institution as well as other counterparts in Asia and Southeast Asia to understand and research issues of common interest," said Mr. Choi.

He also noted that Southeast Asia is in a period of rapid change, which means that "our institute and all other interested parties in Southeast Asia need to understand more deeply what is happening in the region. The MOU with SPF will help to bolster such research and also enable it to be disseminated to a wider pool of people." He concluded by expressing his eagerness to share resources with SPF, including the library at ISEAS that houses an expansive catalogue of materials concerning Southeast Asia.

ISEAS is a leading think tank based in Singapore that conducts research on economic issues, socio-cultural issues, and political and security issues of concern to Southeast Asia and the broader region by publishing original research, arranging conferences and workshops, and offering research support. ISEAS also specializes in issues concerning ASEAN and the Asia-Pacific Economic Cooperation (APEC).