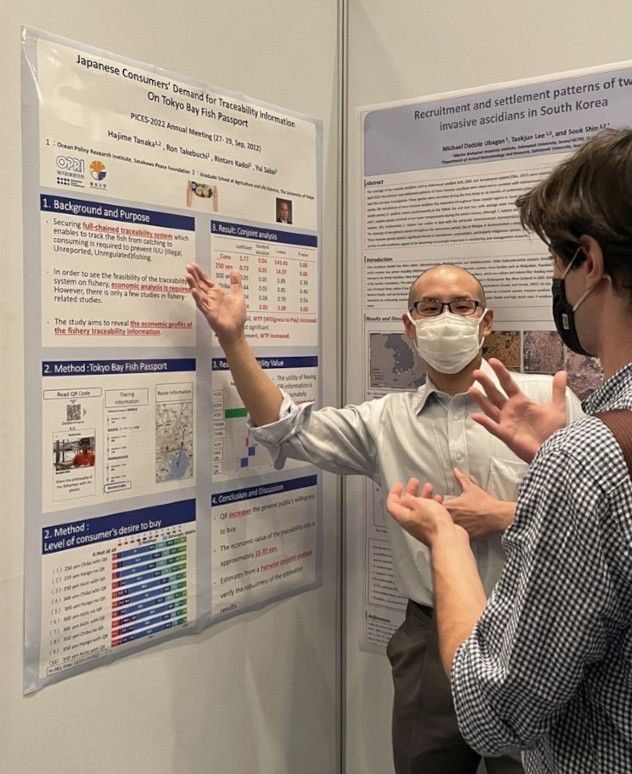 Mr. Hajime Tanaka, researcher of OPRI, received the Best Poster Presentation Award for his research "Japanese Consumers' Demand for Traceability Information On Tokyo Bay Fish Passport" at the PICES-2022 Annual meeting held at Busan.

[Abstract]
Japanese Consumers' Demand for Traceability Information -Tokyo Bay Fish Passport as a case study-. 
Hajime Tanaka1, 2, Ron Takebuchi2, Rintaro Kadoi2 and Yui Sakai2
1: Ocean Policy Research Institute, Tokyo, Japan. 
2: The University of Tokyo, Tokyo, Japan

Proper resource managements of fisheries is necessary due to the growing pressure on the fishing control globally. One possible solution is to offer technology that trace information from catch to consumption. To make the fish traceability information as new business opportunity, expected benefits analysis is required. Some studies analyzed the economic value of the fishery certification, however, the similar study on traceability is limited. To fill the gap, this study identifies how much Japanese average consumer's willingness-to-pay (WTP) for the fish traceability information of the Lateolabrax japonicas with "Tokyo Bay Fish Passport" developed by Ocean To Table Council as a case study. Information shared on the passport enables consumers to access to the fish traceability information; such as geographic and time series information on catch, profile of the fisherman and the middleman, and information of the store and products using block chain and IoT. To identify the consumer's WTP for the information, the study applies the conjoint analysis, methodology for product development which enables to identify how each product element influences the total evaluation of the products with one thousand general consumers via the online survey. We found that general consumers are willing to pay for the fishery traceability information additionally with statistically significance: approximately 30 JPY for Lateolabrax japonicas which values 200 to 300 JPY. In addition, past experience of the purchasing increased the WTP with statistically significance.