English Edition of the "Ocean White Paper 2019" Now Available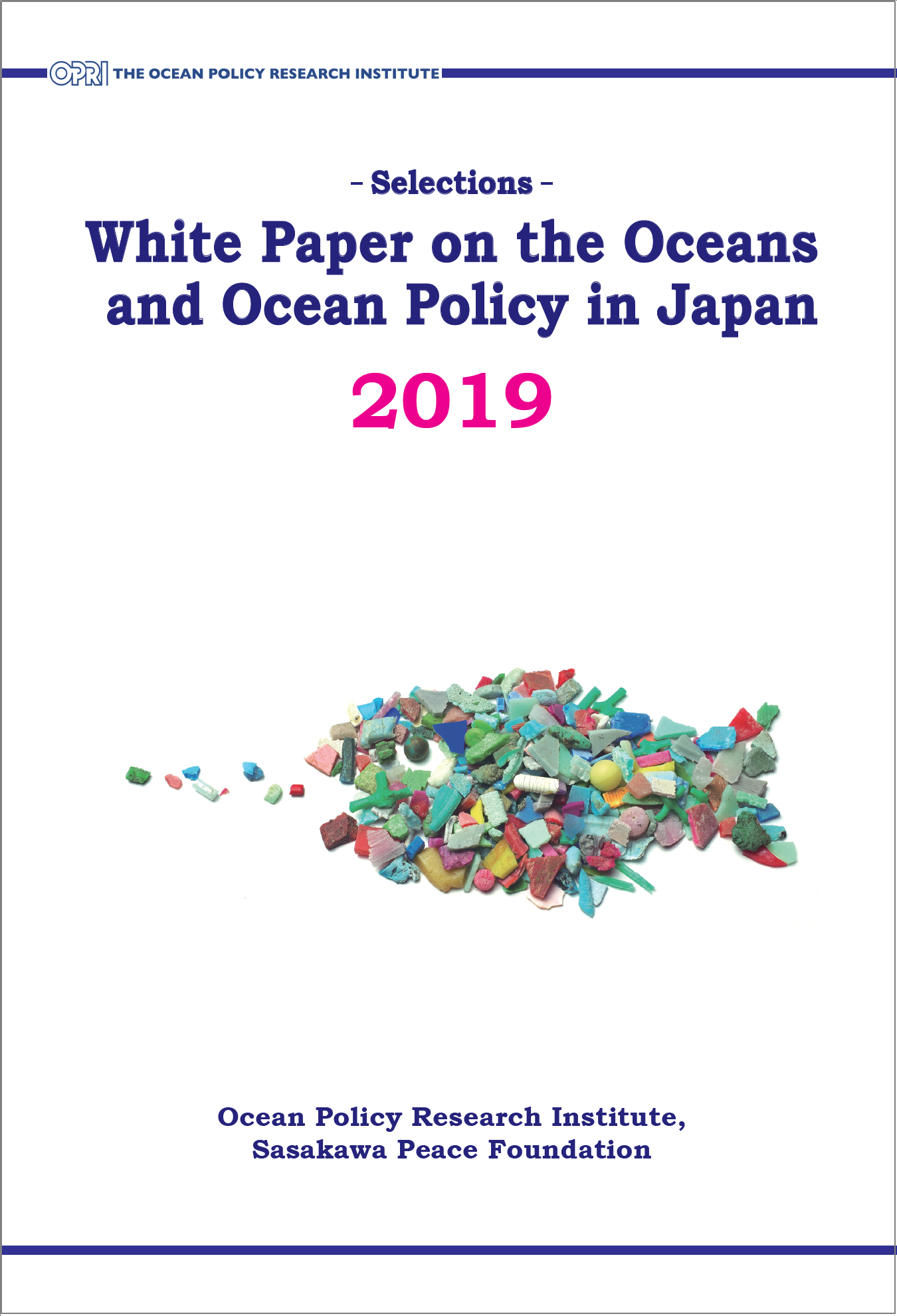 The
Ocean Policy Research Institute of the Sasakawa Peace Foundation (OPRI-SPF)
is pleased to present the English edition of the "White Paper on the Oceans and Ocean Policy in Japan 2019," featuring selected articles by OPRI-SPF researchers and other experts.
*Please click here for the English edition, entitled "Selections: White Paper on the Oceans and Ocean Policy in Japan 2019."
OPRI-SPF has produced the "Ocean White Paper" annually since 2004, in an effort to contribute to comprehensive and cross-sectoral efforts relating to ocean problems both in Japan and abroad and to provide information on recent trends and information on ocean issues. This marks the second time that OPRI-SPF has produced an English edition. (Please see here for the previous English edition.)
The opening feature article entitled "Why is plastic an ocean issue?" presents the history of marine plastic debris stretching back to the 1930s and outlines discussions and initiatives at home and abroad. The issue was addressed at the G20 Summit held in Osaka in June 2019. In light of the importance of the issue, we have redesigned the book's cover. In addition to these topics, the English edition also includes issues such as the relationship between climate change and the oceans, as well as technical innovation in ocean fields.
The English edition of the "Ocean White Paper 2019" will not only serve as a reference material for trends and information on ocean policy in Japan and abroad, which have been attracting increased attention in international society, but will also help various stakeholders in other countries to deepen their understanding of a broad range of issues relating to our oceans.
Contents
FOREWORD
Why is plastic an ocean issue?Japan and the World's Ocean Initiatives
1. Science Unlocks the Future of the Oceans
Preparing for the UN Decade of Ocean Science for Sustainable Development
 1 Human Activities beyond Planetary Boundaries
 2 Future Earth Initiative
 3 Sustainable Development Goals (SDGs)
 4 Preparing for UN Decade of Ocean Science for Sustainable Development
Illustration:Ocean Monitoring
Pioneer the frontier
 1 Science of Polar Regions
 2 Collaboration between Space and Maritime domain
Column 1: International Competition for Deep-Sea Exploration with Unmanned Vehicles
2. Marine Environmental Conservation
Ocean Environmental Conservation Initiatives
 1 Ocean Environmental Conservation Initiatives in Japan
 2 Climate Change and the Oceans
Development and Outlook of the Blue Economy
 1 Development of the blue economy in the World
 2 The Second Taketomi Basic Ocean Policy -- A town living in harmony with "churaumi" (beautiful ocean)
Column 2: Expectations for Blue Carbon
3. New Trends in Ocean Industries
 1 Fishery as a Growth Industry for Japan
Reference Materials: Articles from the "Ocean Newsletter"
 Discussion : Innovation to Overcome the Dangers Facing Our Oceans
 The World Maritime University -- Sasakawa Global Ocean Institute : A New Institute in a Unique University
 50 Years Since the Start of Japan Meteorology Agency's Repeat Hydrographic Observations Along 137°E
 The Fire of Rice Sheaves and its Connection to World Tsunami Awareness Day
 Ama Divers are Incredible!
 Putting "Dreams and Spirit" into Shrimp Crackers