English Edition of the "Ocean White Paper 2018" Now Available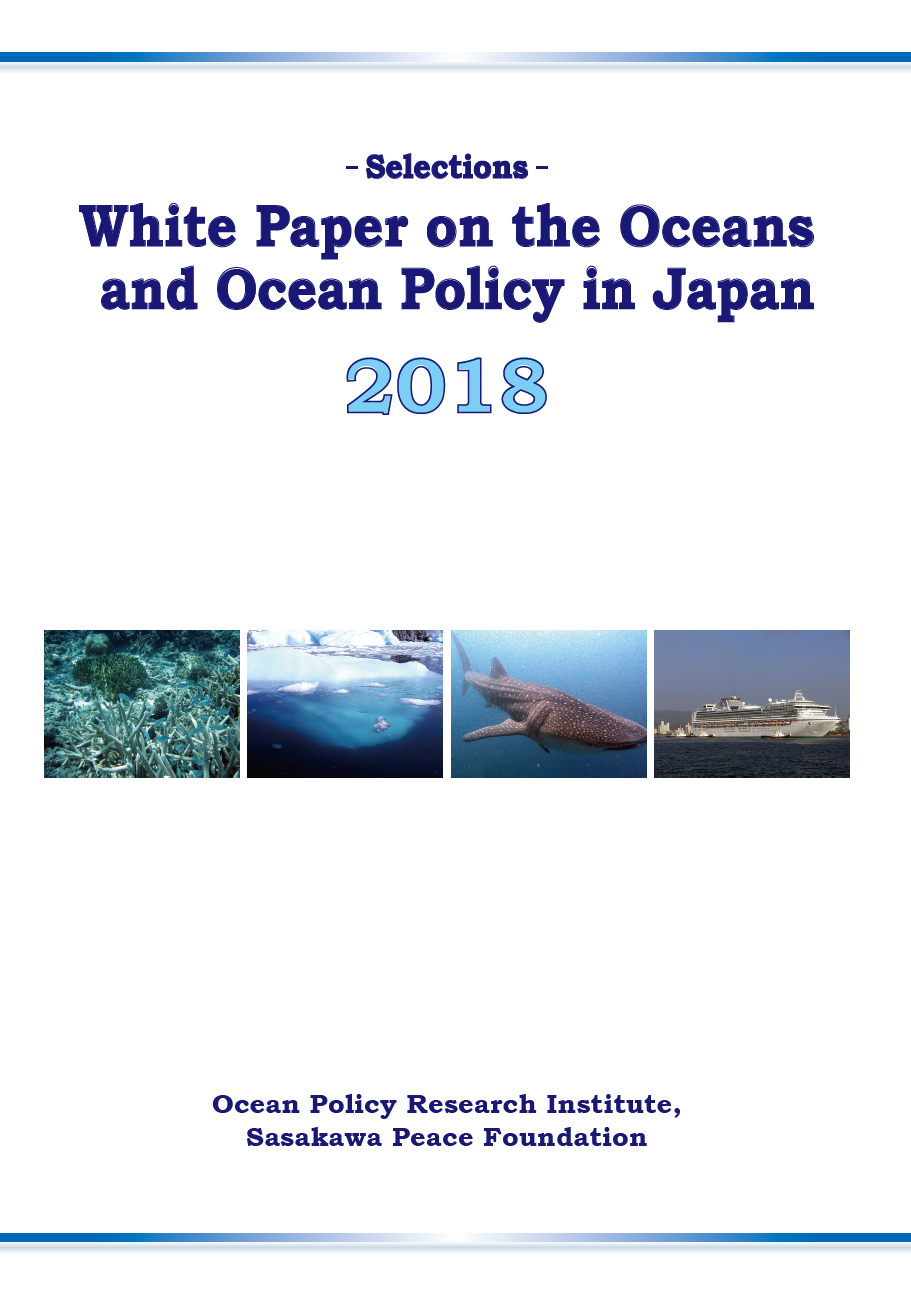 The Ocean Policy Research Institute of the Sasakawa Peace Foundation (OPRI-SPF) is pleased to present the English edition of the "White Paper on the Oceans and Ocean Policy in Japan 2018," featuring selected articles by OPRI-SPF scholars and other experts. Please click here for the English edition, entitled "Selections: White Paper on the Oceans and Ocean Policy in Japan 2018."
OPRI-SPF has produced the "Ocean White Paper" annually since 2004, in an effort to contribute to comprehensive and cross-sectoral efforts relating to ocean problems both in Japan and abroad and to provide information on recent trends and information on ocean issues. This marks the first time that OPRI-SPF has produced an English edition.
2017 saw an increased international effort to implement the United Nations' Sustainable Development Goal 14 (SDG14) relating to the ocean, especially with the hosting of the United Nations Ocean Conference in June of that year. For Japan, 2017 marks 10 years since the enactment of the Basic Act on Ocean Policy, and active discussions on ocean policy have continued regarding the third revision of the Basic Plan on Ocean Policy. In addition to these topics, the English edition also includes issues such as the relationship between climate change and the oceans, as well as human resource development in ocean fields.
The English edition of the "Ocean White Paper 2018" will not only serve as a reference material for trends and information on ocean policy in Japan and abroad, which have been attracting increased attention in international society, but also will help various stakeholders in other countries deepen their understanding of a broad range of issues relating to our oceans.
Contents:
1 New Developments in International Ocean Policy―in light of the first United Nations Ocean Conference
2 New Development in Japan's Ocean Policy―Formulation of the Third Basic Plan on Ocean Policy
3 2018 White Paper on the Oceans and Ocean Policy
World Efforts on the Oceans
1 The First United Nations Ocean Conference
 1. Background of Sustainable Development Goals(SDGs)
 (1)The Road to Adoption of the SDGs
 2. Outcome of the United Nations Ocean Conference
 (1)Overview of the United Nations Ocean Conference
 (2)Outcomes of the United Nations Ocean Conference: Call for Action and Voluntary Commitments
 3.Japan's Participation
2 Regional Developments
 (1)Efforts for Capacity Building on Maritime Safety and Law Enforcement in Pacific Island Countries
Comprehensive Management of the Oceans and Summary of the First 10 Years of the Basic Act on Ocean Policy
1 The Basic Act on Ocean Policy: 10 Years After Enactment
 1. Summary of the First 10 Years of the Basic Act on Ocean Policy
 2. Outlook for the Next 10 Years
2 Revision of the Basic Plan on Ocean Policy
 1. The Third Basic Plan on Ocean Policy
 (1)National Ocean Policy Secretariat re-established in the Cabinet Office
 (2)Discussion at the Advisory Council / Councilors' Meeting
 2. Outline of Recommendations for Formulating the Third Basic Plan on Ocean Policy
Conservation and Sustainable Development of the Marine Environment
1 International Developments
 1. Roadmap to Oceans and Climate Action(ROCA)
Human Resource Development in the Ocean Field
1 Building an International Network of Ocean Human Resources
 (1)Human Capacity Building Programs for Global Ocean Issues


COLUMN 1 Coast Guard Leaders of the World Gather in Tokyo for Inaugural Summit


 (2)Towards the Creation of a Network


COLUMN 2 Global Efforts to Map the Ocean Floor
Reference Materials
The Third Basic Plan on Ocean Policy
Our ocean, our future : call for action
Policy Elements to be Considered on the Development of the Third Revised Basic Plan on Ocean Policy
Proposals on the Ocean Acidification issues toward the next Japan's Basic Plan on Ocean Policy