Overview of Grant Project Implementation
Overview of Grant Project Implementation
Overview of Grant Project Implementation
※For project starting in April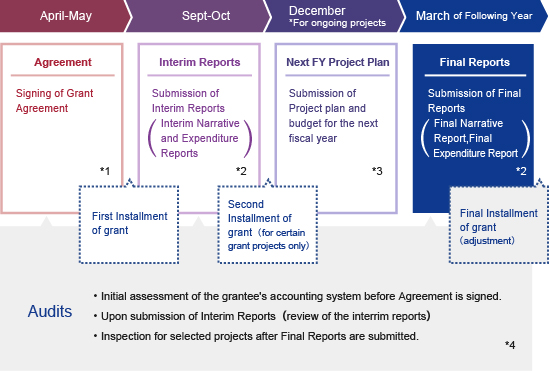 A grantee and The Sasakawa Peace Foundation (abbreviated below as SPF) enter into a Grant Contract based on the Grant Agreement (abbreviated below as the Agreement). The grantee shall uphold the one-year schedule contained in the Agreement during the implementation of the grant project.
The grantee shall submit Interim Reports (Narrative and Expenditure Reports) and Final Reports (Narrative and Expenditure Reports) to SPF by the dates determined in the Agreement.
The rules of SPF state that permission must be obtained annually from the Board of Trustees for project plans pertaining to the coming fiscal year, even in cases where projects are planned for multiple fiscal years. Accordingly, in the case of projects that are expected to continue beyond the coming fiscal year, the grantee shall submit the Project Plan and the Project Budget Plan by the dates determined in the Agreement.
In addition to an assessment of each grantee's accounting system prior to the signing of the Grant Agreement, and review of project performance upon submission of the Interim Reports, SPF may also conduct on-site and/or paper inspections at the end of the fiscal year.
Applicable rules and regulations
Modification of Grant Project Plans and/or Budgets
If the initial plans and/or budgets for project activities require revision or modification, grantees shall obtain prior permission from SPF to make such revision or modification.
Modification of Grant Project Period
Grantees shall complete all project activities within the timeframe agreed upon in advance. If, however, unavoidable circumstances require that the grant project period be modified or extended, grantees shall obtain prior permission from SPF to make such modification or extension.
In cases where it becomes difficult to carry out the activities outlined in the project plan and/or the decision is made to discontinue the grant project due to unavoidable circumstances, grantees shall notify SPF and request permission to terminate the project.
In implementing grant projects, grantees are asked to take every opportunity to note or announce that the implementation of their projects has been funded by a grant from the Sasakawa Peace Foundation (SPF), and also to make this clear in all materials and publications that are covered by the grant.
Termination of Projects by Default
In cases where a grantee has breached the Agreement, SPF may revoke its decision to disburse any or all of the grant money.
Monitoring by an SPF Program Officer
In order to verify the progress of grant projects, an SPF Program Officer may participate as an observer in certain project activities, make inquiries in writing or by telephone and/or visit the site to gather information.
Follow up after Project Completion
In cases where SPF finds it necessary to collect documents regarding a grant project after its completion, grantees shall cooperate in full with visits by SPF staff for verification purposes and/or the submission of certain documents up to ten years after the completion of the grant project.